Retirement Age Norms May Change for Central Government Employees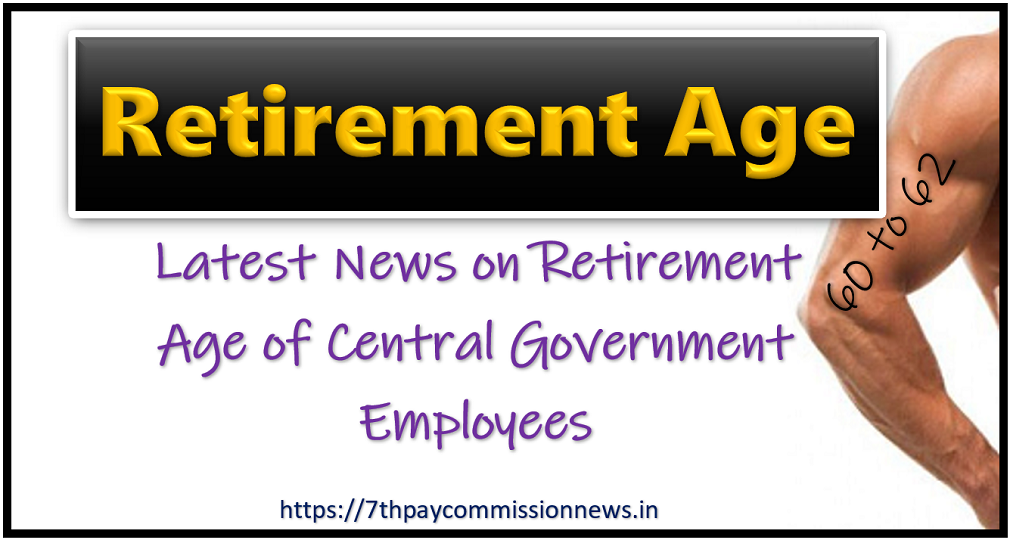 Latest News on Retirement Age of Central Government Employees
07 May 2020: Retirement age increased to 59 years in Tamil Nadu – G.O. PDF Download
26 April 2020: No Change in Retirement Age of CG Employees – Dopt Minister 26.4.2020
31 March 2020: No Change in Retirement Date for CG Employees due to Lockdown
31 March 2020: No Retirement for Doctors and Nurses in Tamil Nadu – Service extension for two months
18 December 2019: Appointments against Voluntary Retirement Scheme (VRS) in Railway
18 December 2019: Railway Retirement in 2019-2020 and 2020-2021
6 November 2019: BSNL VRS Eligibility, Compensation, Calculation Formula and Retirement Benefits
6 November 2019: BSNL Voluntary Retirement Scheme 2019 – Notification Dated 4.11.2019
7 October 2019: Compulsory Retirement Latest News – Retirement after 30 Years Under Rule 56 j
24 September 2019: Retirement Age Norms May Change for Central Government Employees
Latest news and orders about Retirement age of CG employees:
RAISING THE RETIREMENT AGE OF CENTRAL GOVERNMENT EMPLOYEES FROM 60 TO 62
"A single factor Retirement Age Norms may change to Two factor norms for Central Government Employees"
"The retirement age of Central Government Employees is now 60 (from 1998). The main and single factor for retirement is now age only. Henceforth, service will also decide the retirement".
"There is no plan to increase the Retirement Age for Central Government Employees at present from 60 to 62" – DR. JITENDRA SINGH