CGHS Covered Cities in India
The welfare of employees and pensioners has always been a top priority for the Central Government. To this end, the nodal department has implemented numerous measures to standardize the CGHS scheme nationwide. The primary objective of this scheme is to provide access to medical facilities in all major cities and towns throughout India. As such, the free medical scheme is frequently updated and extended to areas where it is deemed necessary.
The number of cities that fall under the coverage of the Central Government Health Scheme (CGHS) is a common inquiry. As of now, the scheme provides medical benefits to a total of 79 cities.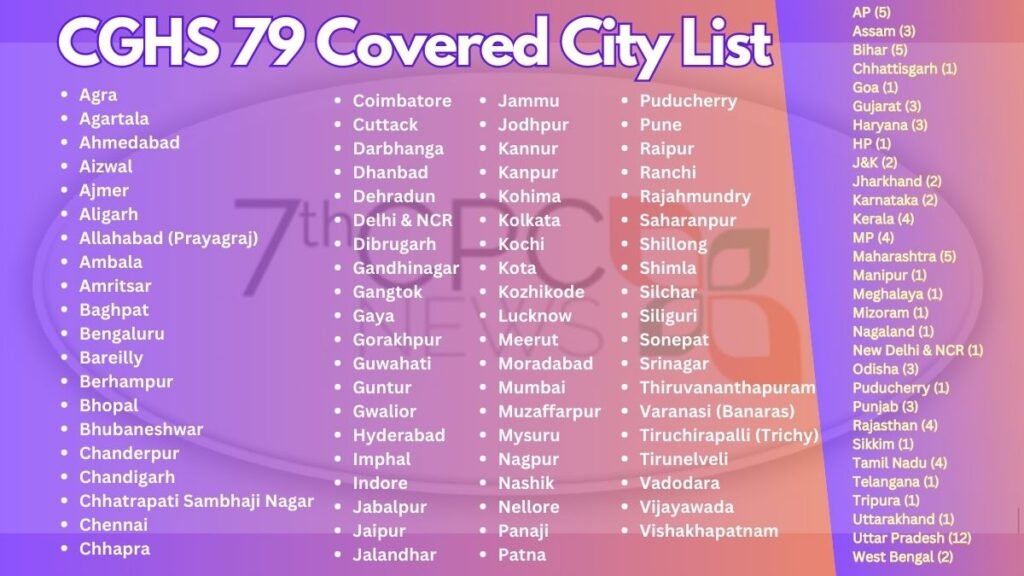 The new list of cities under the medical scheme of CGHS is given below as of May 2023.
List of 79 CGHS Cities in India
Agra
Agartala
Ahmedabad
Aizwal
Ajmer
Aligarh
Allahabad (Prayagraj)
Ambala
Amritsar
Baghpat
Bengaluru
Bareilly
Berhampur
Bhopal
Bhubaneshwar
Chanderpur
Chandigarh
Chhatrapati Sambhaji Nagar
Chennai
Chhapra
Coimbatore
Cuttack
Darbhanga
Dhanbad
Dehradun
Delhi & NCR: Delhi, Faridabad, Ghaziabad, Greater Noida, Noida, Gurgaon, Indirapuram, Sahibabad
Dibrugarh
Gandhinagar
Gangtok
Gaya
Gorakhpur
Guwahati
Guntur
Gwalior
Hyderabad
Imphal
Indore
38 Jabalpur,
39 Jaipur
Jalandhar
Jammu
Jodhpur
Kannur
Kanpur
Kohima
Kolkata
Kochi
Kota
Kozhikode
Lucknow
Meerut
Moradabad
Mumbai
Muzaffarpur
Mysuru
Nagpur
Nashik
Nellore
Panaji
Patna
Puducherry
Pune
Raipur
Ranchi
Rajahmundry
Saharanpur
Shillong
Shimla
Silchar
Siliguri
Sonepat
Srinagar
Thiruvananthapuram
Varanasi (Banaras)
Tiruchirapalli (Trichy)
Tirunelveli
Vadodara
Vijayawada
Vishakhapatnam
Available Medical Facilities in CGHS
The Central Government Health Scheme (CGHS) provides a range of healthcare facilities to its beneficiaries. These facilities include outpatient treatment and medication at Wellness Centers, specialist consultations at Polyclinics, Government Hospitals, and CGHS empanelled hospitals, outpatient and inpatient treatment at government and empanelled hospitals, as well as medical investigations at government and empanelled diagnostic centers.
Pensioners and identified beneficiaries can also avail themselves of cashless treatment at empanelled hospitals and diagnostic centers. In cases of emergency and specific treatments advised by government specialists or private healthcare organizations duly endorsed by the Chief Medical Officer/Medical Officer of Wellness Centers, the expenses incurred for treatment in government or private hospitals can be reimbursed by CGHS.
The scheme also covers the reimbursement of expenses for the purchase of hearing aids, artificial limbs, and other appliances, subject to obtaining prior permission. Family welfare, maternity, and child health services are also provided, along with medical consultations and dispensing of medicines in Ayurveda, Homeopathy, Unani, and Siddha systems of medicine (AYUSH).
CGHS Wellness Centre Timings
The operating hours of the cGHS Wellness Centers are from 7:30 AM to 2:00 PM on all working days, except in cases where emergency services are required. In Delhi, emergency services are available at four designated Wellness Centers, namely South Avenue, North Avenue, Zakir Hussain Road, and Kingsway Camp. The designated Wellness Centers with emergency services operate from 7:30 AM to 1:30 PM, with limited emergency services available from 1:30 PM to 7:30 AM. These centers are closed on all Central Govt. holidays. However, in the event of three consecutive holidays, the Wellness Centers will remain open for a maximum of two consecutive days.
Who are all covered under CGHS Medical Scheme?
All working and retired Central Govt employees and their family members (dependants). The important condition is that the beneficiaries are residing in the CGHS Covered cities.
Who are all not covered under CGHS Scheme?
Employees working in the Railways and Delhi Administration are not entitled to the medical scheme of CGHS. Railway pensioners and Armed Forces pensioners are also not eligible for CGHS.
Is CGHS cashless treatment?
Yes, Central Govt pensioners are under cashless treatment in CGHS. And existing employees are under a reimbursement scheme in CGHS.
How many cities covered under CGHS scheme?
As of the year 2023, there are a total of 79 cities that fall under the purview of the CGHS medical scheme.