Leave Encashment Calculation in India – Act, Formula, Tax Exemption and Calculator
Leave encashment is one of the huge retirement benefits for the employees working in the Government and Private sector. While retirement, a lump sum amount will get on surrender of leave saved in his entire service.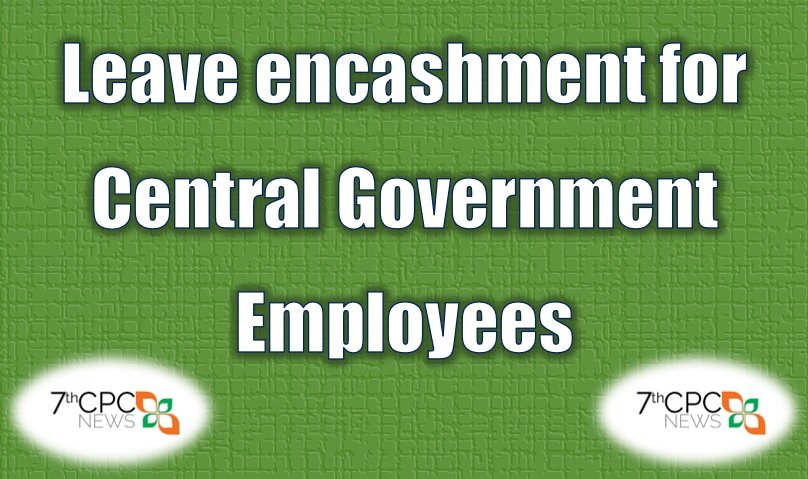 In the private sector, there is no static calculation method for the encashment of the leave. But, in Government, there will be a formula for calculating the amount of leave encashment. The Central Government has notified the formula to calculate the encashment as per the suggestion of the 7th pay commission. The formula may change for the employees working under state governments.
Encashment for CG Employees
At the time regular retirement, as per the CCS (Leave) Rules Section 39 said, a Government employee is permitted to cash equivalent of leave salary for both Earned Leave (EL) and Half pay leave (HPL) credit on the date of retirement, condition to a maximum of 300 Days to encash.
Maximum of 300 Days Leave Allowed to Encash at the time of regular Retirement for Central Government employees
How to Calculate Leave Encashment
As per the encashment rules, a Central Govt employee can encash a total of 300 days Earned Leave (in case shortage of 300 days in EL, take HPL for balance) at the time retirement. The simple formula to calculate the lump sum amount of encashment…
7th CPC Leave Encashment Calculation
As per Rule 39 of the CCS(Leave) Rules, 1972, a Central Government servant is entitled to the cash equivalent of leave salary for both earned leave and half pay leave at his/her credit on the date of retirement, subject to a maximum of 300 days including the period of encashment allowed in the previous employment under the Central Government. In case a Government servant resigns or quits service, the maximum encashment of leave allowed is 150 days.
How is earned leave encashment calculated while retirement?
The amount of leave encashment will be calculated as follows:
For Earned Leave
[(Basic Salary + DA) / 30] x No of days
For Hal Pay Leave
[(Half Pay Leave Salary + DA) / 30] x No of days
7th CPC Recommendations on Encashment and Accumulation of Earned Leave – Click to read more
Earned leave settlement calculation Example: The Encashment Table of 300 days Earned Leave for the pay matrix level – 6 (4200 Grade Pay):
Earned Leave Encashment Table for 300 Days
7th CPC Pay Matrix Level -6 (GP4200)
Index
Basic Salary
17% DA
BP + DA
 300 EL
1
35400
6018
41418
414180
2
36500
6205
42705
427050
3
37600
6392
43992
439920
4
38700
6579
45279
452790
5
39900
6783
46683
466830
6
41100
6987
48087
480870
7
42300
7191
49491
494910
8
43600
7412
51012
510120
9
44900
7633
52533
525330
10
46200
7854
54054
540540
11
47600
8092
55692
556920
12
49000
8330
57330
573300
13
50500
8585
59085
590850
14
52000
8840
60840
608400
15
53600
9112
62712
627120
16
55200
9384
64584
645840
17
56900
9673
66573
665730
18
58600
9962
68562
685620
19
60400
10268
70668
706680
20
62200
10574
72774
727740
21
64100
10897
74997
749970
22
66000
11220
77220
772200
23
68000
11560
79560
795600
24
70000
11900
81900
819000
25
72100
12257
84357
843570
26
74300
12631
86931
869310
27
76500
13005
89505
895050
28
78800
13396
92196
921960
29
81200
13804
95004
950040
30
83600
14212
97812
978120
31
86100
14637
100737
1007370
32
88700
15079
103779
1037790
33
91400
15538
106938
1069380
34
94100
15997
110097
1100970
35
96900
16473
113373
1133730
36
99800
16966
116766
1167660
37
102800
17476
120276
1202760
38
105900
18003
123903
1239030
39
109100
18547
127647
1276470
40
112400
19108
131508
1315080
Encashment Leave Orders:
Grant of accumulation and encashment of 300 days of earned leave for Defence and other Industrial employees – Dopt Order dated 7.11.2006