Latest News About Conversion of NPS to OPS for Central Govt Employees
(National Pension System To Old Pension Scheme)
Reversion to Old Pension Scheme from Existing National Pension System – Major demand of CG Employees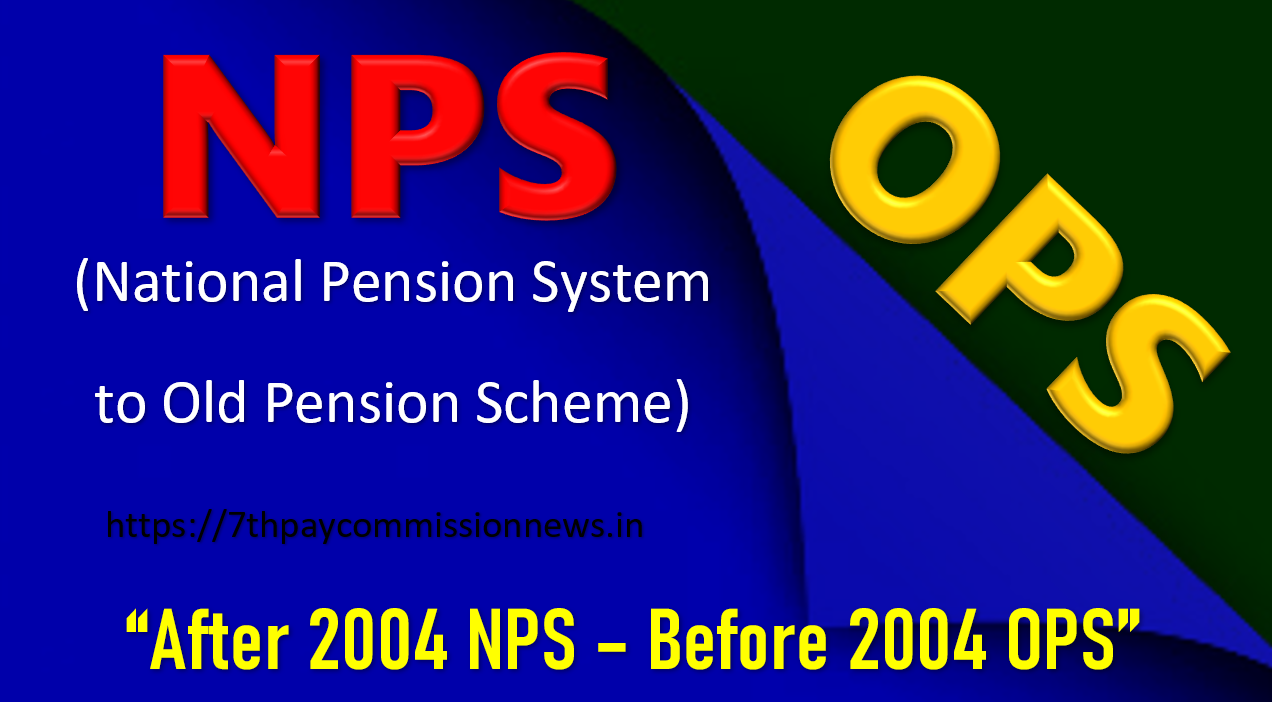 Introduction of New Pension Scheme (which is a contributory pension scheme) with effect from 1.1.2004.
1.1.2004 is a deadline for Central Government Employees – After 2004 NPS – Before 2004 OPS
Central Government Employees are dividing into two parts based on pension, one part is NPS Employees and another part is OPS Employees.
The main and first demand of CG Employees is now 'Scrap NPS – Restore OPS'. After 2004 the demand is slowly getting higher tone year by year. Almost 15 years passed, the total strength of NPS subscriber is more than 18 lakh.
New Pension Scheme was implemented to the employees joined on or after 1.1.2004. All Employees Unions and Federations are opposed on that day of implementation and to implement the Old Pension Scheme.
Particularly, the Railway Federation AIRF and NFIR, seeking exemption of National Pension System (NPS) and restoration of Defined Benefit Pension Scheme [Liberalized Pension Scheme, Railway Services (Pension) Rules 1993].
National Pension System Latest News on 15.3.2021
Parliament Question and Answer about NPS
The National Pension System (NPS) was introduced by the Government of India to replace the defined benefit pension system. NPS was made mandatory for all new recruits to the Central Government service from 1st January, 2004, (except the armed forces in the first stage) and has also been rolled out for all citizens with effect from 1st May, 2009, on voluntary basis. The Government had made a conscious move to shift from the defined benefit, pay-as-you-go pension scheme to defined contribution pension scheme, NPS, due to rising and unsustainable pension bill. The transition aimed at freeing the limited resources of the Government for more productive and socio- economic sectoral development.
(b) NPS is open for subscription to all citizens of India, resident as well as non-resident, aged between 18- 65 years. A person after retiring at the age of 60 years can also join NPS and contribute till the age of 65 years.
(c) All citizens of the country, resident as well as non resident, aged between 18-65 years can subscribe to NPS, and can avail the following benefits under NPS:
i. Contribution up to Rs. 1.50 lakhs made to the NPS Tier-I account is eligible for tax deduction under Section 80CCD (1) and Section 80CCE of the Income Tax Act, 1961. An additional tax rebate of Rs.50000/- is also allowed for contributions made to NPS Tier-I under Section 80CCD (1B) of the Income Tax Act, 1961. The contribution made by an employer to the Tier 1 account of an employee (up to 14% of the salary for Central Government and up to 10% of the salary in case of other employers) is also tax exempt under Section 80CCD (2) of the Income Tax Act, 1961 subject to a maximum of Rs. 7.50 lakhs under Section 17(2) (vii) of the Income Tax Act, 1961.
ii. Deduction under Section 80C for contribution made to Tier II NPS account by Central Government employees for a fixed period of not less than three years, is allowed.
iii. In accordance to Section 10(12A) of the Income Tax Act, 1961, the entire 60% amount withdrawn as lump sum is tax-free.
iv. Partial withdrawal up to 25% of subscriber's own contributions before attaining age of superannuation is allowed, subject to certain conditions.
v. Transparency and portability is ensured through online access of the pension account by the NPS subscribers, across all geographical locations and portability of employments.
(d) As of now all State Governments (except West Bengal) have notified NPS for their employees. Further, as reported by the Central Recordkeeping Agency (CRA), a total of 2,38,599 subscribers from the State Government of Gujarat have joined NPS as on 27.02.2021 and the total Assets Under Management (AUM) for the State Government of Gujarat are Rs.14,152.36 cr.
Top News About NPS to OPS:
NPS Latest Orders, Circulars, Amendments and Notifications
NSDL  National Pension System (NPS)
The Central Government had introduced the National Pension System (NPS) with effect from January 1, 2004 (except for armed forces). Pension Fund Regulatory and Development Authority (PFRDA), the regulatory body for NPS, has appointed NSDL as Central Recordkeeping Agency (CRA) for National Pension System. CRA is the first of its kind venture in India which is carrying out the functions of Record Keeping, Administration and Customer Service for all subscribers under NPS. CRA shall issue a Permanent Retirement Account Number (PRAN) to each subscriber and maintain database of each Permanent Retirement Account along with recording transactions relating to each PRAN.
In NPS, a government employee contributes towards pension from monthly salary along with matching contribution from the employer. The funds are then invested in earmarked investment schemes through Pension Fund Managers.
Scheme Information: As per the Gazette Notification dated January 31, 2019 issued by the Ministry of Finance (Department of Financial Services), the Central Government Subscribers w.e.f. April 1, 2019 have the option of selecting the Pension Funds (PFs) and Investment Pattern in their Tier- I account. The Subscriber can choose any one of the available Pension Funds and Investment Option as per their choice. If the choice is not exercised by the Subscriber, NPS contributions would be invested in the existing default schemes of the 3 Pension Fund Managers (PFMs), viz, LIC Pension Fund Limited, SBI Pension Funds Pvt. Limited and UTI Retirement Solutions Limited in a predefined proportion, as mentioned in the Statement of Transaction (SoT), as per the guidelines issued by PFRDA.
The Subscriber can select any one of the investment schemes as mentioned below:
1. Default Scheme – Investments would be done in defaults schemes of LIC, UTI and SBI in a predefined proportion.
2. Scheme G – 100% of contribution shall be invested in Government Bonds and related instruments.
3. Scheme LC 50 – Life cycle fund where the Cap to Equity investments is 50% of the total asset.
4. Scheme LC 25 – Life cycle fund where the Cap to Equity investments is 25% of the total asset.
What is NPS to OPS?
NPS is 'National Pension System' and OPS is 'Old Pension System'. One of the major demands of Central Govt employees is to scrap NPS and reintroduce OPS (NPS to OPS).
What is the major difference between NPS and OPS?
The Old Pension Scheme (OPS) is the existing pension scheme for CG employees with a fixed amount of pension after retirement. Whereas the New Pension Scheme (NPS) is a contributory pension scheme without any fixed amount of pension benefits. There will be no guarantee of pension amount after retirement.
What is the cut-off date for NPS?
The cut-off date for National Pension Scheme is 1 January 2004. Central Government employees who have been appointed on or after 1 January 2004 are all under the new scheme of National Pension Scheme.