DA RATES TABLE (D.A. RATES TABLE)
Dearness Allowance (DA) and Dearness Relief (DR) – DA/DR Rates Table from 1996, 2006 and 2016.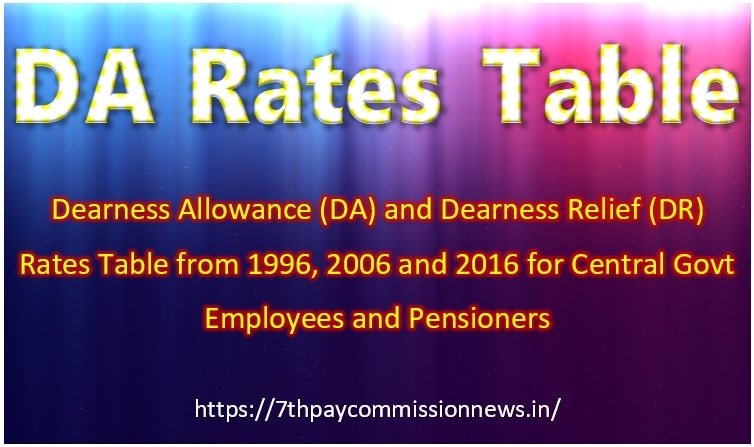 Current Rate DR Calculation Tool
Current Rate DR July 2021 Calculation Tool: Check here calculate 28 percent Dearness Relief with Bank Pension with a Simple Online Tool. Dearness Relief Calculator for Civil Pensioners.
---
DA Rates Table with AICPIN
When the new AICPIN 2016 series released?
The Labour Bureau released the first new series of AICPIN data (Base Year 2016=100) for the month of September 2020.
What is the linking factor for finding the old 2001 AICPIN?
The linking factor for calculating the old AICPIN Base Year 2001 is 2.88.
How to calculate DA after September 2020?
First, convert the AICPIN from new series to old series (BY 2016 to BY 2001) with the help of a linking factor. The Dearness Allowance for the month of September 2020 will be 26.62%.
What is the current DA rate?
The current Dearness Allowance rate for Central Govt employees and pensioners is 28%.
What will be the percentage of DA from July 2021?
The expected percentage of Dearness Allowance for Central Government employees from July 2021 will be 31%.
Minimum and Maximum DA Table