No idea to change Retirement Age of Central Government Employees
Central Government has no idea to change the Retirement Age of Central Government Employees
There is no such idea to reduce or change the retirement rules of Central Government employees, official sources said.
Recent days in Social media, the retirement norms will be changed according to the age and service. Who have completed 33 years of service also get retired. Rumours also spread out the implementation date of the new rules from 1.4.2020.
But the Central Government is being given more attention to implementing the rules of FR 56 and Rule 48 of CCS Pension Rules. Instructions were given to all ministries and departments to review the performance of Central Government employees periodically who attains the age of 50/55 years or completed 30 years of service.
"Need to periodical review of performance of Central Government Employees with a view to ascertain whether the Government employee should be retained in service or retired from service in the public interest. Provisions in this regard are contained in FR 56 (j), FR 56 (I) and Rule 48 (1) (b) of CCS (Pension) Rules, 2017"
Important Orders issued by DoPT regarding FR 56 and Rule 48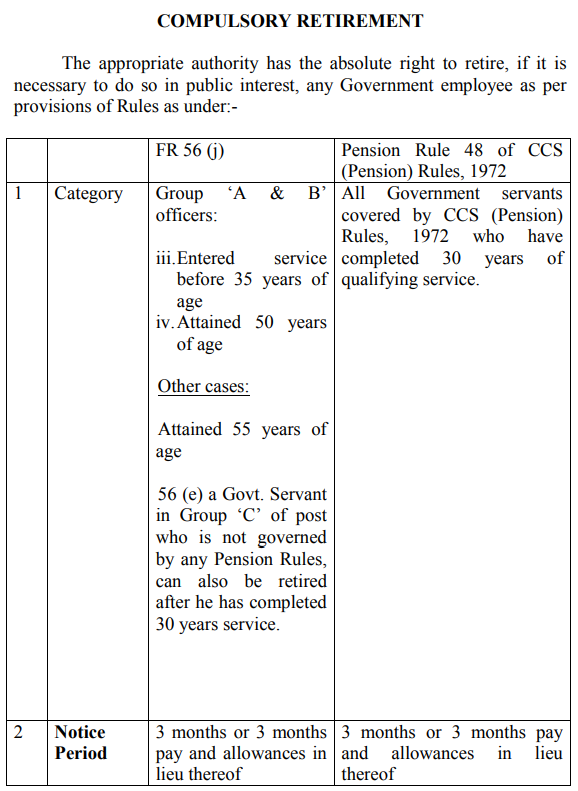 All Central Government employees should be reviewed six months before he attains the age of 50/55 years or completes 30 years service, whichever occurs earlier in cases covered by FR 56(j) and 30 years of qualifying service under Rule 48 of CCS(Pension) Rules, 1972.
Time Schedule for review is as under:-