Tamil Nadu Government Employees Retirement Age Enhancement Notification – FR 56 Amendment Order issued on 1.6.2020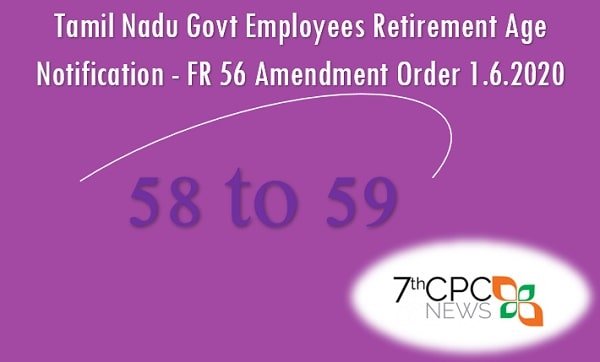 An amendment made in the FR 56 and issued an order by the Department of Personnel and Administrative Reforms (FR.II) on 1st July 2020.
ABSTRACT
Fundamental Rules – Rule 56 – Enhancement of the age of retirement on superannuation from 58 years to 59 years – Amendment – Issued.
Personnel and Administrative Reforms (FR.II) Department
G.O.(Ms) No. 62
Dated: 01.06.2020
G.O. (Ms) No.51, Personnel, and Administrative Reforms (S) Department, dated 07.05.2020.
ORDER:
The following notification will be published in the Tamil Nadu Government Gazette:-
NOTIFICATION
In exercise of the powers conferred by the proviso to Article 309, read with Article 313 of the Constitution of India, the Governor of Tamil Nadu hereby makes the following amendment to the Fundamental Rules.
2. The amendment hereby made shall be deemed to have come into force on the 07th May 2020.
AMENDMENT
In the said Fundamental Rules, in rule 56, in sub-rule (1), in clause (a) and in the second proviso thereunder, for the expression "fifty-eight years", the expression "fifty-nine years" shall be substituted.
(BY ORDER OF THE GOVERNOR)
S. SWARNA
SECRETARY TO GOVERNMENT.
Click to view the TN (Ms) G.O. 62
Retirement Age of CG Employees
The retirement age of CG Employees is now 60 (from 1998). The main and single factor for retirement is now age only. Henceforth, service will also decide the retirement. [Click to know more]