DoPT Orders 2018 – An Overview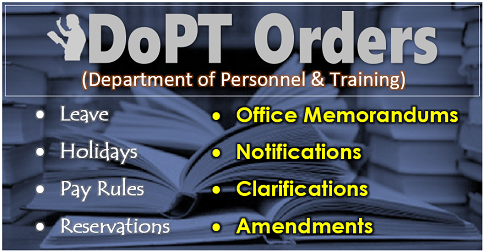 Department of Personnel & Training
(https://dopt.gov.in/)
Department of Personnel & Training : DoPT – watch-dog of the Government
The role of the Department of Personnel & Training can be conceptually divided into two parts, In its large nodal role, it acts as the formulator of policy and the watch-dog of the Government ensuring that certain accepted standards and norms, as laid down by it, are followed by all Ministries/Departments, in the recruitment, regulation of service conditions, posting/transfers, deputation of personnel as well as other related issues.
Recruitment Agencies: The two organizations through which the Department ensures recruitment of personnel for the Government are the Union Public Service Commission (UPSC) and the Staff Selection Commission (SSC).
There is a mandatory provision for consulting the Commission on all matters relating to methods of recruitment, principles to be followed in making promotions and transfers from one service to another and on all disciplinary matters. The SSC is responsible for making recruitment to subordinate staff such as Assistants, Stenographers etc.
Joint Consultative Machinery: There is a well-structured machinery for joint consultation between the Central Government and its employees on a wide variety of service matters having a bearing on the administration and the general interests of the Government employees.
It is a three-tier machinery consisting of the National Council, the Department Council and the Regional/Office Council. Service matters, pertaining to the interests of the generality of the employees or specific groups of them, are dealt with by this machinery.
We compiled here a list of orders published by this department in 2018…
DoPT Orders 2018 – An Overview
No.
Orders Published by DoPT during December 2018
1
Dopt Orders on Leave: Earned Leave, HPL, CCL and WRILL
December 21, 2018 Read more…
2
DoPT Orders: Standard Forms under Rule 18 of the CCS (Conduct) Rules 1964 December 18, 2018 Read more…
3
7th CPC Dopt Orders with Latest Comments
December 16, 2018 Read more…
4
DoPT Orders on Holidays: Change of Lohri Holiday
December 12, 2018 Read more…
5
Grant Non Functional GP 5400 to Inspectors under ACP/MACP – CBDT Orders dt.6.12.2018 December 8, 2018 Read more…
6
Introduction of UPSC module in RRFAMS portal
December 8, 2018 Read more…
7
Internal Financial Adviser (Level 13 in Pay Matrix) – DoPT
December 6, 2018 Read more…
8
Eligibility Criteria for Pay Matrix Level 14 – DoPT Orders dt. 29.10.2018 December 6, 2018 Read more…
9
Amendment in FR 22(I)(a)(1) – DoPT Orders dt. 19.11.2018
December 6, 2018 Read more…
10
Amendment of Recruitment Rules by DoPT – RRFAMS
December 5, 2018 Read more…
Orders Published by DoPT during November 2018
1
Current DoPT Orders – November 2018 December 1, 2018 Read more…
2
Recording of Annual Performance Appraisal Report (APAR) – DoPT November 30, 2018 Read more…
3
PA to PS of CSSS on Ad-Hoc Basis – DoPT on 22.11.2018 November 26, 2018 Read more…
4
Current DoPT Orders November 23, 2018 Read more…
5
DPC After Retirement – Procedure and guidelines – Dopt Orders dt. 15.11.2018 November 20, 2018 Read more…
6
Clarification on Risk Allowance – DoPT Orders dt.16.11.2018 November 19, 2018 Read more…
7
All India Protest Day  – Violation of Rule 7 CCS (Conduct) Rules – DoPT November 16, 2018 Read more…
8
7th CPC Training Allowance – DoPT Order dt.12.11.2018 November 14, 2018 Read more…
9
FAQ on Allowance, Leave, MACP, LTC, Seniority and Reservation November 9, 2018 Read more…
10
7th CPC Risk Allowance Clarification – Dopt Orders dt. 29.10.2018 November 5, 2018 Read more…
11
Purchase of Laptops for Eligible Officers – Dopt Orders 22.10.2018 November 5, 2018 Read more…
12
Grant of Paid holiday on the Day of Poll – DoPT Orders on 1.11.2018 November 3, 2018 Read more…
13
Election Holidays – Grant of Paid Holiday – Dopt Orders on 2.11.2018 November 2, 2018 Read more…
Orders Published by DoPT during October 2018
1
Stepping Up of Pay-Consolidated Guidelines – Dopt Orders dt. 26.10.2018 October 26, 2018 Read more…
2
Clarification on modalities of transfer of NPS – DoPT Orders dt. 11.10.2018 October 23, 2018 Read more…
3
Transfer on Deputation / Foreign Service of Central Government Employees – DoPT Orders dt.18.10.2018 October 23, 2018 Read more…
4
Dopt Orders on LTC dt. 24.4.2018 – Emergency Passage Concession October 19, 2018 Read more…
5
7th CPC Travel Entitlements – Clarification Orders issued by DoPT on 18.10.2018 October 19, 2018 Read more…
6
Official dealings between the Administration and Members of Parliament and State legislatures October 17, 2018 Read more…
7
Information in Respect of Staff Inspection Unit – RTI October 15, 2018 Read more…
8
LTC to Lakshadweep Islands through SPORTS October 15, 2018 Read more…
9
Exemption from Routine Exercise of Rotational Transfer – DoPT Orders October 9, 2018 Read more…
10
Grant of Entry Pay as per Finmin Order dated 28.9.2018 October 9, 2018 Read more…
Orders Published by DoPT during September 2018
1
DoPT Circulars, Notifications and Orders September 28, 2018 Read more…
2
Nomination of Area Welfare Officers (AWOs) for the calendar years 2019 and 2020 September 25, 2018 Read more…
3
Pay Fixation from DNI on MACPS – DOPT Clarification dt. 20.9.2018 September 20, 2018 Read more…
4
LTC Rules | Relaxation to travel by air to visit NER, J&K and A&N – Extension Orders issued by DoPT September 20, 2018 Read more…
5
7th CPC Training Allowance – DoPT Order dt.13.9.2018 September 20, 2018 Read more…
6
All India Protest Day on 19.9.2018 – Instructions under CCS (Conduct) Rules – DoPT September 19, 2018 Read more…
7
Adventure Sports Amongst Central Government Employees – DoPT September 4, 2018 Read more…
8
CG Employees Residents Welfare Associations (Recognised by DoPT) September 4, 2018 Read more…
Orders Published by DoPT during August 2018
1
Technical Resignation in Central Services – Master Circular August 30, 2018 Read more…
2
DoPT Orders 2018: Allowed to Re-Exercise the Option for Fixation of Pay under FR 22(l)(a)(1) August 29, 2018 Read more…
3
Review of Model constitution for the Residents Welfare Associations – DoPT August 27, 2018 Read more…
4
Bakrid Holiday Change to 22.8.2018 – DoPT Orders August 21, 2018 Read more…
5
7th CPC TA/DA to JCM Members – DoPT Orders dt 20.8.2018 August 21, 2018 Read more…
6
Grant of Paid Holiday on Election Date August 19, 2018 Read more…
7
Children Education Allowance to Railway Employees – Orders issued August 19, 2018 Read more…
8
Half Day Holiday for all CG Offices on 17.8.2018 August 16, 2018 Read more…
9
DoPT Orders: Change of Id-u-Zuha (Bakrid) Holiday on 23.8.2018 August 14, 2018 Read more…
10
Change in Holiday on account of Id-ul-Zuha (Bakrid) August 14, 2018 Read more…
11
7th CPC Children Education Allowance: PCDA Clarification issued on 1.8.2018 August 8, 2018 Read more…
Orders Published by DoPT during July 2018
1
Amendment of Service Rules and Recruitment Rules as per 7th CPC – DoPT July 25, 2018 Read more…
2
Central Staff Visit Central Asian Countries on LTC Very Soon! July 21, 2018 Read more…
3
Leave to a Government servant who is unlikely to be fit to return to duty – DoPT July 20, 2018 Read more…
4
7th CPC on Over Time Allowance – DoPT Orders dated 19.6.2018 July 20, 2018 Read more…
5
7th CPC Children Education Allowance – DoPT Orders Dated 17.7.2018 July 18, 2018 Read more…
6
Meeting of National Anomaly Committee on 17.7.2018 July 13, 2018 Read more…
7
Master Circular on Probation/Confirmation in Central Services-Dopt orders July 12, 2018 Read more…
8
Dopt Orders on Probation in Central Govt Services July 12, 2018 Read more…
9
Master Circular on Probation-Confirmation in Central Services July 12, 2018 Read more…
10
Compulsory and Restricted Holidays for CG Employees 2019 July 11, 2018 Read more…
Orders Published by DoPT during June 2018
1
Child Care Leave – DoPT Clarification Orders on 22.6.2018 June 28, 2018 Read more…
2
7th CPC Over Time Allowance: Dopt Orders dt.19.6.2018 June 25, 2018 Read more…
3
7th CPC TA Rules: Reimbursement of Accommodation Charges for Stay in Hotels June 25, 2018 Read more…
4
NFSG to Eligible Grade 'D' Stenographers – Dopt Clarification Orders June 22, 2018 Read more…
5
Reservation in Promotion case status after Supreme Court interim Order June 17, 2018 Read more…
6
Special Increment to Central Government Employees for Participation in Sports – Dopt Orders June 16, 2018 Read more…
7
7th CPC LTC: Employees Serving in NER and J&K June 2, 2018 Read more…
Orders Published by DoPT during May 2018
1
Use of Swimming facilities at Major Dhyan Chand National Stadium by Central Govt. Employees May 21, 2018 Read more…
2
Election Holidays to Central Govt Employees – DoPT Orders dt.18.5.2018 May 19, 2018 Read more…
3
Posting of Husband and Wife at the Same Station – Dopt orders May 14, 2018 Read more…
4
Election Holidays Dopt Orders – Karnataka Election on 12.05.2018 May 12, 2018 Read more…
5
Amount Fixed for Reimbursement of CEA 2250 pm May 11, 2018 Read more…
6
Review of the Recruitment Rules – Service Rules May 9, 2018 Read more…
7
Music and Dance competition for wards of Central Government Employees May 4, 2018 Read more…
8
7th CPC Anomalies – Time limit extended for Receipt and Disposal – Dopt Orders May 3, 2018 Read more…
9
Clarification on Children Education Allowances – DOP May 3, 2018 Read more…
Orders Published by DoPT during April 2018
1
Writ Petition No. 844/2014 in High Court of Delhi filed April 25, 2018 Read more…
2
7th CPC Deputation on Tenure Allowance – Dopt April 25, 2018 Read more…
3
FAQs on Recruitment Rules – DoPT April 18, 2018 Read more…
4
Guidelines for Submission of Children Education Allowance Claim April 18, 2018 Read more…
5
Maximum Age Limit for Deputation Appointment April 18, 2018 Read more…
6
Deputation/Foreign Service of Officers of CSS – DoPT April 16, 2018 Read more…
7
Own Merit in Direct Recruitment of OBC – DoPT Orders dt 4.4.2018 April 12, 2018 Read more…
8
Reimbursement in Respect of Newspapers Purchased/Supplied to Officers at their Residence – DoE April 4, 2018 Read more…
9
Declaration of Closed Holiday on 14.4.2018 – DoPT Order April 3, 2018 Read more…
10
Central Government Orders Published in March 2018 April 2, 2018 Read more…
Orders Published by DoPT during March 2018
1
Grant of vigilance clearance for obtaining passport – DoPT March 30, 2018 Read more…
2
LTC to Railway employees (and Government servants whose spouses are Railway servants) March 30, 2018 Read more…
3
7th CPC Anomalous Situation: Definition of Anomaly – DoPT March 14, 2018 Read more…
4
Guidelines for Payment of Children Education Allowance as per 7th CPC March 12, 2018 Read more…
5
Age limits for recruitment to Central Services  – DoPT Orders March 12, 2018 Read more…
6
Grant of Election Paid Holiday on 12.03.2018 – DoPT Orders March 10, 2018 Read more…
7
Vacancies in CIC March 8, 2018 Read more…
8
Dr. Jitendra Singh inaugurates DoPT Workshop on International Women's Day March 8, 2018 Read more…
9
Grant Level-6(GP-4200) to Stenographers Grade D of CSSS March 6, 2018 Read more…
Orders Published by DoPT during February 2018
1
Recommendations of 7th CPC with regard to EDP Cadre February 21, 2018 Read more…
2
Review of CSS Officers (Deputy Secretary/Director) under FR 56 Q) and Rule 48 of CSS (Pension) Rules, 1972 February 20, 2018 Read more…
3
Scheme for Promotion of Adventure Sports & Similar Activities amongst Central Government Employees February 7, 2018 Read more…
4
Review of Pay fixation of DR ASOs appointed after 01.01.2006 February 6, 2018 Read more…
5
Maximum Age Limit in case of Appointment by Deputation – Dopt February 6, 2018 Read more…
6
Employees thank Prime Minister for allowing standard deduction of Rs 40,000 February 2, 2018 Read more…
Orders Published by DoPT during January 2018
1
Delhi High Court order on maternity leave in case of surrogacy – Dopt Orders January 31, 2018 Read more…
2
Selection to the post of Vigilance Commissioner in the Central Vigilance Commission January 24, 2018 Read more…
3
LTC and TA Entitlements as per 7th CPC – Clarification Orders issued by DoPT on 18.1.2018 January 20, 2018 Read more…
4
Reservation for the Persons with Benchmark Disabilities – DoPT OM dt.15.1.2018 January 17, 2018 Read more…
5
Regulation of Pay on imposition of a penalty under CCS (CCA) Rules, 1965 – Dopt January 10, 2018 Read more…
6
Grant of Special Casual Leave for the purpose of blood donation – DoPT January 2, 2018 Read more…