One Rank One Pension Scheme implemented from 1.7.2014 to all Retired Before 1 July 2014
Department of Ex-Servicemen Welfare issued orders on 3rd February, 2016 regarding the implementation of OROP along with 101 Ready Reckoner tables indicating rates of pension/family pension for each rank and each category.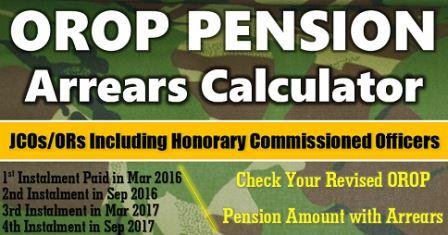 Arrears on account of revision of pension from 1.7.2014 till date of its implementation to be paid by four equal half yearly installments.
The calculator gives a approximate pension and arrears amount on your input of details. Please check the correct figure in the official order issued by the MoD Orders No.12(1)/2014/D(Pen/Policy)-Part-II on 3.2.2016
OROP Pension Arrears Calculator
Arrears Calculation From 01.07.2014 to 31.01.2016
The average Dearness Allowance rate from 1.07.2014 to 31.01.2016 (for 19 months) as under:-
1.07.2014 to 31.12.2014 = 107 x 6 = 642
1.01.2015 to 30.05.2015=113 x 6=678
1.07.2015 to 31.12.2015=119 x 6=714
1.01.2016 =125 x 1=125
total =2159
Average DA rate Per month=2159/19=113.63
Basic + DA = 100 + 113.63=213.63 if basic pay = 100.
Hence the arrears for 19 months = (basic pay diff + DA) = Q x 19 x 213.631579 / 100 = Q x 40.59.
Source: http://ex-airman.blogspot.in/
OROP Pension Arrears calculation
OROP HIGH LIGHTS & CALCULATION
Stay connected with us on our
Whatsapp Channel,
to receive the most up-to-date news and updates.
Applicable to all pre-1/7/2014 retirees.
Effective date : w.e.f. 1/7/2014
It is a direct executive order from MOD to PDAs(Banks) for payment without waiting for Draupadi's circular of PCDA (pensions) . Means ,payment will be effected before 28 Feb 2016 (being the last pension/salary payment month in this fiscal year).
Family pensioners, gallantry award winners and special pension category will get their arrears in one installment and hopefully with Feb pension.
Arrears for others would be in 4 Equal , six monthly installments (could be in Feb , Aug this year and Feb 2017 and Aug 2017).
More specific details after detailed analyses.
OROP Arrear calculation Made simple
Take your basic from OROP table published to day by MOD. Let it be = X
Take your current basic (which is w.e.f. 24/12/2012).Let it be = Y
Take the difference of X- Y above and let it be = "Q"
Your Total arrears of OROP wef 1/7/2014 to 31/1/2016= Q x 40.58 (amount Q multiplied by 40.58). The result could be with a deviation of Less than Rs 100/- in total due to certain approximations
Note : multiply with 40.58 , the difference of OROP table amount with what is your current basic .
Source: http://ex-airman.blogspot.in/
You can calculate the OROP arrears also in the following way:
1. Find the Basic pension as per OROP chart- table, say for example;
Hav and equal Ranks- Sgt- Group- X
Qualifying Service: 15 yrs.
As per Table no: 7 of OROP Tables = 8585
As per Cir 501, table No.17 = 6374
Difference per month = 2211
Now the effective date is From 1.07.2014 and the arrears from 1.7.2014 to 31.01.2016 will be as follows:
2211 x 40.53 = 89,612
The arrear amount will be paid in 4 equal half yearly installments. For family pensioners, in one installment. This the simple way of calculation.
Source: http://exweltrust.blogspot.in/
OROP Arrears Calculator (Updated Dec 2016)