Latest Top Fifty Updates of 7th Central Pay Commission for Central Government Employees
(https://7thpaycommissionnews.in)
नवीनतम पचास अद्यतन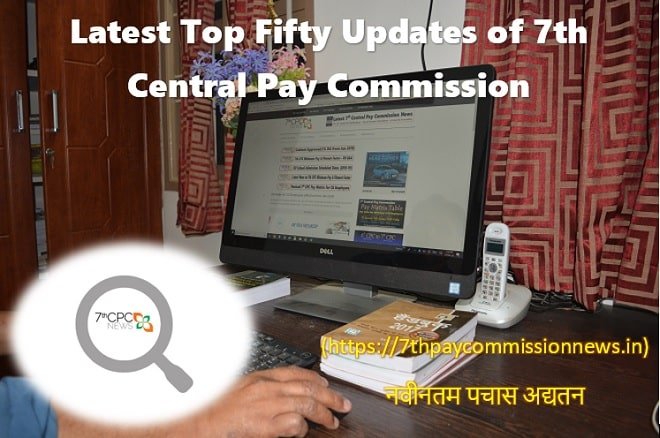 All updates are compiled here for easy reading and the topics regarding Minimum pay, Fitment Factor, Pay Fixation, HRA, Travelling Allowance, LTC as per the 7th Pay Commission. Recent discussions through the comment section also compiled here:
DNI is always after completion of 12 months as annual increment.

If your pay as on 1-10-21 give opinion increment from January so you will get from January 22 as 53600…

If it is 3rd upgradations of basic pay in service normal increment and promotional increment on 1-7-22 as 78500,80,900 in…

After 3rd promotion/3rd MACP upgradations of basic pay in service there's no pay fixation. From the 6th CPC no pay…

More beneficial for you to take fixation from DNI i.e 01.07.22. Your pay will be as: From 05.01.22 to 30.06.22…

Am at basic pay of 52000 I got my first MACP. After fixing 4200 to 4600 I got my promotion.…

Sir, My colleague is promoted to Level 11 (basic pay Rs. 76200/-) to Level 12 w.e.f 01.01.2022. Which pay fixation…

I got 3rd MACP in 2015 with gp of 4800, afterwards I got promotion as PS in 2019 it is…

If you're not got 3rd upgradations of basic pay in service, give July increment option is good. 2 increments as…

ADMINISTRATION : Please reply to my answer only first (July increment ) to JAME dated 11-1-22.

My present basic is 36400 in level-4, GP-2400, I got promotion on 05.01.2022 to Level-5, GP-2800 shall i take promotional…

Sorry. July increment option is good.

Correction as 1-1-23 as 50500 & 1-1-24 as 52,000 (instead of 1-7-24)

Give January increment option then normal increment as on 1-7-21as 49000 & 1-1-22 as 50500 in MATRIX LEVEL 6 &…

From 1-7-21 as normal increment & promotional increment as 49000,_50500 in MATRIX LEVEL 6 & DNI from 1-7-22 as 50500…

RESPECTED SIR WHAT IS THE CONDITION FOR GETTING THE MACP BENEFITS AS I WAS PROMOTED TO CPOR(SPL) 144730H ON 01…

Sir my MACP IS DUE ON 05-04-2011 I AM IN LEVEL – 6 MY PAY RATE IS 47600, AFTER I…

If you're got breaks service in that period & also charge sheet framed, depends upon the case finalised.

Annual increment given for complete 12 months January or July not in 6 months.

Give option increment from January 2024. Anyhow your next higher MATRIX LEVEL will change from January 2025 onwards. Wait for…
Latest Top Fifty Updates of 7th Central Pay Commission
7th Pay Commission Central Government Employees News Latest Update
90 Paisa central govt employees latest news, DoPT latest 7th pay commission news
What is the current rate of interest on computer advance for CG employees?
As per the Finance Ministry order dated 4 March 2021, the rate of interest for purchasing of computer is 8.9% to Central Govt employees.