Latest Top Fifty Updates of 7th Central Pay Commission for Central Government Employees
(https://7thpaycommissionnews.in)
नवीनतम पचास अद्यतन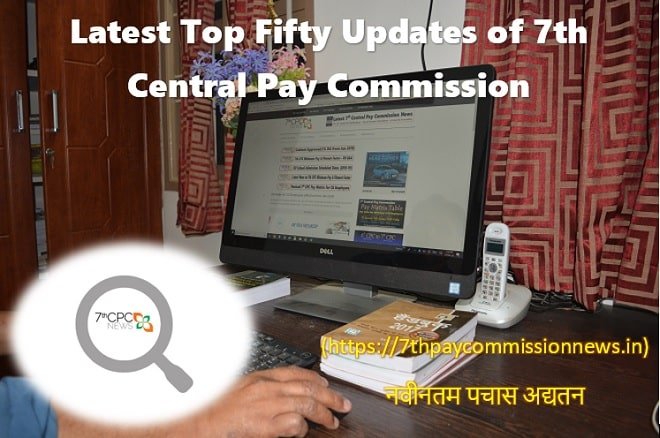 All updates are compiled here for easy reading and the topics regarding Minimum pay, Fitment Factor, Pay Fixation, HRA, Travelling Allowance, LTC as per the 7th Pay Commission. Recent discussions through the comment section also compiled here:
Sir, I got ist macp on 1.1.2008 in grade pay 4600. On 11.9.2018 I got a promotion in grade pay…

Give your joining basic pay with pay scale & retired last basic pay with Grade pay on that basis your…

As per the rule CCS 10 your basic pay as on 13690 x 2.57 = 35183 was fixed from 1-1-2016…

For pension purposes any other allowances should not be added. Only 50% of basic pay.

If my promotion on 1/2/2016 and pay 13690 with pay band we 2800 and on date my pay fix on…

If the annual increment in July and your promotion/upgraded MACP in between January to June you will get 2 increments…

I have not been given permanency while working as a postman I was permitted to attend the LGOs examination held…

It is correct. . Pay will be be fixed in old Matrix Level in some equal (or next higher) cell…

Through that PNR Number they will check, is it travelled by 3 A.C. or not on that on that basis…

No. Since CCL should also sanction prior.

In case the GS opted to fix his pay either on promotion or financial upgradation under MACP from the date…

If an employee, is eligible to travel in 3 AC and traveled but not produced 3 AC tickets (given only…

Child Care Leave is prior to be sanction by the competent authority. If any female employees Earned Leave has been…

My ACR before 2016 is very good. But 2016 was average. My MACP is due in 2017. ACR of 2017,18,19,20…

No he got 2 pay fixation in his 20 years service. He will get only promotion in between 2020-2024 or…

No other pay fixation in your service, because you got 3 pay fixations 1) 1998, 2) 2008 & 3) 2014.…

I thin you pay as on 1-1-21 32000, as per the rules from 1-1-22 as 33,9000 in Matrix Level 3…

Give January increment and if you are not got third pay fixation in service you will get January, 2022 as…
Latest Top Fifty Updates of 7th Central Pay Commission
7th Pay Commission Central Government Employees News Latest Update
90 Paisa central govt employees latest news, DoPT latest 7th pay commission news
What is the current rate of interest on computer advance for CG employees?
As per the Finance Ministry order dated 4 March 2021, the rate of interest for purchasing of computer is 8.9% to Central Govt employees.