Expected DA Calculator from January 2016
The six month process of calculation for the percentage of DA and DR with effect from 1.1.2016
| | | | | | |
| --- | --- | --- | --- | --- | --- |
| Month / Year | B.Y. 2001=100 | Total of 12 Months | 12 Months Average | % Increase over 115.763 | App. DA |
| Jul-15 | 2015 | 263 | 3064 | 255.33 | 120.56 |
| Aug-15 | 2015 | 264 | 3075 | 256.25 | 121.36 |
| Sep-15 | 2015 | 266 | 3088 | 257.33 | 122.29 |
| Oct-15 | 2015 | 269 | 3104 | 258.67 | 123.44 |
| Nov-15 | 2015 | 270 | 3121 | 260.08 | 124.67 |
| Dec-15 | 2015 | 269 | 3137 | 261.42 | 125.82 |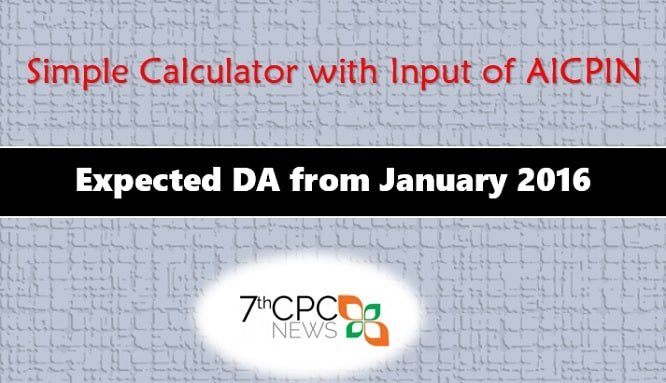 The crucial moment to calculate the DA percentage from 1.1.2016. Because the new pay commission will be implemented from the date. The DA percentage will be taken for the account of determining the new basic salary. We hope this last DA Calculation for the tenure of the 6th pay commission.
Easy and accurate calculator for finding the percentage of Dearness allowance…
The whole calculation process for determining the percentage of Dearness Allowance for Central Govt employees has bee over! And the Centre has been declared the calculation of DA percentage is 125%. 6% of Additional DA increased to all groups of Central Govt employees, including Railways and Armed Forces Personnel. The Finance Ministry issued orders on DA for the 6% DA hike on 7th April 2016.
But waiting for the final decision on implementation of the 7th pay commission. That time the 125% DA will merge with basic salary!
THE PERCENTAGE OF DA FROM JANUARY 2016 IS 125%
The below table describes the total travel of DA from 2006 of both 6th CPC and 5th CPC:
6th Pay Commission DA Rate Table
Month / Year
Dearness Allowance %
January 2006
0
July 2006
2%
January 2007
6%
July 2007
9%
January 2008
12%
July 2008
16%
January 2009
22%
July 2009
27%
January 2010
35%
July 2010
45%
January 2011
51%
July 2011
58%
January 2012
65%
July 2012
72%
January 2013
80%
July 2013
90%
January 2014
100%
July 2014
107%
January 2015
113%
July 2015
119%
January 2016
125%
5th Pay Commission DA Rate Table
Month / Year
Dearness Allowance %
January 2006
24%
July 2006
29%
January 2007
35%
July 2007
41%
January 2008
47%
July 2008
57%
January 2009
64%
July 2009
73%
January 2010
87%
July 2010
103%
January 2011
115%
July 2011
127%
January 2012
139%
July 2012
151%
January 2013
166%
July 2013
183%
January 2014
195%
July 2014
212%
January 2015
223%
July 2015
234%
January 2016
245%
List of latest Expected DA Calculator:
7TH PAY COMMISSION BASIC PAY CALCULATOR
(UPDATED ON 20.11.2015)
---