The calculation of Dearness allowance with effect from January 2021 is very important at this stage, because if the DA will increase above 25% the loss in allowances including House Rent Allowance very high!
Everyone is expecting that the DA will touch 25% in the month of July 2020. In case of this not happening, certainly, the DA will cross 25% in the month of January 2021.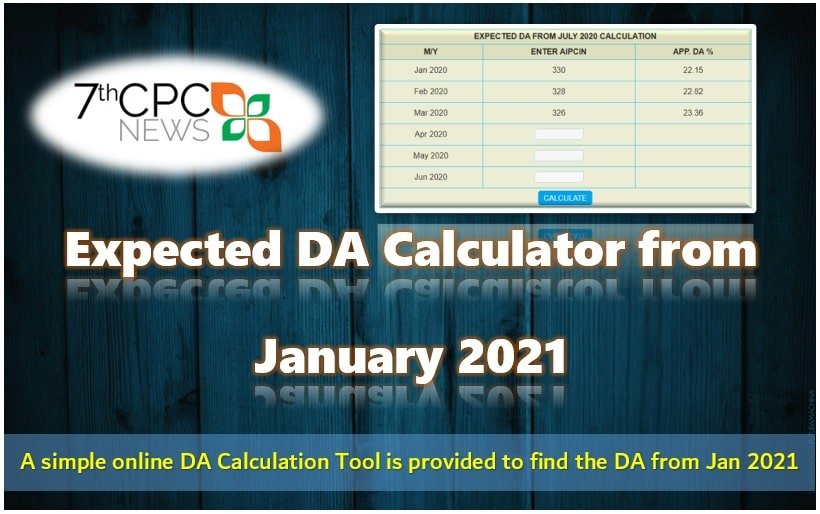 Expected Dearness Allowance from Jan 2021 for Central Govt Employees and Pensioners
A simple online DA Calculation Tool is provided to find the DA from Jan 2021 with inputs of expected AICPIN for the required months.
2nd Step of 'Expected DA Jan 2021' Calculation is Completed!
AICPIN for August 2020 – Press Release PDF Download
1st Stage of Expected DA January 2021 Calculation is over!
AICPIN for the month of July 2020
Best Basic Salary and DA Online Calculator
List of latest Expected DA Calculator:
Expected DA January 2021 FAQs
Q. What is expected DA calculation?
A. Dearness Allowance (DA) calculation is based on AICPIN. Every month the percentage of DA will be calculated as per the AICPIN is the 'Expected DA Calculation'.
Q. How is DA calculated as per AICPIN?
A. The 7th pay commission recommended the formula for calculating Dearness Allowance with CPI (IW) Base Year 2001=100 for Central Govt employees.
Q. How do you calculate DA hike?
A. As per the 7th pay commission recommendations, subtract the factor of 261.4 with 12 months average of AICPIN and again divide by the 261.4 and multiply with 100. The whole number (without decimal) is DA percentage.