7th Pay Commission Pay Scale Calculator for Central Govt Employees Latest Updated July 2021
---
Freezing of Dearness Allowance is withdrawn!
The suspension of Dearness Allowance for 18 months due to pandemic is now withdrawn! Suspended installemnts from January 2020 to June 2021 has been added and approved to hike by 11% from the existing rate by the Cabinet Committee on 14th July 2021. Now the revised rate of DA and DR is 28% with effect from 1st July 2021. You can check your Expected Salary Package from July 2021 with cummulative DA and revision HRA. [Click to calcualte]
Arrears for Freezing DA Period
As per the Finance Ministry order on Freezing of Dearness Allowance, there has been clealry indicated that no arrears for the period between 1.1.2020 and 30.6.2021.
Enhancement of HRA Rates from July 2021
According to the recommendations of the 7th pay commission accepted by the Central Govt, the House Rent Allowance (HRA) rates will be revised automatically to 27%, 18%, 9% when DA crosses 25%. Now the DA is 28%. So, the hike in HRA is applicable and implemented soon!
---
Hand Salary including Basic Pay, DA, HRA, TA and NPA (if eligible) pay level calculator updated for existing CG employees after the announcement of 28% DA from July 2021. [Waiting for HRA Revision order!]
[Disclaimer: The above calculation tool is given for information purposes only.]
Read also: DA Loss Calculator from Jan 2020 to June 2021
How to Calculate Monthly Salary in India?
We are providing a simple online tool to find the monthly salary with admissible allowances as per the existing formula.
1st Step: Select your designation pay level
2nd Step: Select your basic salary
3rd Step: Select rate of House Rent Allowance
4th Step: Select classification of city (for Transport Allowance)
5th Step: If Doctor, Select NPA (Non-Practicing Allowance)
The simple calculator will give you a gross salary of the current month. The following allowances including Dearness allowance (17% of basic salary): Basic Salary, Dearness Allowance, House Rent Allowance and Transport Allowance.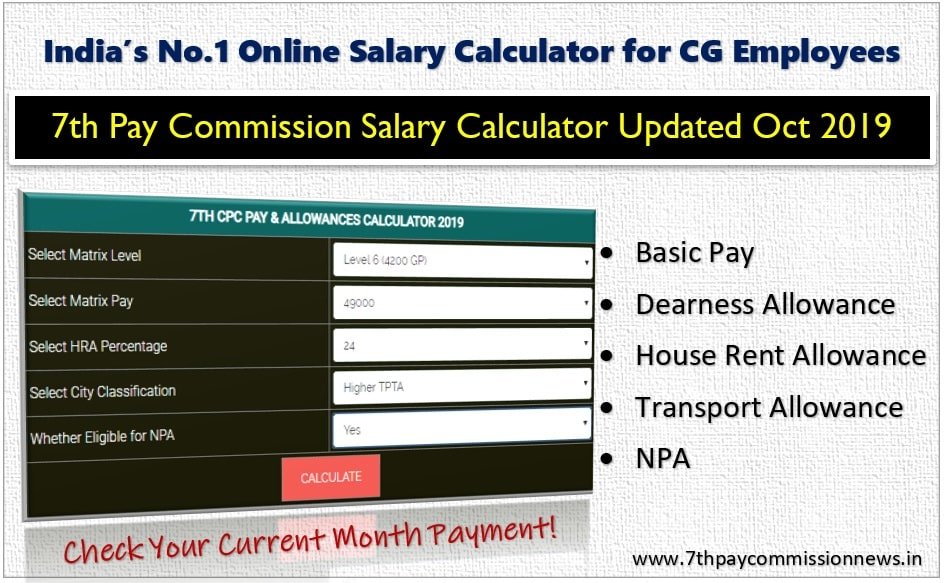 What is the minimum salary in central govt?
The minimum monthly salary in Central Government is Rs. 23913 including 17% Dearness Allowance, 8% House Rent Allowance and Transport Allowance. The minimum basic salary is Rs. 18000.
What is the minimum HRA in Central Govt posts?
Rs. 5400, Rs. 3600, Rs. 1800 are the minimum House Rent Allowance (HRA) fixed for the employees working in X, Y, Z classified cities respectively.
What is the minimum transport allowance in Central Govt?
Rs. 900 and Rs. 1350 is the minimum Transport Allowance for Central Government employees residing in Metro and Other classified cities respectively.
What is the current HRA rate for CG employees?
The current rates of House Rent Allowance (HRA) are 27% for X Class Cities, 18% for Y Class Cities and 9% for Z Class Cities as per the classification of cities and towns published in the notification. These rates are applicable from July 2021 (DA 28% from July 2021).