7th Pay Commission Pay Scale Calculator for Central Govt Employees Latest Updated 2020
Hand Salary including Basic Pay, DA, HRA, TA and NPA (if eligible) pay level calculator updated for existing CG employees after the announcement of 17% DA from July 2019 and the same DA will continue up to June 2021.
[Disclaimer: The above calculation tool is given for information purposes only.]
Read also: DA Loss Calculator from Jan 2020 to June 2021
How to Calculate Monthly Salary in India?
We are providing a simple online tool to find the monthly salary with admissible allowances as per the existing formula.
1st Step: Select your designation pay level
2nd Step: Select your basic salary
3rd Step: Select rate of House Rent Allowance
4th Step: Select classification of city (for Transport Allowance)
5th Step: If Doctor, Select NPA (Non-Practicing Allowance)
The simple calculator will give you a gross salary of the current month. The following allowances including Dearness allowance (17% of basic salary): Basic Salary, Dearness Allowance, House Rent Allowance and Transport Allowance.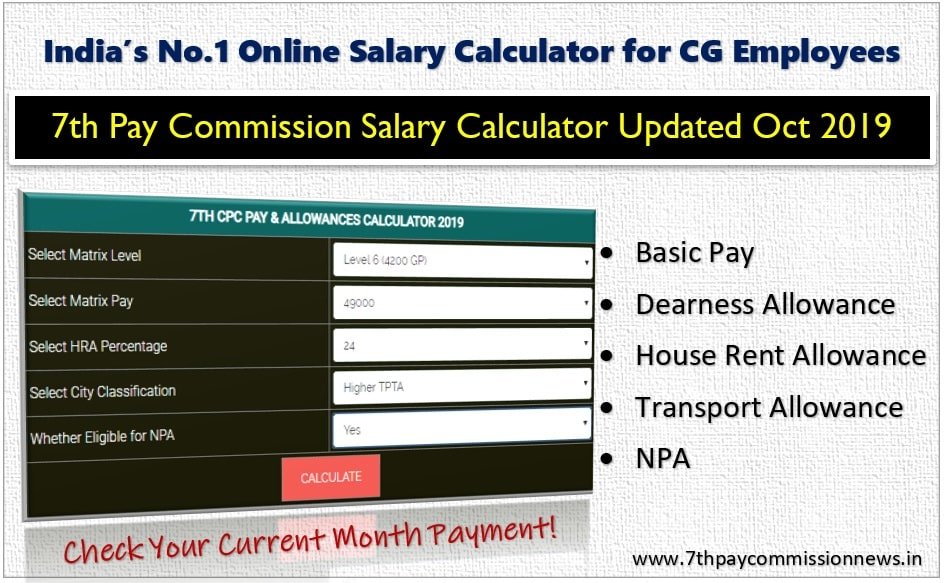 What is the minimum salary in central govt?
The minimum monthly salary in Central Government is Rs. 23913 including 17% Dearness Allowance, 8% House Rent Allowance and Transport Allowance. The minimum basic salary is Rs. 18000.
What is the minimum HRA in Central Govt posts?
Rs. 5400, Rs. 3600, Rs. 1800 are the minimum House Rent Allowance (HRA) fixed for the employees working in X, Y, Z classified cities respectively.
What is the minimum transport allowance in Central Govt?
Rs. 900 and Rs. 1350 is the minimum Transport Allowance for Central Government employees residing in Metro and Other classified cities respectively.