Digital Life Certificate for Central Government Pensioners and Family Pensioners
How to submit life certificate through online?
Welcome to Jeevan Pramaan – Digital Life Certificate for Pensioners
Jeevan Pramaan is a bio metric enabled digital service for pensioners. Pensioners of Central Government, State Government or any other Government organization can take benefit of this facility.
More than One Crore families in India can be classified as pensioner families, where the pension disbursed by the various government bodies forms the basis for their income and sustainability.
There are about Fifty Lakh pensioners of the Central Government and a similar number of the various State and UT Governments and various other government agencies. This includes pensioners from the various public sector enterprises. In addition to this Army and Defence Personnel drawing pension exceeds Twenty-five lakhs.
One of the major requisite for the pensioners post their retirement from service, is to provide life certificates to the authorized pension disbursing agencies like Banks,Post offices etc., following which their pension is credited to their account.
In order to get this life certificate the individual drawing the pension is required to either personally present oneself before the Pension Disbursing Agency or have the Life Certificate issued by authority where they have served earlier and have it delivered to the disbursing agency.
This very requirement of personally being present in front of the disbursing agency or getting a life certificate often becomes a major hurdle in the process of seamless transfer of pension amount to the pensioner.
It has been noted that it causes a lot of hardship and unnecessary inconvenience particularly for the aged and infirm pensioners who cannot always be in a position to present themselves in front of the particular authority to secure their life certificate.
In addition to this a lot of government employees post their retirement choose to move to a different location either to be with their family or other reasons, hence causing a huge logistical issue when it comes to accessing their rightful pension amount.
Digital Life Certificate for Pensioners Scheme of the Government of India known as Jeevan Pramaan seeks to address this very problem by digitizing the whole process of securing the life certificate. It aims to streamline the process of getting this certificate and making it hassle free and much easier for the pensioners.
With this initiative the pensioners requirement to physically present himself/herself in front of the disbursing agency or the certification authority will become a thing of the past benefiting the pensioners in a huge way and cutting down on unnecessary logistical hurdles.
Pensioner who is residing abroad, how can submit the Life Certificate?
In the case of pensioner residing abroad and drawing his pension through any bank included in the Second Schedule to the Reserve Bank of India, Act, 1934, the life certificate may be signed by an officer of the Bank [Click to read continue]
Digital Life Certificate SBI (Jeevan Pramaan)
Government of India, on 10th November, 2014 has launched "Jeevan Pramaan" an "Aadhaar based Digital Life Certificate" for pensioners. This initiative is in addition to the existing system of physical submission of Life Certificate by pensioners at the pension disbursing branches or any branch of the Bank at his convenience.
Pensioner can visit a nearby CSC center, Bank Branch or any Government office whose details are provided under "locate center" on jeevanpramaan.gov.in and bio-metrically authenticate his / her life certificate in real time by giving his/her Aadhaar number and other pension details related to their pension bank account.
After successful submission of digital life certificate, pensioner will get a sms on his/her mobile giving the transaction id. Pensioner will be able to download computer generated life certificate from jeevanpramaan.gov.in using this transaction id for their records.
Physical Life Certificate will continue to be accepted from pensioners if preferred by him / her.
Since the entire process is primarily Aadhaar based, digital life certificate submitted by the pensioner can be authenticated only when pensioners' accounts are seeded with their Aadhaar Number.
Submission of Life Certificate to SBI
Life certificate can be submitted through manually in physical format – Download the format in PDF
What is Jeevan Pramaan/Digital Life Certificate (DLC) ?
Jeevan Pramaan is a biometric enabled Aadhaar-based Digital Life Certificate for pensioners. Jeevan Pramaan i.e DLC is generated for individual pensioner using his/her Aadhaar number and Biometrics.
How is this different from traditional Life Certificate issued by Govt Officers/ Agencies?
For JeevanPramaan (DLC) the pensioner is not required to present himself/ herself personally before the Pension Disbursing Officer. DLC does not have to be submitted physically to the Pension Disbursing Agency ( Bank/Post Office etc ) as it is available to them digitally and. is automatically processed by the Pension Disbursing Agency. Also each DLC has a unique id called the Pramaan-Id.
Is the Pramaan ID / Jeevan Pramaan i.e DLC valid for life ?
The Pramaan ID/Jeevan Pramaan is not valid for life. The validity period of the certificate is as per rules specified by the Pension Sanctioning Authority. Once the validity period is over a new JeevanPramaan Certificate i.e a new Pramaan Id needs to be obtained.
Who is eligible for Jeevan Pramaan i.e Digital Life Certificate ?
A pensioner whose Pension Sanctioning Authority (PSA) is onboarded on to JeevanPramaan is eligible for Jeevan Pramaan. List of onboarded PSA, can be found under 'Circulars' tab on the https://jeevanpramaan.gov.in portal. A pensioner who is re-employed or re-married is not eligible to make JeevanPramaan i.e Digital Life Certificate. From where can I obtain a JeevanPramaan i.e Digital Life Certifificate.
You can obtain a DLC from
various Citizen Service Centre (CSC ) located across India
office of Pension Disbursing Agencies (PDA) such as Post Office, Banks, Treasury etc
It can also be generated from home/any location on a Windows PC/Laptop( ver 7 & above) or Android Mobile ( KitKat & above ), for more details click here.
What is required, if I want to generate DLC on my PC/Laptop/Mobile
A STQC certified Biometric Device is required.
'RD Service' of the Biometric Device being used should be installed on the PC/Laptop/mobile.
The 'JeevanPramaan Application' has to be installed on your PC/mobile. It can be downloaded from the 'Download' tab from https://jeevanpramaan.gov.in portal.
An Internet Connection is required.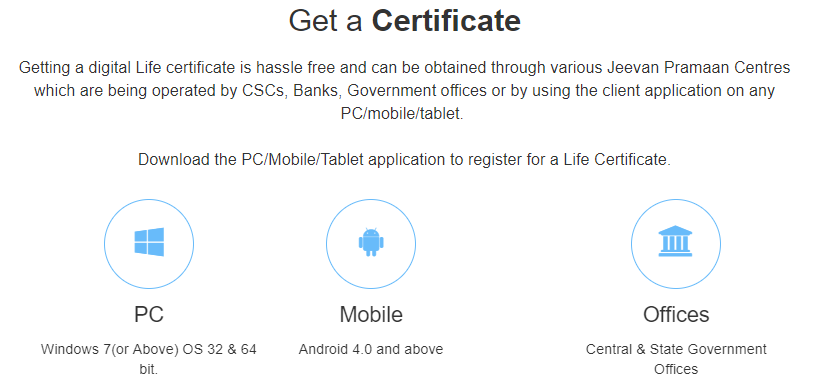 Life Certificate at Doorstep of Pensioners – DoPPW Pensioners Portal Order 17 January 2020
FAQ for Pensioners about Jeevan Pramaan Application and RD Service
Bio-Metric Attendance in CG Offices
Face Authentication Technology for Life Certificate
The Government has introduced Face Authentication Technology to submit 'Life Certificate' by Pensioners through the Jeevan Pramaan App with a view to enhance 'ease of living' for pensioners.
Face Authentication Technology was launched by the Government on 29th November 2021 with a view to enhance ease of submission of Digital Life Certificate by pensioners. Department of Pension and Pensioners' Welfare had collaborated with NIC, Ministry of Electronics and Information Technology (Meity) and UIDAI to utilize the 'Face-Authentication Technology' based on UIDAI Aadhaar software, for submission of digital life certificate by the Pensioners/Family Pensioners. As per this facility, the identity of a person is established through face authentication technique and it is now possible to submit Life Certificate using the Jeevan Pramaan App from any Android based smart phone and the Digital Life Certificate gets generated.
The Government has not come across any instances of hardship faced by pensioners while availing this technology in submitting 'Life Certificate' for availing pension.
Top Developments on Life Certificate for CG Pensioners: