CSD Canteen | URC Canteen | Sub-Area Canteen Online Token Appointment Booking
We are here try to provide the details of advance booking for purchasing items in all URC Canteen and their website address and link.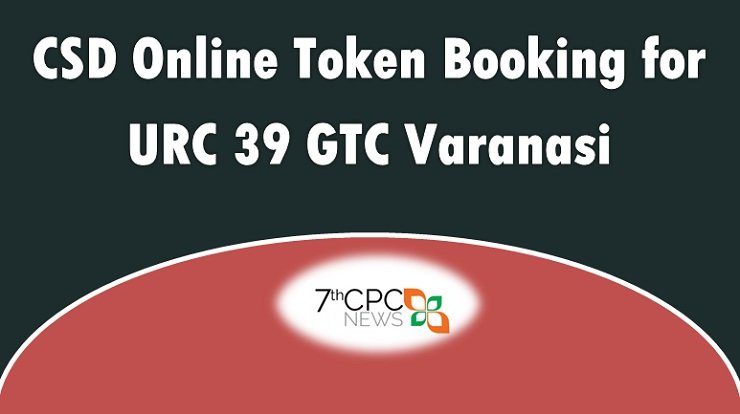 Due to the Covid-19 pandemic, all CSD Depots and Unit Run Canteens (URC) were closed to the guidance of the Head Quarter of Canteen Stores Department. After unlocking the lockdown, some URCs are taken initiated to go for online sale.
E-Token for Visiting URC 39 GTC Website
https://www.urc39gtc.com/
CSD Canteen, Cantonment Rd, Varanasi cantonment, Banaras, Uttar Pradesh, India
Address: URC 39 GTC, Near Nadesar Church, Varanasi, Cantonment UP -221002
E-mail: [email protected]
Contact Phone: 917607018027, 0542-2507306
Instructions for CSD Customers:
(a) Only one person per Smart Card is allowed to enter in the URC premises.
​(b) Children are not allowed.
(c) Avoid visits by persons above 70 years of age.
(d) Arogya Setu App in mobile is mandatory.
(e) Wearing of mask and hand gloves are mandatory.
(f) Persons living in the containment zone are not allowed.
(g) Print out a copy of the email for booking confirmation or the confirmation email on the mobile is required to be shown at the main entry gate of URC.
39 GTC Varanasi IFSC Code
SBI 39 GTC Varanasi Bank Branch Details
Branch Code: 08072
IFSC Code: SBIN0008072
MICR Code: 221002023


---
CSD Canteen Online Token Appointment Booking System started
Canteen Stores Department (CSD) introduced a new token system for Armed Forces Personnel and OFB employees in various locations from the first week of May 2020.
Due to Coronavirus (COVID-19) pandemic, all CSD Depots and URC Canteens are closed and stop sales for Defence Personnel, Ex-Servicemen and Defence Civilians from April 24th 2020.
Hardship facing of soldiers and their families due to unavailable of grocery items and liquor, the Department made an online platform in some station. The daily token system has been introduced for veterans in some other stations. Daily 50 to 100 smart cardholders are allowed to give the selected items list to the canteen staff in the morning hours. And collect the items in the evening hours with wearing mark and follow COVIC-19 guidelines.
---
Nagpur Military Canteen Online Token Appointment Booking System
Business Hours: Tuesday to Sunday 9 am to 5 pm (Monday Holiday)
Slot booking start from 9.00 AM
Booking of the slots would be open only three days in advance
Double booking of slots will be cancelled automatically
Booking in the wrong category will also be cancelled
You would be denied entry into the CSD in the wrong category
Online Token Advance Booking Policy
Visit CSD after e appointment only
Please book only one slot per month
Only 30 minutes permitted inside CSD
Show e appointment EMail/Screenshot on a visit
Must use mask, sanitizer and follow all COVID 19 guidelines
Entry will be denied in the wrong category.
---
ESM Canteen Gurgaon (Haryana) online booking
CSD Canteen Working Days & Timings
Monday: 09:00 – 13:00
Tuesday: Closed
Wednesday to Sunday: 09:00 – 16:00
Contact number: 4010174
Official Link for online booking: gurgaoncanteen.setmore.com
---
Noida Canteen Sector 37 Online Token Appointment Booking System
Official Link for booking: https://noidacanteen.setmore.com/bookappointment
Military Canteen Nagpur Maharashtra Online Token Appointment Booking System
Online booking is currently unavailable for services.
The official website for online booking:
https://suvidhakendra.setmore.com/
---
Central Command Canteen (Surya) Lucknow Uttar Pradesh Online Token
Appointment Booking System
CSD Canteen Working Days
Monday: 9:00 – 4.30
Tuesday and Wednesday: Closed
Thursday to Sunday: 09:00 – 04:30
Official Link for booking: https://surya2020.setmore.com/
---
Sarvatra CSD Canteen in Dehradun Online Token Appointment Booking System
Location: Raiwala Military Station Dehradun Uttaranchal
CSD Online Booking Holidays and Timings
Monday to Thursday: 8:00 – 6.00
Friday: Closed
Saturday: 8:00 – 6.00
Sunday: 09:30 – 01:30
Temporarily suspended online bookings.
Source: https://allcsdprices.in/
What is CSD AFD registration?
All CSD customers have to register on the CSD AFD Portal before purchasing AFD items. Registration can be made in simple few steps.
What is indent from in CSD?
The Indent Form is an application form for buying AFD items in CSD Canteen. The Head of Department will decide the eligibility of purchasing AFD items from the CSD Canteen.
What is LS Order in CSD?
The full form of 'LS Order' is 'Local Supply Order'. After completion of the process of purchasing AFD items in the online portal, the 'Local Supply Order' will be issued from your selected URC canteen.