The Leave Travel Concession (LTC) Cash Voucher Benefit Scheme Online Calculator for Central Government Employees
Including 'Without Leave Encashment' Calculation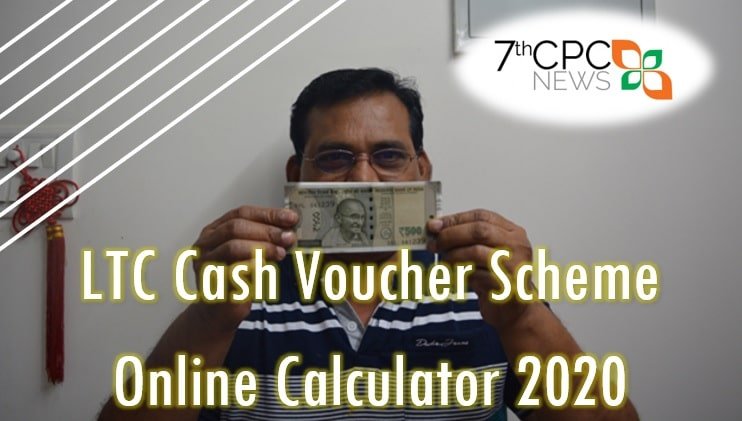 Income-Tax Exemption for LTC Cash Voucher Scheme
The Central Government has decided to extend the income tax exemption available under leave travel concession (LTC) cash voucher scheme to non-central government employees also to boost consumer spending. [Click to read in detail]
---
FAQ on LTC Cash Voucher Scheme
FAQ on Special LTC Cash Package Scheme for CG Employees
Recently the Department of Expenditure issued an important notification regarding the subject of new Leave Travel Concession Fare Cash Payout Scheme for Central Government Employees. [Click to read in detail]
---
LTC Cash Voucher Scheme Example
Special Cash Package equivalent in lieu of LTC for CG Employees – Example for Calculation of Special Cash Package on LTC [Click to read in detail]
---
LTC Cash Voucher Scheme Clarification PDF Download
The Department of Expenditure published an important order on 12th October 2020 regarding the new LTC scheme for Central Government employees. [Click to read in detail]
---
LTC Cash Voucher Scheme Application Form
Leave Travel Concession (LTC) Cash Voucher Scheme 2020 Application Form
Application Form for Special Cash Package in Lieu of LTC [Click here to download form]
---
LTC Cash Voucher Calculation Formula
The Leave Travel Concession (LTC) Cash Benefit Voucher Scheme is a little bit confusing on the calculation with or without encashment. As per the recent clarification issued by the Department of Expenditure on 25 November 2020…[Click to read in detail]
---
LTC Cash Voucher Scheme FAQ No 1
Whether the individual employee is required to take leave to avail this LTC- Cash Voucher Scheme?
An individual need not take leave for this purpose nor undertake any travel. This is a scheme in lieu of LTC travel. [Click to read in detail]
---
LTC Cash Voucher Scheme FAQ No 2
An employee whose workplace and hometown are same and is eligible for only one all India LTC in one Block Year. If that LTC is exhausted, will he be eligible for this scheme? [Click to read in detail]
---
LTC Cash Voucher Scheme FAQ No 3
An employee wishes to avail the special cash package without opting for leave encashment. As per records he has sufficient EL for encashment purpose. Whether an employee can only avail LTC fare without claiming Leave encashment even though he has not exhausted the prescribed limit for leave encashment for LTC? [Click to read in detail]
---
LTC Cash Voucher Scheme Circular
What is mean by LTC cash voucher?
The Central Government has announced a new reimbursement scheme for its employees from a particular period of October 2020 to March 2021. 10 days leave encahsment and the amount can reimburse on the account of purchase of goods and services which carry a GST rate of 12% and above.
How can I reimburse LTC cash voucher benefit?
According to the Finance Ministry order issued on 12 October 2020, Government employees can reimburse the amount spend on purchasing of goods and services with a GST rate of 12% and above.
How LTC cash voucher encahsment is calculated?
Normal Leave Encashment calculation is slightly differ from LTC cash voucher encashment calculation. The LTC cash voucher calclation is the basic salary multiplied with 1.17 and again multiplied with 10 and then divided by 30.
What is deemed LTC fare in Cash Voucher Scheme?
The employees are categoriesed as three segments such as, Business class Airfare, Economy class Airfare and Rail fare. The deemed LTC are per person also fixed as Rs. 36000, Rs. 20000 and Rs. 6000 respectively.