7th Pay Commission: Rates of Transport Allowance
TRANSPORT ALLOWANCE FOR CG EMPLOYEES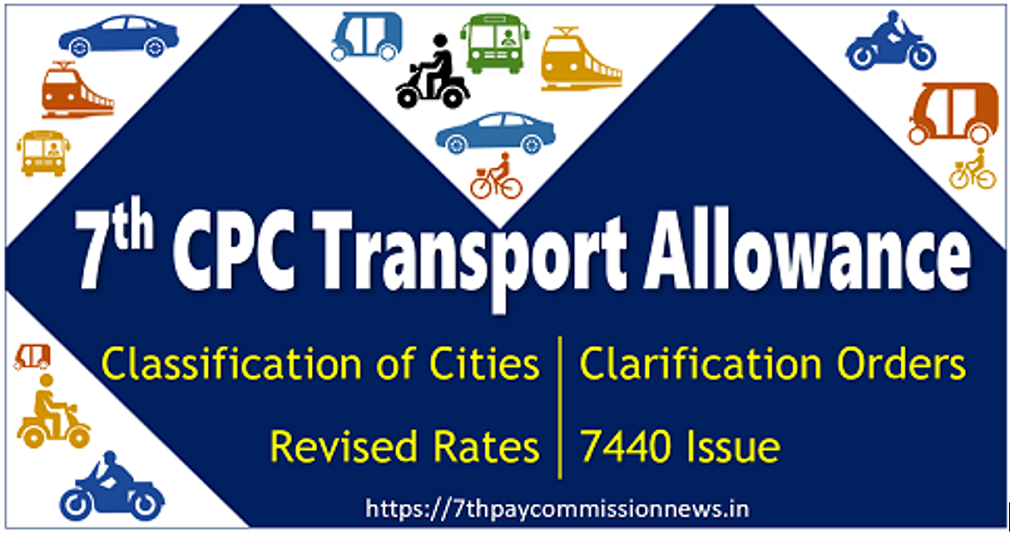 7th Central Pay Commission Recommendations on Transport Allowance for Central Government Employees
Rates of Transport Allowance for all category of Central Government Employees with effect from 1.1.2016 as per 7th Pay Commission
Click To View TA with DA Chart as per 7th CPC
(1)=Rate of Transport Allowance, (2)=Pay Level (Grade Pay), (3)=Higher TPTA Cities*, (4)=Other Places**
(1)
(2)
(3)
(4)
Level 9 and Above
(GP 5400 PB-2 and Above)
7200 + DA
3600 + DA
Level 3 to Level 8
(GP 2000 to GP 4800)
3600 + DA
1800 + DA
Level 1 and Level 2
(GP 1800 and GP 1900)
1350 + DA
900 + DA
TPTA Cities: *Ahmedabad(UA), Bengaluru(UA), Chennai(UA), Coimbatore(UA), Delhi(UA), Ghaziabad(UA), Greater Mumbai(UA), Hyderabad(UA), Indore(UA), Jaipur(UA), Kanpur(UA), Kochi(UA), Kolkata(UA), Kozhikode(UA), Lucknow(UA), Nagpur(UA), Patna(UA), Pune(UA), Surat(UA)
Other Places: **Central Government Employees posted at all 'Other Places' including Faridabad, Gurgaon, Ghaziabad & Noida.
Note: List of Cities/Towns eligible for Higher Rates of Transport Allowance on Re-Classification of Cities/Towns as per Census 2011 (w.e.f.1.4.2015)
Officers in Pay Level 14 and higher, who are entitled to the use of official car, will ave the option to avail themselves of the existing facility or to draw the TPTA at the rate of Rs.15,750+DA pm. Differently abled employees will continue to be paid at double rate, subject to a minimum of Rs.2,250 plus DA.
---
Central Government constituted a Committee under the Chairmanship of Finance Secretary to examine the recommendations of the 7th CPC on Allowances. The Allowance Committee submitted its report on 27.4.2017 to Government.
---
Finmin Issued Detailed Orders about Transport Allowance on 7.7.2017 – Click to read full story
---
Allowance Committee Report on Transport Allowance – Click to read full story
---
Amendment order regarding Transport Allowance on 2.8.2017 – Click to View the Order
7th CPC Level
TPTA Cities
Other Cities
Level-1 (GP 1800) and Level-2 (GP 1900)
Level – 1
1350 + DA
900 + DA
3600 + DA (24200 and Above)
1800 + DA (24200 and Above)
Level – 2
1350 + DA
900 + DA
3600 + DA (24200 and Above)
1800 + DA (24200 and Above)
Level-3 (GP 2000) to Level-8 (GP 4200)
Level – 3
3600 + DA
1800 + DA
Level – 4
3600 + DA
1800 + DA
Level – 5
3600 + DA
1800 + DA
Level – 6
3600 + DA
1800 + DA
Level – 7
3600 + DA
1800 + DA
Level – 8
3600 + DA
1800 + DA
Level-9 and Above (GP 5400 PB-2 and Above)
Level – 9
7200 + DA
3600 + DA
Level – 10
7200 + DA
3600 + DA
Level – 11
7200 + DA
3600 + DA
Level – 12
7200 + DA
3600 + DA
Level – 13
7200 + DA
3600 + DA
The below table describes the Transport Allowance for Pay Matrix Level -1 and Level -2 after release the Finance Ministry Clarification…(Calculation for DA taken as 4%)
7th CPC Transport Allowance with DA(5%) Chart w.e.f. 1.7.2017
7th CPC Transport Allowance with DA(7%) Chart w.e.f. 1.1.2018
7th CPC Transport Allowance with DA(9%) Chart w.e.f. 1.7.2018
7th CPC Transport Allowance – Finmin and DoPT Orders