Current Month CGEGIS Saving Fund Benefit Calculator
Central Government Employees General Insurance Scheme (CGEGIS) Savings Fund Benefit Calculator (Updated)
A Simple online tool to find out the Benefits for Savings Fund to the beneficiaries under the Central Government Employees Group Insurance Scheme-1980. Interest rates are calculated for the fund as worked out by IRDA based on compounded quarterly.
Two categories of tables are used for calculating the interest rates of fund, first Table of Benefits for the savings fund of the scheme is based on the subscription of Rs.10 p.m. from 1.1.1982 to 31.12.1989 and Rs.15 p.m. w.e.f. 1.1.1990 on wards.
The second Table of Benefits for savings fund is based on a subscription of Rs.10 p.m. for those employees who had opted out of the revised rate of subscription w.e.f. 1.1.1990.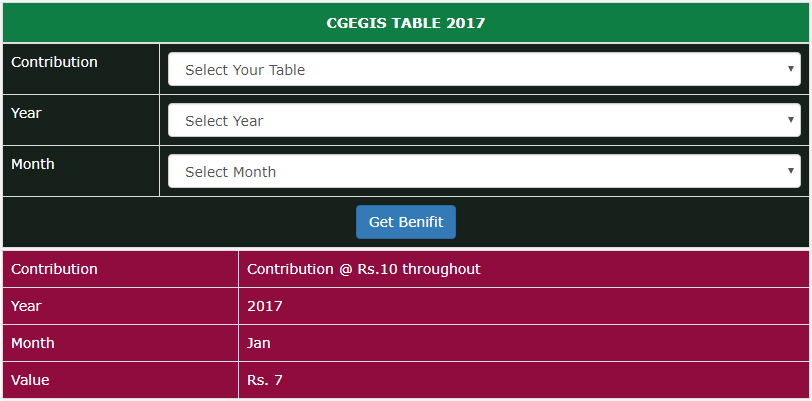 [Note: All fund amount as per the CGEGIS Table of Benefits]
| | |
| --- | --- |
| Title of Tool | CGEGIS Latest Table of Benefit Calculator |
| Beneficiaries | Central Govt Employees |
| Feature | Current Month Benefit |
| Published on | 1.7.2017 |
| Updated on | 1.7.2021 |
| Inputs | Select Month and Year of Subscription Started |
| Outputs | Fund Benefit on Both Schemes |
| Developed by | TEUT Digital Concepts |
Central Government Employees Group Insurance Scheme Archive
| | |
| --- | --- |
| Title | OM |
| CGEGIS Benefit Tables 2019 – Savings Fund from Jan to Mar 2019 | Download |
| CGEGIS Benefit Table 2018 – From 1.10.2018 to 31.12.2018 | Download |
| Central Government Employees Group Insurance Scheme 1980 – Tables of Benefits for the savings fund for the period from 1.7.2018 to 30.9.2018 | Download |
| Central Government Employees Group Insurance Scheme 1980 – Tables of Benefits for the savings fund for the period from 1.4.2018 to 30.6.2018 | Download |
| Central Government Employees Group Insurance Scheme 1980 – Tables of Benefits for the savings fund for the period from 1.1.2018 to 31.3.2018 | Download |
| Central Government Employees Group Insurance Scheme-1980-Table of Benefits for the saving fund for the period from 01.10.2017 to 31.12.2017 | Download |
| Central Government Employees Group Insurance Scheme 1980 – Tables of Benefits for the savings fund for the period from 01.07.2017 to 30.09.2017 | Download |
| Central Government Employees Group Insurance Scheme 1980 – Tables of Benefits for the savings fund for the period from 01.04.2017 to 30.06.2017 | Download |
| Simplification of procedure for payment of Central Government Employees Group Insurance Scheme (CGEGIS) dues- regarding | Download |
| Central Government Employees Group Insurance Scheme 1980 – Tables of Benefits for the savings fund for the period from 01.01.2017 to 31.03.2017 | Download  |
| Central Government Employees Group Insurance Scheme, 1980 – Updating of the Scheme | Download |
| Table for Central Government Employees Group Insurance Scheme 1980 – – Tables of Benefits for the savings fund for the period from 1.1.2016 to 31.12.2016 | Download |