What about next month's (April 2020) salary for central Govt employees!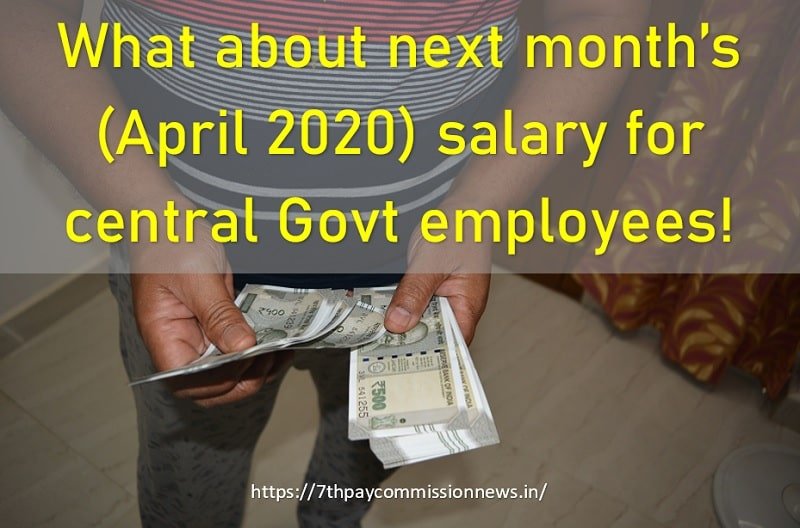 Is there any salary cut for Central Government Employees?
The Modi Government has decided in the last Cabinet Meeting to reduce 30% of Pay for a year to all MPs including Prime Minister and for all council of ministers. As per the amendment of Parliament Act, 30 percent will be cut from the basic salary and basic pension and the allowances may continue.
Also read: Central Government Employees Salary disburse before 31 of this month
At present, there is no news about the cut in salary and allowances for Central Govt Employees.
But, the Dearness Allowance, already approved by the Cabinet Committee on 13 March 2020, the Finance Ministry not yet issued formal orders to disburse the payment of DA to CG employees with effect from 1.1.2020.
Due to Coronavirus (COVID 19) Lockdown in the entire country, all Central Government Offices closed and employees, officers are advised to work from home itself to contain the disease.
The first Lockdown Period is started from 25.3.2020 and up to 14.4.2020. Total of 21 Days distributed in two months like:
In March 2020 (31 Days) = 7 Days (5 Working Days)
In April 2020 (30 Days) = 14 Days (10 Working Days)
The second Lockdown Period is started from 15.4.2020 and up to 3.5.2020. Total lockdown days is 40 days.
In April 2020 (30 Days) = 16 Days (11 Working Days)
In May 2020 (31 Days) = 03 Days (01 Working Day)
The DoPT issued an important order on 25th March 2020 regarding lockdown in view of the threat posed by the spread of COVID 19. The order said Heads of Department may draw up a list of staff that is absolutely necessary to carry out additional essential services within the Department. The remaining staff should be asked to WORK FROM HOME.
The Third Lockdown from 4.5.2020 to 17.5.2020
The lockdown has been extended for further two weeks from 4th May 2020. The MHA order said, in the exercise of the powers, conferred under Section of the Disaster Management Act, 2005, the undersigned, in his capacity as Chairperson NEC, hereby issues new guidelines on lockdown measures, as annexed, which will come into effect from 04.05.2020 for a period of two weeks, for strict implementation. [Click to view the order]
Payment of Transport Allowance for the month of April 2020
Entitlement of Transport Allowance for the month of April 2020 – Ministry of Labour asking the details of attendance in the month of April to its employees. [Click to read more]
Donation option purely depends upon the individual
A circular (Department of Revenue) said that it has been decided to appeal all officers and staff of Department of Revenue to contribute their one day's salary every month till march 2021 to the Prime Minister's Citizen Assistance and Relief in Emergency Situations (PM CARES) Fund to aid the Government's efforts to fight the coronavirus pandemic. [Click to read continue…]