7th CPC Pay Hierarchy Table for CG Employees
Pay Matrix Table for Central Government Employees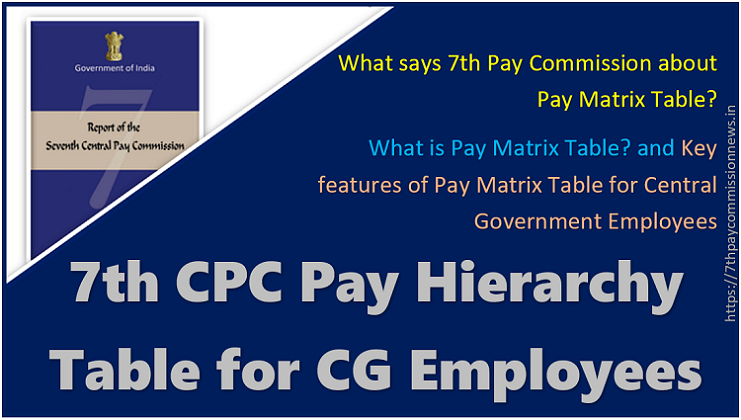 Matrix Pay Table as per 7th Central Pay Commission for Central Government Employees and Pensioners

What says 7th Pay Commission about Pay Matrix Table?
The Commission has adopted an innovative design to make the remuneration structure attractive. It has adopted the need based minimum wage formula for designing the pay matrix. The rationalization of pay levels has been done keeping this minimum pay as the base for all calculations. It has been recommended that the minimum pay at each level will be the entry pay for direct recruits for those levels. Each level has been placed equidistantly. The various stages within a level moves upwards at the rate of 3 percent per annum. Owing to this rationalization, the quantum of increase in pay on promotion, either on regular basis or through the MACP, is likely to be substantial. This design will make the existing remuneration pattern in the government more attractive.
What is Pay Matrix Table? and Key features of Pay Matrix Table for Central Government Employees : Pay Matrix which is simple, transparent, predictable and easily comprehensible. During their interactions with the Commission, the stakeholders placed many demands, ranging from common entry pay, rationalization of the existing grade pay structure, common treatment of like cadres, transparent pay structure as also increasing the frequency of the MACP.
The new pay matrix incorporates all these features: subsuming the grade pay, the rationalized matrix presents the whole universe of pay levels in one simple chart. The levels have been rationalized too, displaying a logical pay progression. Employees would be able to see their pay level, where they fit in and how they are likely to progress over their career span. The Commission has also recommended simplified procedures for computation of pension.
The major differenet between in the pay matrix table recommended by the pay commission and notified by the Government is in the pay hearchy of level-13. The Notification (16.5.2017) said, the index of Rationalisation (IOR) of Level-13 enhanced from 2.57 to 2.67. The below table describe the different between recommended pay hierarchy and enhanced pay hierarchy…
PB 37400-67000
GP
8700
8700
EP
46100
Level
13
13
Index
2.57
2.67
1
118500
123100
2
122100
126800
3
125800
130600
4
129600
134500
5
133500
138500
6
137500
142700
7
141600
147000
8
145800
151400
9
150200
155900
10
154700
160600
11
159300
165400
12
164100
170400
13
169000
175500
14
174100
180800
15
179300
186200
16
184700
191800
17
190200
197600
18
195900
203500
19
201800
209600
20
207900
215900
21
214100
VII CPC PAY MATRIX TABLE
LEVEL 1 TO 5 (GP 1800 TO 2800)
PB-1 (5200-20200)
GP
1800
1900
2000
2400
2800
Level
1
2
3
4
5
1
18000
19900
21700
25500
29200
2
18500
20500
22400
26300
30100
3
19100
21100
23100
27100
31000
4
19700
21700
23800
27900
31900
5
20300
22400
24500
28700
32900
6
20900
23100
25200
29600
33900
7
21500
23800
26000
30500
34900
8
22100
24500
26800
31400
35900
9
22800
25200
27600
32300
37000
10
23500
26000
28400
33300
38100
11
24200
26800
29300
34300
39200
12
24900
27600
30200
35300
40400
13
25600
28400
31100
36400
41600
14
26400
29300
32000
37500
42800
15
27200
30200
33000
38600
44100
16
28000
31100
34000
39800
45400
17
28800
32000
35000
41000
46800
18
29700
33000
36100
42200
48200
19
30600
34000
37200
43500
49600
20
31500
35000
38300
44800
51100
21
32400
36100
39400
46100
52600
22
33400
37200
40600
47500
54200
23
34400
38300
41800
48900
55800
24
35400
39400
43100
50400
57500
25
36500
40600
44400
51900
59200
26
37600
41800
45700
53500
61000
27
38700
43100
47100
55100
62800
28
39900
44400
48500
56800
64700
29
41100
45700
50000
58500
66600
30
42300
47100
51500
60300
68600
31
43600
48500
53000
62100
70700
32
44900
50000
54600
64000
72800
33
46200
51500
56200
65900
75000
34
47600
53000
57900
67900
77300
35
49000
54600
59600
69900
79600
36
50500
56200
61400
72000
82000
37
52000
57900
63200
74200
84500
38
53600
59600
65100
76400
87000
39
55200
61400
67100
78700
89600
40
56900
63200
69100
81100
92300
VII CPC PAY MATRIX TABLE
LEVEL 6 TO 9 (GP 4200 TO 5400)
PB
PB-2 (9300-34800)
GP
4200
4600
4800
5400
Level
6
7
8
9
1
35400
44900
47600
53100
2
36500
46200
49000
54700
3
37600
47600
50500
56300
4
38700
49000
52000
58000
5
39900
50500
53600
59700
6
41100
52000
55200
61500
7
42300
53600
56900
63300
8
43600
55200
58600
65200
9
44900
56900
60400
67200
10
46200
58600
62200
69200
11
47600
60400
64100
71300
12
49000
62200
66000
73400
13
50500
64100
68000
75600
14
52000
66000
70000
77900
15
53600
68000
72100
80200
16
55200
70000
74300
82600
17
56900
72100
76500
85100
18
58600
74300
78800
87700
19
60400
76500
81200
90300
20
62200
78800
83600
93000
21
64100
81200
86100
95800
22
66000
83600
88700
98700
23
68000
86100
91400
101700
24
70000
88700
94100
104800
25
72100
91400
96900
107900
26
74300
94100
99800
111100
27
76500
96900
102800
114400
28
78800
99800
105900
117800
29
81200
102800
109100
121300
30
83600
105900
112400
124900
31
86100
109100
115800
128600
32
88700
112400
119300
132500
33
91400
115800
122900
136500
34
94100
119300
126600
140600
35
96900
122900
130400
144800
36
99800
126600
134300
149100
37
102800
130400
138300
153600
38
105900
134300
142400
158200
39
109100
138300
146700
162900
40
112400
142400
151100
167800
VII CPC PAY MATRIX TABLE
LEVEL 10 TO 12 (GP 5400 TO 7600)
PB
PB-3 (15600-39100)
GP
5400
6600
7600
Level
10
11
12
1
56100
67700
78800
2
57800
69700
81200
3
59500
71800
83600
4
61300
74000
86100
5
63100
76200
88700
6
65000
78500
91400
7
67000
80900
94100
8
69000
83300
96900
9
71100
85800
99800
10
73200
88400
102800
11
75400
91100
105900
12
77700
93800
109100
13
80000
96600
112400
14
82400
99500
115800
15
84900
102500
119300
16
87400
105600
122900
17
90000
108800
126600
18
92700
112100
130400
19
95500
115500
134300
20
98400
119000
138300
21
101400
122600
142400
22
104400
126300
146700
23
107500
130100
151100
24
110700
134000
155600
25
114000
138000
160300
26
117400
142100
165100
27
120900
146400
170100
28
124500
150800
175200
29
128200
155300
180500
30
132000
160000
185900
31
136000
164800
191500
32
140100
169700
197200
33
144300
174800
203100
34
148600
180000
209200
35
153100
185400
36
157700
191000
37
162400
196700
38
167300
202600
39
172300
208700
40
177500
VII CPC PAY MATRIX TABLE
LEVEL 13 TO 14 (GP 8700 TO 10000)
PB
37400-67000
GP
8700
8900
10000
Level
13
13A
14
1
123100
131100
144200
2
126800
135000
148500
3
130600
139100
153000
4
134500
143300
157600
5
138500
147600
162300
6
142700
152000
167200
7
147000
156600
172200
8
151400
161300
177400
9
155900
166100
182700
10
160600
171100
188200
11
165400
176200
193800
12
170400
181500
199600
13
175500
186900
205600
14
180800
192500
211800
15
186200
198300
218200
16
191800
204200
17
197600
210300
18
203500
216600
19
209600
20
215900
VII CPC PAY MATRIX TABLE
LEVEL 15 TO 18 (NO GP – HAG SCALES)
PB
67000-79000
75500-80000
80000
90000
GP
Level
15
16
17
18
1
182200
205400
225000
250000
2
187700
211600
3
193300
217900
4
199100
224400
5
205100
6
211300
7
217600
8
224100