Strike of Central Government Employees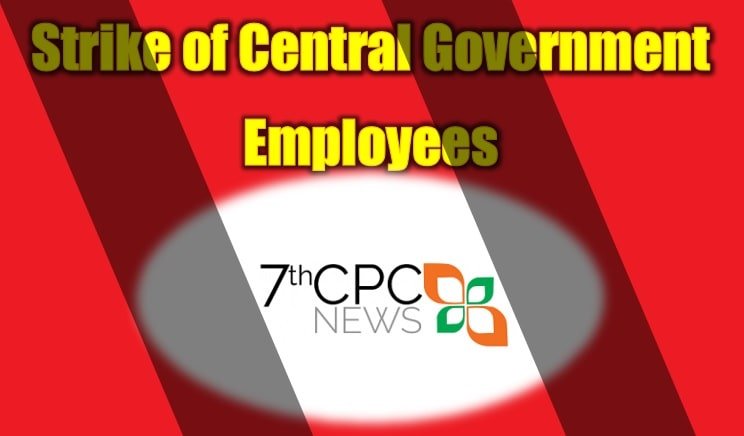 Confederation of Central Government Employees
The member body of 'National Council Staff Side' is the major representative for Central Government employees. All India Railwaymen's Federation (AIRF) and the National Federation of Indian Railwaymen (NFIR) are the biggest employees federations in India. And one more 'Confederation of Central Government Employees and Workers' is the workers federation with mass members including GDS. Apart from this, many workers' unions and staff associations are in the respective departments or ministries to fight for their employee's rights and demands.
Latest News and Updates about Strike of Central Government Employees and about issued of Notice. Trade Unions of CG Employees has been conducted one day strike, two days strike and also Indefinite strike against the charter of demands. All Trade Unions and Confederations Jointly conducted strike with all employees working in Central and State Government in various situations. And also show their protest as Stage Demo, Black badge, Lunch Hour Slogan, etc.,
Latest News about Strike of CG Employees
Central Headquarters of Confederation of Central Government Employees and Workers published an important circular regarding the Nationwide Strike on 8.1.2020. The circular said, Strike to be organized on 10 points Charter of demands of Confederation (attached herewith) and also the common demands of workers adopted in the National Convention of Workers. And the first and most important demand to be emphasized is "SCRAP NPS AND RESTORE OPS".
Latest list of news headlines of strike:
Why CG Employees go on nation wide one day strike on 8.1.2020 November 27, 2019 Read more…
Nationwide Strike on 8th January 2020 – Confederation November 27, 2019 Read more…
National General Strike On 8th January 2020 (Wednesday) October 14, 2019 Read more…
Two Day Bank Strike Deferred – Bank Customers Relaxed! September 25, 2019 Read more…
Two Day Bank Strike – 26th and 27th September 2019 September 16, 2019 Read more…
Ordnance Employees strike called off August 24, 2019 Read more…
Defence Employees 30 Days Strike started – Joint Press Release on 20.8.2019 August 21, 2019 Read more…
Ordnance Employees to go on One Month Strike from Tomorrow August 19, 2019 Read more…
One month strike from 20.08.2019 to 19.09.2019 – NJCA August 7, 2019 Read more…
Handing of strike situation – contingency plan May 11, 2019 Read more…
Treatment of Strike Period in Respect of Gramin Dak Sevaks May 10, 2019 Read more…
Nationwide Protest by CG Employees Against NPS on 13.03.2019 March 6, 2019 Read more…
BSNL 3 Days Strike – Confederation Extends Solidarity & Support February 18, 2019 Read more…
3 Days BSNL Strike from 18th to 20th Feb 2019 February 15, 2019 Read more…
Nationwide 2 Days Strike 8th and 9th Jan 2019 January 21, 2019 Read more…
2 Days Countrywide General Strike Working Class of India January 11, 2019 Read more…
Instructions under CCS (Conduct Rules) – DoPT January 11, 2019 Read more…
2nd Day of 2 Days Nationwide Strike – FNPO January 10, 2019 Read more…
Nationwide Two Days Strike – Confederation Press Statement January 8, 2019 Read more…
Confederation One Day Strike on 15.11.2018 Postponed October 6, 2018 Read more…
Nationwide General Strike on 8th & 9th January 2019 – Confederation September 30, 2018 Read more…
All India Protest Day on 19.9.2018 – Instructions under CCS (Conduct) Rules – DoPT September 19, 2018 Read more…
Historic 48 Hours Strike Commenced with Big Bangs May 30, 2018 Read more…
Strike-Call given by Bank Unions on 30th & 31th May 2018 May 19, 2018 Read more…
Dharna Notice for 19.9.2017 and 17.10.2017 – Instructions under CCS (Conduct Rules), 1964 – Dopt September 19, 2017 Read more…
16th March 2017 Strike – Participation of Employees All Time High March 18, 2017 Read more…
16th March 2017 Strike Report – Karnataka COC March 18, 2017 Read more…
Press Statement regarding Nationwide One Day Strike today (16.3.2017) – Confederation March 16, 2017 Read more…
Strike Notice for 16th March 2017 – Instructions under CCS ( Conduct Rules) 1964 – Dopt March 16, 2017 Read more…
Historic Strike of Central Government Employees will begin within a few hours – Confederation March 15, 2017 Read more…
Central Government Employees Strike on 16th March 2017 March 14, 2017 Read more…
All India Bank Strike Success, Claims AIBEA and AIBOA March 1, 2017 Read more…
Tomorrow All India Bank Strike February 27, 2017 Read more…
Disbursement of salary for the month of February 2017 on 27th February 2017 February 23, 2017 Read more…
11th Bipartite Common Charter of Demands – AIBEA February 18, 2017 Read more…
One day Strike on 16th March 2017 – CGA Orders February 14, 2017 Read more…
Confederation served strike notice to Government of India on 28.12.2016 December 29, 2016 Read more…
One Day Strike on 15.2.2017 : Towards the inevitable end – Victory December 27, 2016 Read more…
10 lakhs Central Government employees are participated in today's nationwide general strike – Confederation September 3, 2016 Read more…
Payment of Salary to Central Government Employees on 28th July, 2016 instead of 29th July, 2016 due to bank strike called by UFBU July 28, 2016 Read more…
STRIKE IS DEFERRED, BUT THE STRUGGLE SHALL CONTINUE July 9, 2016 Read more…
Central has proposed to refer the issue of Minimum Wage and Fitment Formula to a Committee for reconsideration – NJCA July 1, 2016 Read more…
Largest participation in the Mammoth demonstration held in front of parliament on 24th June 2016 – NFIR June 26, 2016 Read more…
PARLIAMENT MARCH & RALLY OF ABOUT 20000 CENTRAL GOVERNMENT EMPLOYEES – CONFEDERATION June 24, 2016 Read more…
NJCA invites to BPMS to participate in Indefinite Strike from 11.7.2016 June 11, 2016 Read more…
INDEFINITE STRIKE NOTICE SERVED TO CABINET SECRETARY June 9, 2016 Read more…
AIRF begins formalities for Indefinite strike in Railways June 8, 2016 Read more…
NFIR union issued strike notice to GM of Zonal Railways June 8, 2016 Read more…
NJCA to serve strike notice on 9th June, 2016 June 5, 2016 Read more…
FLASH NEWS FROM CONFEDERATION – INDEFINITE STRIKE WILL COMMENCE FROM 11.7.2016 June 4, 2016 Read more…
Prepare for strike we are sure the of getting better wage hike April 22, 2016 Read more…
NJCA has decided to defer strike date to 11th July, 2016 due to elections in five states March 8, 2016 Read more…
NJCA will meet again on 7.3.2016 March 2, 2016 Read more…
Strike Ballot – 95% Railway employees want strike February 15, 2016 Read more…
Indefinite Strike to Settle the issues raised by the NJCA on the recommendations of the 7 CPC February 9, 2016 Read more…
NJCA DECIDED INDEFINITE STRIKE FROM 11th APRIL 2016 – Confederation February 8, 2016 Read more…
AIRF to conduct secret ballot for indefinite strike on 11-12th, February 2016 February 6, 2016 Read more…
Bank Strike : AIBOA Extends Solidarity to the Striking Workforce on 8.1.2016 December 30, 2015 Read more…
Bank Strike : Make 8th January Strike a total success – AIBEA December 30, 2015 Read more…
Indefinite Strike from 1st week of March 2016: Charter of Demands December 11, 2015 Read more…
Indefinite Strike : NC JCM Staff Side writes to Central Government December 11, 2015 Read more…
NJCA decides to go on indefinite strike from 1st Week of March 2016 December 9, 2015 Read more…
Special Casual Leave will be granted to those employees who attended office on 2.09.2015 – WB Orders October 14, 2015 Read more…
LIC Wage Revision : No Strike on 14.10.2015 – Final talks on 16th, 17th October 2015 October 12, 2015 Read more…
Grand Success of Income Tax Employees Strike held on 8.10.2015 – JCA Circular October 9, 2015 Read more…
2nd SEP 2015 – Historic Strike was a grand success in almost all the sectors of working class September 28, 2015 Read more…
8.5 Lakh Employees Participate in Central Government Employees Union Strike September 3, 2015 Read more…
Bank Strike today – a Massive Success September 2, 2015 Read more…
CITU Salutes the Working Class of India for the Historic Strike On 2nd September 2015 September 2, 2015 Read more…
8.5 Lakh Central Govt Employees participated in today's strike – Confederation September 2, 2015 Read more…
Appeals to Trade Unions to Reconsider Call for Proposed Strike Tomorrow : Bandaru Dattatreya September 1, 2015 Read more…
BPMS Circular on Postponement of Strike of 02.09.2015 August 29, 2015 Read more…
Confederation News : Countrywide General Strike on 2nd September Stands August 29, 2015 Read more…
Strike under reconsideration – Govt assured on Bonus, Minimum wage and Labour law issues August 27, 2015 Read more…
Banks confirm participation in September 2 general strike nationwide August 25, 2015 Read more…
Confederation served strike notice to Cabinet Secretary on 11.8.2015 – 2.9.2015 All India Strike August 12, 2015 Read more…
2nd September 2015 Strike – Additional pressure on the 7th CPC to accept our justified demands – COC Karnataka August 11, 2015 Read more…
Debroy Committee, PLB and Strike on 23.11.2015 issues discussed with Railway Ministry – NFIR August 7, 2015 Read more…
Strike Notice & Charter of Demands – All India Strike on 2.9.2015 August 6, 2015 Read more…
Charter of Demands and Explanatory Notes – All India Strike on 2.9.2015 July 30, 2015 Read more…
India Working Class Unitedly Demands Change of Policy – Confederation July 20, 2015 Read more…
One Day Strike on 2.9.2015 & Indefinite Strike from 23.11.2015 – Confederation News with Charter of Demands July 14, 2015 Read more…
Indefinite Strike from 23.11.2015 – NC JCM informed to Cabinet Secretary July 11, 2015 Read more…
Bank Employees Announce Strike on 24.6.2015 June 19, 2015 Read more…
Inter Ministerial committee to hold threadbare discussions with representatives of Central Trade Unions on 10 point charter of demands May 26, 2015 Read more…
FLASH NEWS – POSTAL INDEFINITE STRIKE DEFERRED May 5, 2015 Read more…
NATIONAL JOINT COUNCIL OF ACTION DECLARES NATIONWIDE INDEFINITE STRIKE FROM 23RD NOVEMBER 2015 April 29, 2015 Read more…
No Funds Allocation to 7th Pay Commission – Central Government Employees Protest March 6, 2015 Read more…
Central Government Employees to Protest outside the Parliament on April 28; Plan for Indefinite Strike March 6, 2015 Read more…
Bank Employees Wage Revision – 10th Bipartite Wage Settlement Comes to an End..! February 23, 2015 Read more…
AIRF writes to PM in respect of his support in defending Right to Strike for workers February 19, 2015 Read more…
DoPT's reply to NC JCM Staff Side on the decision to call for strike on 28th April 2015 February 17, 2015 Read more…
UFBU decides to revive the strike programmes – 4 days strike from 25th to 28th Feb 2015 February 6, 2015 Read more…
Bank Employees Wage Revision – UFBU not satisfied with IBA's offer, to go on strike February 3, 2015 Read more…
Mumbai and Maharashtra State getting ready for Indefinite Strike January 22, 2015 Read more…
Detailed Report on Negotiations with IBA – BEFI January 9, 2015 Read more…
Bipartite Meeting with IBA on 6th and 7th Jan 2015 – UFBU Circular No. 2015/43 January 8, 2015 Read more…
All India Strike by 7 Lakh Coal Mine Workers January 7, 2015 Read more…
IBA Circular on deferment of bank strike proposed on 7th Jan 2015 January 6, 2015 Read more…
Proposed Bank Union strike deferred on 7th January January 6, 2015 Read more…
IBA TO HOLD TALKS WITH BANK UNIONS (UFBU) TOMORROW(6.1.2015) January 5, 2015 Read more…
retirement age of Central Government employees from 60 to 58..? December 6, 2014 Read more…
Wage Negotiations with Bank Employees Unions/ Associations: IBA Press Statement December 2, 2014 Read more…
Expected DA slabs to Bank employees for the period of Nov to Jan 2015 October 23, 2014 Read more…
Bank Employees Strike on 12th November 2014 October 16, 2014 Read more…
CENTRAL GOVERNMENT EMPLOYEES STRIKE (12TH AND 13TH FEB 2014) – CONFEDERATION MESSAGE February 13, 2014 Read more…
Ordnance Employees Federations agreed to withdraw indefinite strike from 17.2.2014 February 13, 2014 Read more…
Central Govt Employees Strike – Confederation congratulates to all CG Employees for participating in two days strike.. February 12, 2014 Read more…
Postponement of proposed indefinite strike by Defence Employees Federations… February 12, 2014 Read more…
Central Govt. employees on strike from today February 12, 2014 Read more…
Confederation of Central Government Employees and Workers Called for Strike Today and Tomorrow… February 12, 2014 Read more…
TALKS FAILED ALL INDIA BANK STRIKE ON 10TH & 11TH FEB 2014 February 11, 2014 Read more…
TWO DAYS NATIONWIDE STRIKE – MERGER OF DA, DATE OF EFFECET OF 7TH CPC FROM 01-01-2014 AND FIVE PROMOTIONS ETC., February 10, 2014 Read more…
Strike confirmed–No Deferred February 10, 2014 Read more…
Dopt issued instructions for the strike by Central Government Employees on 12th and 13th February, 2014 February 10, 2014 Read more…
Feedback of the meeting held on 7.2.2014 between the Full Board and the Federations on Strike Ballot Charter – AIRF February 8, 2014 Read more…
Confederation writes to all MP's regarding 2 Days Strike February 6, 2014 Read more…
Confederation News – Explanatory Note on Demands of Central Govt Employees February 6, 2014 Read more…
Charter of Demands by AIDAEA February 6, 2014 Read more…
AIDAEA Strike Notice issued to Controller of CGDA February 6, 2014 Read more…
CGDA Orders on 2 Days Strike February 6, 2014 Read more…
DEPARTMENT OF POST's APPEAL TO WITHDRAW THE STRIKE February 2, 2014 Read more…
NFPE & FNPO DECIDED TO GO ON NATIONWIDE INDEFINITE STRIKE… October 21, 2013 Read more…