Muharram 2023: Date, History and Importance of Ashura
Muharram, the inaugural month of the Islamic calendar, holds tremendous importance for Muslims globally. It is a month of immense sanctity, symbolizing the start of the Islamic New Year and providing an opportunity for introspection, commemoration, and regeneration. This year, Muharram will commence on the evening of July 18th and culminate on August 17th. Through this piece, we shall delve into the meaning of Muharram and the customs associated with it.
Muharram 2023 Date in India: 29th July, Saturday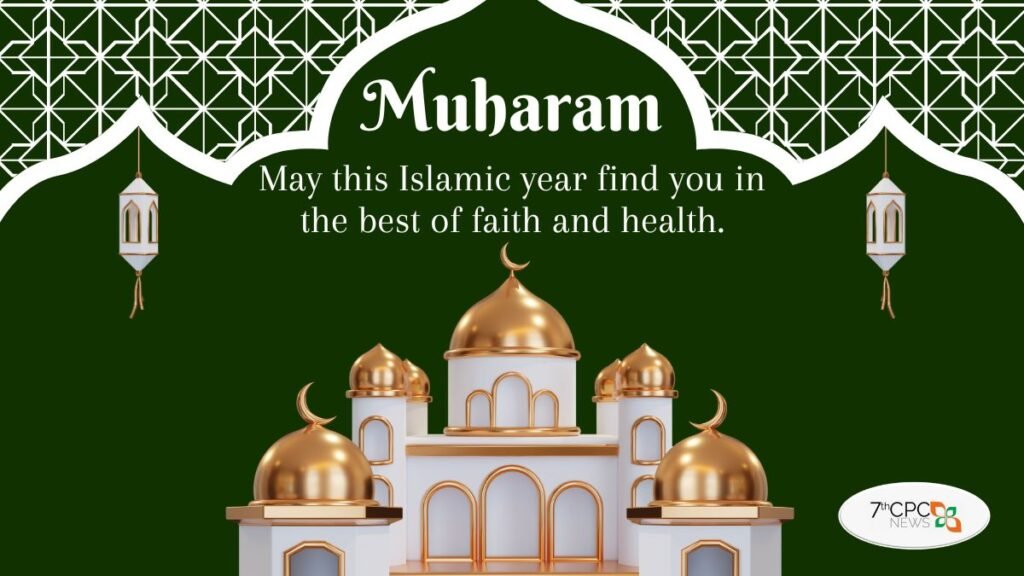 Muharram 2023 Overview
| | |
| --- | --- |
| Festival Name | Muharram  |
| Calendar | Islamic calendar |
| Month Number | 01 |
| Number of days | 29-30 (depends on actual observation of the moon's crescent) |
| Significant days | Ashura |
| Holiday Type | Gazetted Holiday |
Muharram 2023 India Calendar
Keep track of important Muharram dates in India with the 2023 Muharram Indian Calendar. Perfect for planning and organizing religious and cultural events.
| | | | | | | |
| --- | --- | --- | --- | --- | --- | --- |
| Mon | Tue | Wed | Thur | Fri | Sat | Sun |
| 31 |   |   |   |   | 1 | 2 |
| 3 | 4 | 5 | 6 | 7 | 8 | 9 |
| 10 | 11 | 12 | 13 | 14 | 15 | 16 |
| 17 | 18 | 19 | 20 | 21 | 22 | 23 |
| 24 | 25 | 26 | 27 | 28 | 29 | 30 |
Significance of Muharram
In Islamic tradition, Muharram holds immense importance as a month of great significance. According to belief, the 10th day of Muharram, referred to as Ashura, marks the creation of the heavens and the earth by Allah. It is also a solemn day of remembrance for the martyrdom of Imam Hussain, the grandson of Prophet Muhammad, who tragically lost his life in the Battle of Karbala in 680 AD. This event holds a significant place in Islamic history and is commemorated by Muslims worldwide as a defining moment.
What date is Muharram in 2023?
| | |
| --- | --- |
| Muharram 2022 Date | 09 August, Tuesday |
| Muharram 2023 Date | 19 July, Wednesday |
| Muharram 2024 Date | 17 July, Wednesday |
| Muharram 2025 Date | 06 July, Sunday |
| Muharram 2026 Date | 26 June, Friday |
Observances of Muharram
Muslims celebrate Muharram differently based on their individual cultures and beliefs. Nevertheless, there are a few shared customs that are observed universally. For instance, fasting is a crucial part of the celebrations. Numerous Muslims opt to fast during the initial ten days of Muharram, with specific emphasis on the ninth and tenth day, known as the Day of Ashura. This fast is believed to invite Allah's blessings and forgiveness upon the devotees.
During the month of Muharram, Shia Muslims perform an essential ritual known as Ziyarat Ashura. This prayer serves as a tribute to Imam Hussain and his martyrdom and is recited globally. It is regarded as an important observance within the Shia community and is a way to commemorate Imam Hussain's ultimate sacrifice.
Muslims observe Muharram by engaging in not only fasting and prayer but also congregations and parades. During these gatherings, participants recite poetry and narrate tales about Imam Hussain and his followers. The purpose of these events is to encourage contemplation and commemoration of the brave sacrifices made by Imam Hussain and his companions.
Significance of Ashura
Ashura, the 10th day of Muharram, holds immense importance in the Islamic calendar. It is a day filled with solemnity and contemplation, as Muslims all over the world pay tribute to the martyrdom of Imam Hussain. The circumstances that led to his demise are widely regarded as a pivotal moment in Islamic history, and this day is observed as a way to honor his sacrifice and preserve his legacy.
Imam Hussain's martyrdom chronicles a heart-wrenching tale of valor and tragedy. He and his supporters found themselves in an unenviable position, outnumbered and outperformed by the forces of Yazid, the Umayyad caliph. Despite their unwavering grit and resoluteness, they were eventually vanquished, and Imam Hussain was slain. His passing serves as a powerful emblem of rebellion against dictatorship and subjugation.
Lessons of Muharram
The month of Muharram is not just a period of introspection and commemoration, it is also an opportunity to gain valuable insights. The tragic incidents that culminated in the martyrdom of Imam Hussain serve as a poignant reminder of the significance of speaking out for justice, even under duress. This episode teaches us about the virtues of bravery, perseverance, and selflessness.
Muharram's ceremonies educate us on the significance of togetherness and unity. The congregations and parades held during this period emphasize that we are all members of a bigger community, and that we must stand by each other during challenging times.
Best Muharram 2023 Wishes
Wishing you a blessed Islamic year!
May this Islamic year find you in the best of faith and health.
May God allow you to enter this new year in faith and security.
May we be closer to God in this new Islamic year.
Hope you get everything you wish for in this new year.
Have a safe and blessed Muharram.
May God keep us steadfast on the right path this year and always.
Wishing you peace, love, and joy.
Happy Islamic New Year!
May this year be better than the last.
When is Muharram 2023 in India?
Muharram 2023 in India is expected to begin on the evening of Tuesday, 18th March, and end on the evening of Thursday, 17th August.
What is the 10th day of Muharram 2023?
Muharram celebrations last for 10 days, with the most significant day being the 10th day called the Day of Ashura which will occur on July 29th, 2023.
Can you get married in Muharram?
The Prophet spoke against bad omens, so it's okay to arrange a marriage or function in the month of Muharram.
What is the significance of Muharram?
Muharram is a time for Muslims to remember and reflect on the events of the Battle of Karbala and to remind themselves of the importance of standing up for justice and righteousness, even in the face of extreme adversity.