Press Release regarding Meeting with Hon'ble Defence Minister Smt Nirmala Sitaraman on 04.10.2017
Press Release
A meeting of BPMS delegates with Smt. Nirmala Sitaraman – Hon'ble Defence Minister Govt. of India held at Conference Hall of Raksha Mantri on 04/10/2017.
Smt. Nirmala Sitaraman gave patient hearing to the points raised by BPMS. She was appraised about the Core Issues as below which needs consideration of R.M.
1. Recommendations of Shekatkar Committee headed by Lt. General (Retd.) Shri D.B. Shekatkar should be rejected by Govt. of India.
2. One time relaxation from existing ceiling limit of 5% should be granted as was assured by the earlier Raksha Mantri's Shri Arun Jeitley and Shri Manohar Parrikar.
3. All Vacant posts of Civilliand defence employees working under Army, Navy, Airforce Hqrs, DRDO and OFB (Department of Defence Production) should be filled immediately.
4. The decision of Closure of Military Farms should be reviewed and efforts should be made for revival and strengthening of these Military Farms.
5. The capacity of all the Ordnance Factories should be utilized by giving work-Load to all Ordnance Factories irrespective of any discrimination among the Core and Non-Core Items and all OEF Groups of Factories, Small Arms Group Factory of Bhusawal, Vehicle Factory Jabalpur should be given proper Work-Load.
Raksha Mantri Smt. Nirmala Sitaraman gave a patient hearing to the BPMS Delegation and assured that she will look in to issue raised by BPMS. She also assured that whenever BPMS want to discuss any vital issue BPMS is welcomed.
The BPMS delegation was represented by S/Shri S.N. BATEWE – Patron, Narendra Tiwari – President, M.P. Singh – General Secretary, Mukesh Singh – Dy. Gen Secretary, Quader Subhani – DRDO, Shrinivas – DGQA, G. Thirukumar – Air Hqrs., S.K. Singh – Naval Hqrs, D.S. Upadhyay – Army Hqrs, M.M. Rangadale – Org. Secy. Shri Virendra Sharma – Jt. Secy. and Shri Kunwar Singh.
Resolutions passed in the Central Executive Committee Meeting of BPMS held at Ordnance Factory Medak was also handed over to Hon'ble Raksha Mantri by hand in this meeting.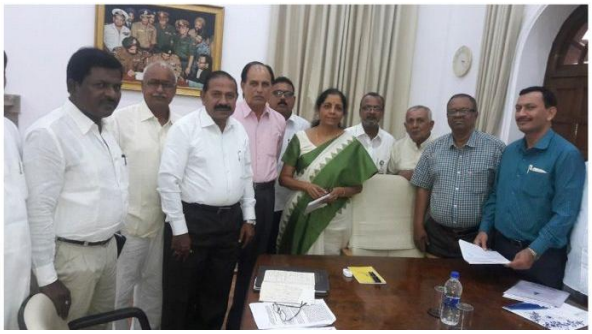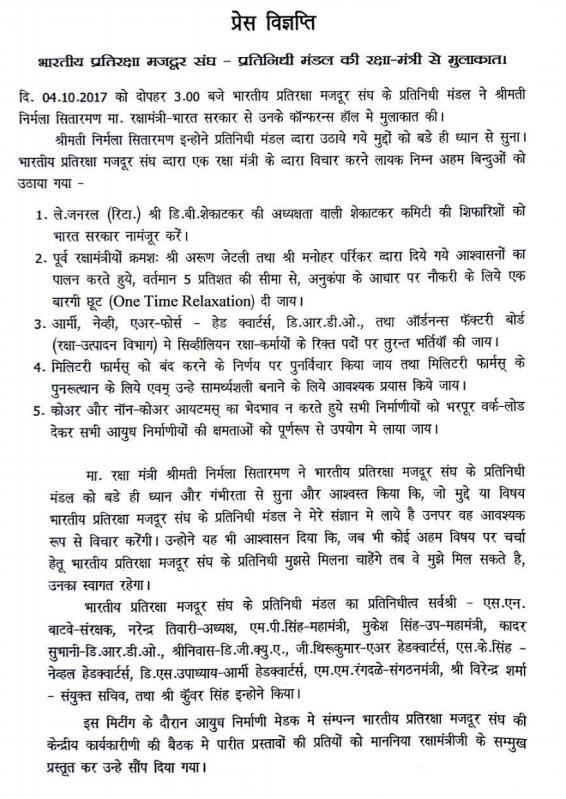 Source: BPMS