As per the BEFI report, the negotiation has reached a final stage.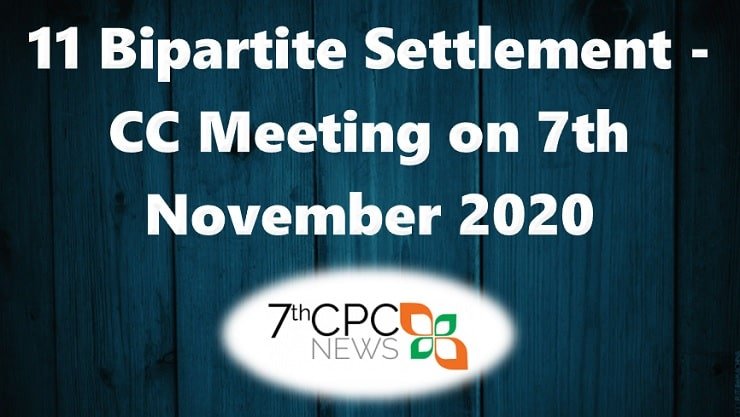 BANK EMPLOYEES FEDERATION OF INDIA
NARESH PAUL CENTRE
53 Radha Bazar Lane (1st Floor), Kolkata – 700 001
e-mail: [email protected] website: www.befi.in
(Ph): 033-22254414/22365108 (M)9433144271
Circular No.76/2020 8th November 2020
To all Units, Affiliates, Office Bearers, CC & GC Members
Dear Comrade,
CC Meeting on 7th Nov 2020
A Central Committee (CC) meeting was held on 7th November 2020 on virtual platform. The meeting was chaired by Com. C J Nandakumar, President of our Federation.
At the outset, the meeting paid homage to Shri Pranab Mukherje, former President of India; Com. Harish Sharma, ex-Joint Secretary; Com. Sudhir Chowdhury and Com. R K Bajpai, both ex-CC members ; Com. Swapan Bhowmick, Com. Saibal Gupta Bhaya and Com. Pannalal Guhathakurata, all exGC members.
The meeting discussed many important issues and the CC members gave valuable suggestions. The decisions taken in the meeting are given herein below.
11 Bipartite Settlement:
The meeting noted that the negotiation has reached a final stage. The cost distribution sheet has been signed with both officers and workmen. An effort was reported to be taken to sign the 11th Bipartite Settlement and Joint Note on 18-19 Oct. 2020, but that did not materialise.
IBA has addressed a letter to UFBU Convener inviting the officers and workmen unions (except BEFI) to move ahead with 11th Bipartite Settlement /Joint Note,understandably for final settlement on 9th Nov 2020. The CC appreciated the stand taken by four officers associations for their effort to settle issues like pension revision, 5 day week along with other issues during this ongoing negotiation. CC reiterated unequivocal commitment of BEFI to move ahead for realising these demands independently as well as jointly with other organisations.
The CC discussed about the interview of Union Finance Minister published in a financial daily a few days ago where she expressed her concern over wage revision, family pension, pension revision, pension of old employees which are pending since long. She also informed that discussion has taken place with SBI Chairman & IBA Chairman. It was reported that the Secretary (Banking) is also working on these. The meeting opined that after such remarks of FM, IBA must take the issues with right perspective to honour the commitments of FM and decided to address letter to IBA in this regard. Accordingly, a letter has been sent to the IBA Chairman, yesterday night itself.
The CC assessed the implementation of its decisions of reaching as many bank employees as possible, cutting across union affiliation, explaining the basis of our stand for not signing the MoU on 22 July 2020; Online petition launched to register demand to IBA & MoF; Observance of Demands Day on the days of meeting of the working groups. The meeting appreciated overwhelming support of employees and officers, both working and retired, irrespective of union affiliation to the stand taken by BEFI.
The CC congratulated our Comrades of Mumbai city who organised silent protest in front of IBA office at Mumbai on 31st Oct 2020, the day of meeting of the working group. The meeting while expressing satisfaction of overall implementation of the programme, decided to continue our role in the coming days more intensely. It was further decided that if a settlement is signed without addressing issues like pension updation/revision in RBI pattern; enhancement of family pension as promised; 5 day week, uniform dearness relief etc. as per common charter of demands, BEFI will continue its endeavour to build-up sustained movement , independently and jointly, to achieve the demands.
General Strike on 26 November 2020:
The CC meeting expressed deep concern over the pro corporate altitude with which the NDA-II Govt. is moving to serve the big business lobby and in doing so is destroying even the democratic and constitutional tradition of our country being followed since independence. Taking full advantage of the pandemic and subsequent lockdown, the Govt. unleashed unprecedented attack on the working class, peasantry and other section of toiling masses against which resistance movement started even during lock down period. As the Govt. is continuing its nefarious activities, National Platform of Central Trade Unions and Independent Federations decided to observe countrywide General Strike on 26th Nov 2020.
The General Strike is being held on 7 point demands, a number of which are
directly related with our industry. The CC noted that Media is reporting about consideration of the Govt. to privatise some of the public sector banks as declaration has been made that in our country there will be 4-5 public sector banks instead of 12 as of now; a VRS scheme is proposed in SBI where 30000 eligible employees/officers have been 'targeted' which tantamount to forced retirement; the pension related issues in banks are pending since long; despite the issue of scrapping NPS had been included in common charter of demands both for 10th & 11th bipartite settlement but much headway could not be made in our industry most of which are relevant for the Strike. The CC noted with concern the interview of Finance Minister, referred earlier, where she encouraged enhanced private investment in public sector banks. Our CC considered it as an alarming development.
The meeting assessed our involvement in the preparatory programme along with CTUs and fraternal federations. Considering the prevailing situation, it was decided that BEFI will serve Strike Notice on 11th Nov 2020 and to call upon members to continue preparation in full swing keeping in mind that it is not 'another strike' rather precursor of many more strikes which may be inevitable considering the desperate move of the Govt. in destroying the country's economy, integrity, sovereignty.
Post Merger Situation:
The CC after discussion reiterated that our affiliates in restructured entities will take necessary initiatives in resolving pending issues; in extending best of benefits; following up with other IR matters jointly with participation of available leadership from all our affiliates involved in a particular merger. It was suggested once again to hold joint meetings and undertake joint branch visits, as much as possible, adhering restrictions.
The meeting suggested for holding periodical meetings of coordinating committees formed at different tiers in presence of respective state federation leadership to develop better understanding. The CC emphasised on taking initiative for assimilation of our affiliates in restructured units at the earliest possible time adhering all formalities, pending which, continuation of check off system must be ensured.
It was also brought to the notice of CC that, post merger, services of many casual workers engaged in different banks have been discontinued. The meeting advised concerned affiliates to take special initiative in this matter.
The CC was informed that many of our units and affiliates have started to hold physical meetings besides organising meetings on virtual platform and it was advised to continue the effort including holding of meetings of Women Sub Committee and Cooperative Sub Committee.
The meeting took serious note of high handed and vindictive action of the management of Catholic Syrian Bank on employees in general and our members in particular. The CC decided to extend all possible support to the fighting comrades in that bank.
With greetings,
Yours comradely,
sd/-
(Debasish Basu Chaudhury)
General Secretary
Source: BEFI