7th Pay Commission Army scale
7th Pay Commission Pay Calculator for Defence Armed Forces Personnel (Updated on 10.5.2017)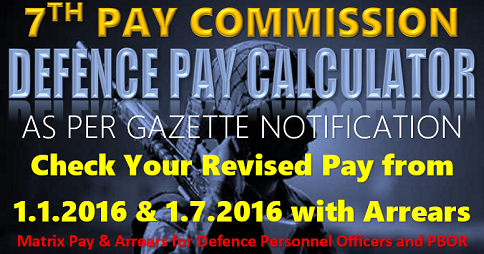 Pay Matrix of 7th Pay Commission Calculator 2017
We update the calculator once again as per the Gazette Notification issued by the MoD on 3.5.2017. General recommendations on pay recommended by the Commission have been accepted with the following exceptions in Defence Pay Matrix, namely:
Check also: Pay matrix table for Central Government employees
i. The index of Rationalisation of Level 13A (Brigadier) in Defence Pay Matrix may be revised upward from 2.57 to 2.67.
ii. Additional 3 stages in Levels 12A (Lt. Col), 3 stages in Level 13 (Colonel) and 2 stages in Level 13A (Brigadier) may be added appropriately in the Defence Pay Matrix.
Check also: 7th CPC Pay Matrix Table for Defence Download PDF
Recommendations on Allowances (except Dearness Allowance) would be referred to a Committee comprising Finance Secretary & Secretary (Expenditure) as Chairman and Secretaries of Home Affairs, Defence, Health & Family Welfare, Personnel and Training, Posts and Chairman, Railway Board as Members. The Committee would submit its report within a period of 4 months.
Till a final decision on Allowances is taken based on the recommendations of this Committee, all Allowances would continue to be paid at existing rates in existing pay structure, as if the pay had not been revised w.e.f. 1.1.2016 i.e. , status quo would be maintained.
Check also: Defence Allowances as per 7th CPC – An Overview
Enter your basic pay as per 6th CPC as on 31.12.2015 and Select your Pay Band and Grade Pay.
Select your Military Service Pay and select qualification for Group X-Pay.
The Calculator calculate the rough estimate of arrears amount without HRA and Other allowances.
(This tool gives only approximate figures for reference purpose only. Visitors are requested to check once again with 7th CPC Gazette Notification)
[Disclaimer: This calculator gives only approximate value on the basis of 7th Central Pay Commission Gazette Notification and also shown the estimate figures only basis on your inputs. Readers are requested to refer CCS Revised Pay Rules 2016]
| | |
| --- | --- |
| Title of Tool | Defence Personnel Salary Calculator |
| Beneficiaries | Defence Personnel |
| Feature | Revised Basic Salary from 6th to 7th CPC |
| Published on | 1.7.2016 |
| Updated on | 1.12.2017 |
| Inputs | Basic Salary and GP of 6th CPC, MSP and Group X Pay |
| Outputs | Revised Basic Salary as per 7th CPC with Pay Matrix Table and Arrears Table from Jan to Aug 2016 |
| Developed by | TEUT Digital Concepts |