7th CPC Salary (Pay) Scale Increase Calculator as per the recommendations of 7th CPC after Cabinet Approval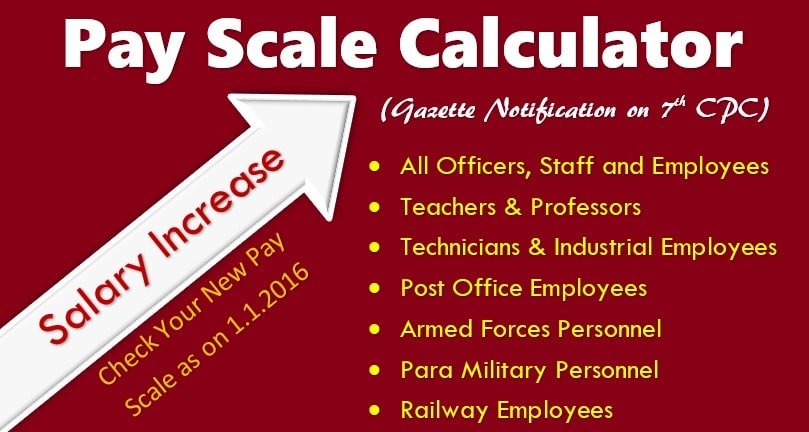 The new salary slab for Central Government employees notified by the Union Government with effect from January 2016. And to know the pay hike as per the new salary structure table (now called Pay Matrix Table) from this simple online tool. We are providing the latest news today about the amendment or rectification on the pay matrix table here.
After the implementation of 7th Central Pay Commission by the Central Government, more than 50 lakh employees are benefiting with effect from 1st January 2016. Revision of the new pay salary scale with all allowances for all groups of staff working under the Central government, (Group A, Group B and Group C as per classification of 7th CPC) has been done immediately after issued gazette notification by the Central Government.
And more than 50 lakh pensioners including family pensioners are getting a hike in pension from 1.1.2016.
The Govt accepted to increase the salary as per 7th pay commission for Teachers and Professors working under Central Government (autonomous bodies).
The simple online tool for converting the salary scale from 6th to 7th CPC with arrears calculation.
Features of the online tool
The 7th CPC pay fixation as per the method approved by the Govt.
The pay matrix table is shown with an indication of your pay scale
Only calculator adding the feature of NPA (Non Practicing Allowance)
Your pay as on 1.1.2016, 1.7.2016 and 1.7.2017
Arrears calculation table from Jan 2016 to Jul 2017
How to use the calculation tool
Select Your Current (7th CPC) Basic Pay
Select Your Present HRA%
Click the 'Calculate' button to get your revised amount of HRA as per the recommendations of 7th Pay Commission.
Also check: Latest Holiday List for CG Employees
The tool shows the pay scale only up to July 2017, follow the steps to know as on date
Revised Basic Pay as on 1.1.2016 – Displayed in our Calculator
Revised Basic Pay as on 1.7.2016 – Displayed in our Calculator
Revised Basic Pay as on 1.7.2017 – Displayed in our Calculator
Revised Basic Pay as on 1.7.2018 – Next Cell Value
Revised Basic Pay as on 1.7.2019 – Next Cell Value