7th PAY COMMISSION PAY MATRIX TABLE FOR LEVEL 1 TO 5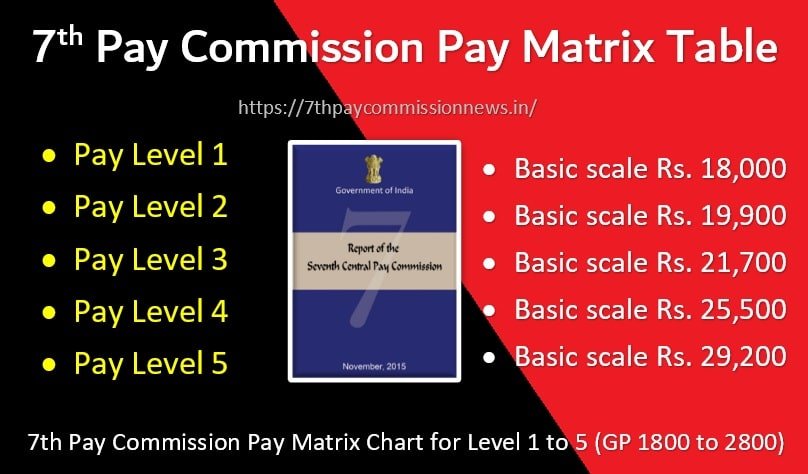 7th Pay Commission created and recommended a different type of fitment table for all group of central government employees in its report. A single table support to calculate pay fixation, increment and promotion etc., named as "PAY MATRIX TABLE".
(7TH CPC PAY MATRIX TABLE)
The hierarchy stages are given as index 1 to 40 (vertical line) and the levels are given as numbers from 1 and 2, 2 and 3, 3 and 4, 4 and 5 (Horizontal line) for your convenience.
7TH PAY COMMISSION PAY MATRIX TABLE
LEVEL-1 TO LEVEL-5 (GRADE PAY 1800 TO 2800)
PB-1 (5200-20200)
| | | | |
| --- | --- | --- | --- |
| Pay Matrix | Minimum Pay | Maximum Pay | Index |
| Level – 1 | 18000 | 56900 | 40 |
| Level – 2 | 19900 | 63200 | 40 |
| | | |
| --- | --- | --- |
| GP | 1800 | 1900 |
| Level | 1 | 2 |
| 1 | 18000 | 19900 |
| 2 | 18500 | 20500 |
| 3 | 19100 | 21100 |
| 4 | 19700 | 21700 |
| 5 | 20300 | 22400 |
| 6 | 20900 | 23100 |
| 7 | 21500 | 23800 |
| 8 | 22100 | 24500 |
| 9 | 22800 | 25200 |
| 10 | 23500 | 26000 |
| 11 | 24200 | 26800 |
| 12 | 24900 | 27600 |
| 13 | 25600 | 28400 |
| 14 | 26400 | 29300 |
| 15 | 27200 | 30200 |
| 16 | 28000 | 31100 |
| 17 | 28800 | 32000 |
| 18 | 29700 | 33000 |
| 19 | 30600 | 34000 |
| 20 | 31500 | 35000 |
| 21 | 32400 | 36100 |
| 22 | 33400 | 37200 |
| 23 | 34400 | 38300 |
| 24 | 35400 | 39400 |
| 25 | 36500 | 40600 |
| 26 | 37600 | 41800 |
| 27 | 38700 | 43100 |
| 28 | 39900 | 44400 |
| 29 | 41100 | 45700 |
| 30 | 42300 | 47100 |
| 31 | 43600 | 48500 |
| 32 | 44900 | 50000 |
| 33 | 46200 | 51500 |
| 34 | 47600 | 53000 |
| 35 | 49000 | 54600 |
| 36 | 50500 | 56200 |
| 37 | 52000 | 57900 |
| 38 | 53600 | 59600 |
| 39 | 55200 | 61400 |
| 40 | 56900 | 63200 |
| | | | |
| --- | --- | --- | --- |
| Pay Matrix | Minimum Pay | Maximum Pay | Index |
| Level – 2 | 19900 | 63200 | 40 |
| Level – 3 | 21700 | 69100 | 40 |
| | | |
| --- | --- | --- |
| GP | 1900 | 2000 |
| Level | 2 | 3 |
| 1 | 19900 | 21700 |
| 2 | 20500 | 22400 |
| 3 | 21100 | 23100 |
| 4 | 21700 | 23800 |
| 5 | 22400 | 24500 |
| 6 | 23100 | 25200 |
| 7 | 23800 | 26000 |
| 8 | 24500 | 26800 |
| 9 | 25200 | 27600 |
| 10 | 26000 | 28400 |
| 11 | 26800 | 29300 |
| 12 | 27600 | 30200 |
| 13 | 28400 | 31100 |
| 14 | 29300 | 32000 |
| 15 | 30200 | 33000 |
| 16 | 31100 | 34000 |
| 17 | 32000 | 35000 |
| 18 | 33000 | 36100 |
| 19 | 34000 | 37200 |
| 20 | 35000 | 38300 |
| 21 | 36100 | 39400 |
| 22 | 37200 | 40600 |
| 23 | 38300 | 41800 |
| 24 | 39400 | 43100 |
| 25 | 40600 | 44400 |
| 26 | 41800 | 45700 |
| 27 | 43100 | 47100 |
| 28 | 44400 | 48500 |
| 29 | 45700 | 50000 |
| 30 | 47100 | 51500 |
| 31 | 48500 | 53000 |
| 32 | 50000 | 54600 |
| 33 | 51500 | 56200 |
| 34 | 53000 | 57900 |
| 35 | 54600 | 59600 |
| 36 | 56200 | 61400 |
| 37 | 57900 | 63200 |
| 38 | 59600 | 65100 |
| 39 | 61400 | 67100 |
| 40 | 63200 | 69100 |
| | | | |
| --- | --- | --- | --- |
| Pay Matrix | Minimum Pay | Maximum Pay | Index |
| Level – 3 | 21700 | 69100 | 40 |
| Level – 4 | 25500 | 81100 | 40 |
| | | |
| --- | --- | --- |
| GP | 2000 | 2400 |
| Level | 3 | 4 |
| 1 | 21700 | 25500 |
| 2 | 22400 | 26300 |
| 3 | 23100 | 27100 |
| 4 | 23800 | 27900 |
| 5 | 24500 | 28700 |
| 6 | 25200 | 29600 |
| 7 | 26000 | 30500 |
| 8 | 26800 | 31400 |
| 9 | 27600 | 32300 |
| 10 | 28400 | 33300 |
| 11 | 29300 | 34300 |
| 12 | 30200 | 35300 |
| 13 | 31100 | 36400 |
| 14 | 32000 | 37500 |
| 15 | 33000 | 38600 |
| 16 | 34000 | 39800 |
| 17 | 35000 | 41000 |
| 18 | 36100 | 42200 |
| 19 | 37200 | 43500 |
| 20 | 38300 | 44800 |
| 21 | 39400 | 46100 |
| 22 | 40600 | 47500 |
| 23 | 41800 | 48900 |
| 24 | 43100 | 50400 |
| 25 | 44400 | 51900 |
| 26 | 45700 | 53500 |
| 27 | 47100 | 55100 |
| 28 | 48500 | 56800 |
| 29 | 50000 | 58500 |
| 30 | 51500 | 60300 |
| 31 | 53000 | 62100 |
| 32 | 54600 | 64000 |
| 33 | 56200 | 65900 |
| 34 | 57900 | 67900 |
| 35 | 59600 | 69900 |
| 36 | 61400 | 72000 |
| 37 | 63200 | 74200 |
| 38 | 65100 | 76400 |
| 39 | 67100 | 78700 |
| 40 | 69100 | 81100 |
| | | | |
| --- | --- | --- | --- |
| Pay Matrix | Minimum Pay | Maximum Pay | Index |
| Level – 4 | 25500 | 81100 | 40 |
| Level – 5 | 29200 | 92300 | 40 |
| | | |
| --- | --- | --- |
| GP | 2400 | 2800 |
| Level | 4 | 5 |
| 1 | 25500 | 29200 |
| 2 | 26300 | 30100 |
| 3 | 27100 | 31000 |
| 4 | 27900 | 31900 |
| 5 | 28700 | 32900 |
| 6 | 29600 | 33900 |
| 7 | 30500 | 34900 |
| 8 | 31400 | 35900 |
| 9 | 32300 | 37000 |
| 10 | 33300 | 38100 |
| 11 | 34300 | 39200 |
| 12 | 35300 | 40400 |
| 13 | 36400 | 41600 |
| 14 | 37500 | 42800 |
| 15 | 38600 | 44100 |
| 16 | 39800 | 45400 |
| 17 | 41000 | 46800 |
| 18 | 42200 | 48200 |
| 19 | 43500 | 49600 |
| 20 | 44800 | 51100 |
| 21 | 46100 | 52600 |
| 22 | 47500 | 54200 |
| 23 | 48900 | 55800 |
| 24 | 50400 | 57500 |
| 25 | 51900 | 59200 |
| 26 | 53500 | 61000 |
| 27 | 55100 | 62800 |
| 28 | 56800 | 64700 |
| 29 | 58500 | 66600 |
| 30 | 60300 | 68600 |
| 31 | 62100 | 70700 |
| 32 | 64000 | 72800 |
| 33 | 65900 | 75000 |
| 34 | 67900 | 77300 |
| 35 | 69900 | 79600 |
| 36 | 72000 | 82000 |
| 37 | 74200 | 84500 |
| 38 | 76400 | 87000 |
| 39 | 78700 | 89600 |
| 40 | 81100 | 92300 |
Pay Matrix Chart of Level 1, 2, 3, 4 and 5 with extra column of increased amount between the cells…
Check other Matrix Table:
7th CPC Pay Matrix Chart for Level 1 to 5 (GP 1800 to 2800)
7th CPC Pay Matrix Chart for Level 6 to 9 (GP 4200 to 5400)
7th CPC Pay Matrix Chart for Level 10 to 12 (GP 5400 to 7600)
7th CPC Pay Matrix Chart for Level 13 to 14 (GP 8700 to 10000)