7th Pay Commission pay matrix Chart for Level 15, Level 16, Level 17 and Level 18 (HAG Scales)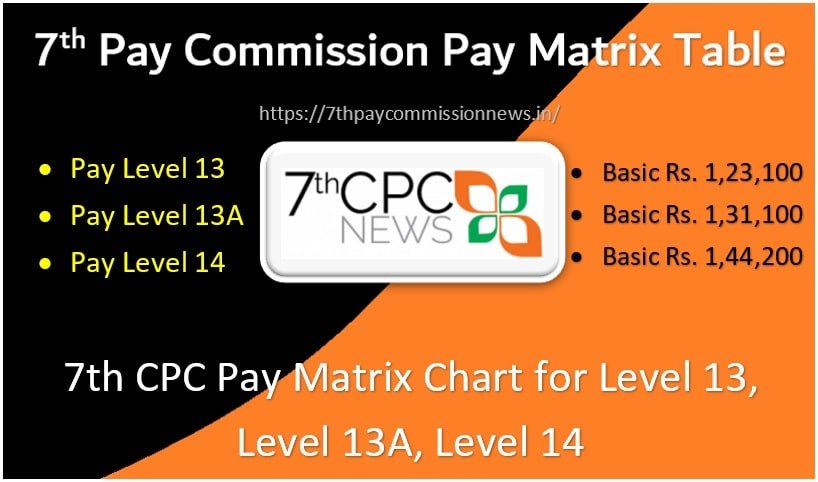 The new pay matrix incorporates all these features: subsuming the grade pay, the rationalized matrix represents the whole universe of pay levels in one simple chart.
The levels have been rationalized too, displaying a logical pay progression. Employees would be able to see their pay level, where they fit in and how they are likely to progress over their career span.
The Commission has also recommended simplified procedures for the computation of pension.
7TH CPC PAY MATRIX TABLE
LEVEL 15 TO 18 (NO GRADE PAY – HAG SCALES)
PB
67000-79000
75500-80000
80000
90000
Level
15
16
17
18
1
182200
205400
225000
250000
2
187700
211600
3
193300
217900
4
199100
224400
5
205100
6
211300
7
217600
8
224100
| | | | |
| --- | --- | --- | --- |
| Pay Matrix | Minimum Pay | Maximum Pay | Index |
| Level – 15 | 182200 | 224100 | 8 |
| Level – 16 | 205400 | 224400 | 4 |
| | | |
| --- | --- | --- |
| PB | 67000-79000 | 75500-80000 |
| Level | 15 | 16 |
| 1 | 182200 | 205400 |
| 2 | 187700 | 211600 |
| 3 | 193300 | 217900 |
| 4 | 199100 | 224400 |
| 5 | 205100 | |
| 6 | 211300 | |
| 7 | 217600 | |
| 8 | 224100 | |
| | | | |
| --- | --- | --- | --- |
| Pay Matrix | Minimum Pay | Maximum Pay | Index |
| Level – 16 | 205400 | 224400 | 4 |
| Level – 17 | 225000 | 225000 | 1 |
| | | |
| --- | --- | --- |
| PB | 75500-80000 | 80000 |
| Level | 16 | 17 |
| 1 | 205400 | 225000 |
| 2 | 211600 | |
| 3 | 217900 | |
| 4 | 224400 | |
| | | | |
| --- | --- | --- | --- |
| Pay Matrix | Minimum Pay | Maximum Pay | Index |
| Level – 17 | 225000 | 225000 | 1 |
| Level – 18 | 250000 | 250000 | 1 |
| | | |
| --- | --- | --- |
| PB | 80000 | 90000 |
| Level | 17 | 18 |
| 1 | 225000 | 250000 |
Check other Pay Matrix Table for all Levels: