Retirement age of Army, Navy and Air Force Staff
Details of the retirement age of various category of officers and soldiers in the defence forces (excluding Armed Forces Medical Services) at present, are as under:
ARMY : Retirement age of Army Staff
* Service limit includes extension of 2 years by screening.
Note 1: In all categories below officer ranks, age limit or service limit whichever occurs earlier is applicable for retirement.
Note 2: Above information does not cover officers of certain specialised branches.
NAVY : Retirement age of Navy Staff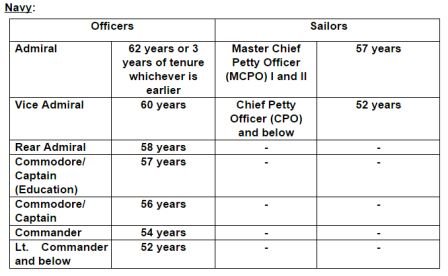 AIR FORCE : Retirement age of Airmen is 57 years. Retirement age for officers is as given below:
(i) Permanent Commissioned Officers
(ii) Branch Commissioned Officers: 57 years
---
---
Click the below link for more news about OROP…