Swamy Publishers publishing books for Central Government Staff and Officers on all Service Matters and Rules. Many of the Central Govt Staff have been a subscriber for many years for monthly handbook of Swamy's news. Swamy publishers created a new unique website and they have launched recently to purchase all types of books online.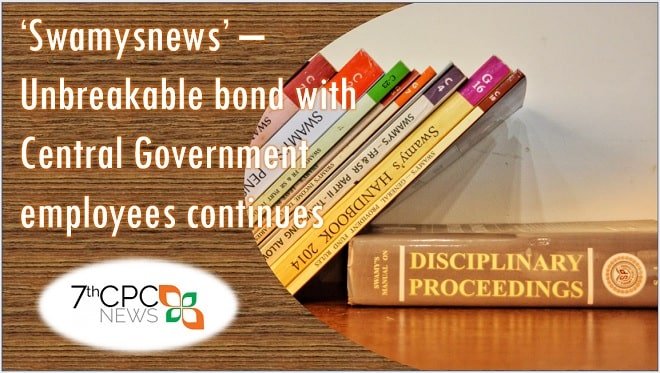 'Swamysnews' – Unbreakable bond with Central Government employees continues
The name 'Swamysnews' makes people assume that it is a spiritual publication. But the truth is – the publication has nothing even remotely connected to divinity or religion.
Swamy News for Central Government Employees
It however has got everything to do with information that are relevant to the Central Government employees. In fact, it could be called a treasure trove of detail. There is no Central Government employee who doesn't know about Swamysnews because the publication has answers to all the questions..!
Swamy Publishers Private Limited is a company mainly publishing books on Central Government Rules. For more than 55 years now, the publication, which was started in 1958, continues to provide crucial information in the form of books, to Central Government employees and their offices.
CENTRAL GOVERNMENT EMPLOYEES NEWS LATEST UPDATE
The founder of this organization, Mr.Muthuswamy, was an employee of the Postal Department, a Central Government organization. After getting promoted in his job, he started the service in order to create awareness in the midst of Central Government employees.
He had the opportunity to conduct regular free classes for the benefit of his junior colleagues. He edited his lectures and circulated cyclostyled notes on a non-profit basis to examinees in other cities as well.
The not-for-profit venture created new openings for him. The books that he published started gaining popularity. Employees found them very useful.
He became well known in many Central Government Offices across the country as a reliable instructor and interpreter in the field of Guide Books for Service Rules.
7TH PAY COMMISSION LATEST NEWS FOR PENSIONERS
Swamys books are broadly classified into Reference Books, Special Books, Guide Books and a monthly magazine 'swamysnews'. These books were not only of high quality, but the information contained in them was verified and up-to-date. The books gained further credibility due to the explanations and interpretations of the Government Orders that they featured.
Due to their long history in accurately presenting Central Government employees related news, the publication gained the Centre's approval. Swamysnews Publishers are the only publication with Government approval.
Their monthly publication, 'Swamysnews' is their specialty. They usually contain all the latest Government Orders, Case-Law Section, Supreme Court Judgments, Tribunal Judgments and Question and Answer(Readers Forum) section.
The Q&A section contains only selected questions. The crystal-clear manner in which they strongly present their answers and explain them shows their confidence and their mastery of the subject.
PAY MATRIX TABLE FOR CENTRAL GOVT EMPLOYEES
The crowning achievement of the publication is its annual 'Swamy's Handbook for Central Government Employees'. The book is an encyclopedia of information.
In the current age of the Internet, it is possible to find all information on the computer screen. But, it is hard to ignore or forget the contributions made by a publication that they supplied important rules and orders through books in time to all the Departments of Central Government and many Public Sector Undertakings, especially in the North-eastern states.
Even in this age, books continue to be respected. The proof lies in the undiminished sales of their publications.
7th Pay Commission Pay Scale Calculator
The strong bond between the Central Government employees and Swamysnews shall only get stronger.
The Swamypublishers is releasing every year a handbook incorporating all the latest orders after the 7th pay commission in English and Hindi.
Latest and important Reference Rules books for CG employees and Pensioners
Swamy's Compilation on Leave Travel Concession Rules 2020
Swamy's Compilation on General Provident Fund Rules 2020
Swamy's CCS (Pension) Rules & Pension Rules Made Easy 2020
Swamy's Compilation on CCS CCA Rules 2020
Swamy's Compilation on FRSR Part-IV – DA, DR & HRA 2020
Swamy's Compilation on Seniority and Promotion 2020
Swamy's Income Tax on Salaries 2019
Swamy's Children's Educational Assistance 2019
Swamy's T.A. Rules Made Easy 2019
Swamy's Leave Rules Madi Easy 2019
Swamy's Pay Rules Made Easy 2019
Swamy's Medical Attendance Rules Reference Book 2019
Swamy's Compilation on Suspension and Reinstatement 2019
Swamy's Compilation on New Pension Scheme 2019
Swamy's Compilation on Hosue Building Advance Rules 2018
Swamy's Revision of Pre-2016 Pensions 2017
Swamy's Compilation on Seventh Pay Commission Report 2016
Swamy's Compilation on Reservation and Concessions 2015
Official Website for Central Government Employees
There is no specified official website for Central Government employees. The Department of Personnel and Training (DoPT) is the one of the official website for Central Govt employees. [Click to read more]
Official Website for 7th Central Pay Commission
The detailed report is available and further gazette notifications are being published on the official website of the Finance Ministry and DoPT. [Click to read more]