No CSD Canteen Facility for Para Military(CAPF) personnel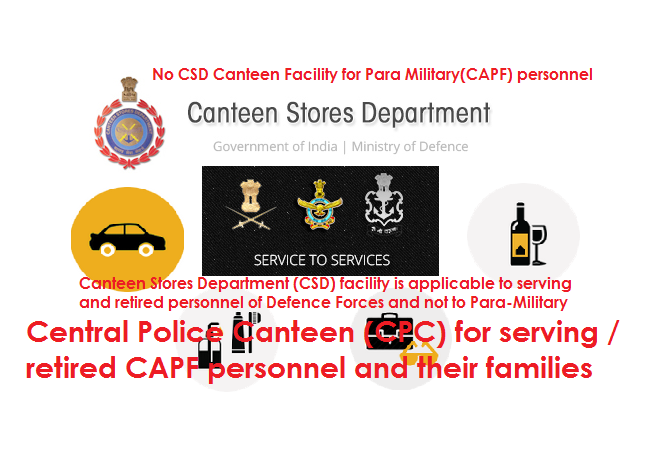 Canteen Stores Department (CSD) facility is applicable to serving and retired personnel of Defence Forces and not to Para-Military
Hon'ble Member Shri Bashistha Narain Singh asked in Parliament yesterday about the eligibility of CSD Canteen facility for retired Para Military (CAPF) Personnel in Rohru and he also questioned that any proposal to open CSD Canteens in Rohru, Shimla(HP) .
The Minister of State for Home Affairs Shri Kiren Rijiju replied in written form in Parliament as follows…
"Canteen Stores Department (CSD) facility is applicable to serving and retired personnel of Defence Forces and not to Para-Military [now Central Armed Police Forces (CAPFs)] personnel.
However, on the lines of CSD, the government has launched a Central Police Canteen (CPC) System on 18/09/2006 for the serving/retired CAPF personnel and their families.
As on date, in Himachal Pradesh, 02 Master Canteens (MCs) and 17 Subsidiary Canteens (SCs) are functioning. Out of these, 01 Master Canteen and 08 Subsidiary Canteens are functioning in the Shimla District. All serving/retired CAPF personnel and their families can avail CPC facilities from any CPC".