Pension Revision for Pre-2006 Pensioners – Calculator with Procedure
(Pension Revision for Pre-2006 Pensioners Calculator)
Latest 7th Pay Commission Pension Calculator for Pre-2006 Central Government Pensioners and Family Pensioners
(Calculator for 5th CPC Pensioners Retired between Jan 1996 to Dec 2005 only)
7th CPC Pension Calculator for Pre 2006 Retirees
Basic Pension is not a static amount – It may be changed! 
On a few occasions, the basic pension may be re-fixed. In the case of a pensioner dies, then the pension will be changed as a family pension. In another instance, basic pension will be changed according to the recommendations of pay commission. The Government constituted a committee to implement the options to fix the basic pension as per the formulations recommended by the 7th CPC.
In 2016, the basic pension of all Civil and Defence Pensioners has been changed as per the decision of the Govt of India (DoPPW OM dated 6th July 2017) on the recommendations of the 7th Pay Commission.
Revision of basic pension calculation for Pre-2006 Pensioners (pensioners who retired from Jan 1996 to Dec 2005) as per the Concordance Tables given in the above said order.
We made a simple online calculator to find the basic pension for 5th CPC Pensioner (Retired between 1996 and Dec 2995). Pensioners can check their new basic pension in this calculator with pay matrix table.
Check also: Revised Pension Table for Pre 1996 Pensioners
Enter correct and exact details of your pay and pension in the required fields, then only this tool will give you exact revised pension and monthly pension with effect from 1.1.2016. Check a illustration of an employee retired in 1999 under 5th CPC for your reference…
CLICK THE BELOW IMAGE TO CALCULATE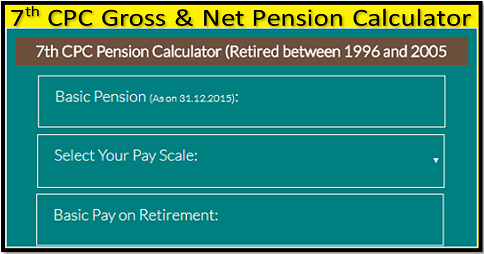 Read also: Ready Reckoner Table for Pre 1996 Pensioners
In this calculator, we provide the pay scale structure of the 5th Pay Commission (As drop-down menu, not as pdf) for selecting your scale of pay. The pension already fixed as per the multiplication factor recommended by the 5th CPC pension fixation formula. Now the basic pension and family pension to be changed according to the formulation recommended by the 7th CPC. There is no pension fitment table and pay scale table for 5th CPC.
For example, an employee retired on 30.6.1999 in the pay scale of Rs.4,800 (4000-6000), his pension calculation will be as follows…
Pension Calculation Method
1.
Date of Retirement
30.06.1999
2.
Pay Scale at the time of retirement
4000-6000
3.
Basic Pay on retirement
4,800
4.
Pension as on 01.01.2016 before revision
5,424
5.
Basic Pension (Using Multiplying  Factor 2.57)
13,940
6.
Pay fixed on notional basis on 1.1.2006
11,330 (PB-1, GP-2400)
7.
Pay fixed on notional basis on 1.1.2016
29,600 (Level-4)
8.
Basic Pension (Using Pay Fixation Method
14,800
9.
Revised Pension w.e.f. 1.1.2016
14,800
Check also: Pre 2006 Pensioners Latest News 2019
Read also: Supreme Court Order in Respect of Grant of Special Pension