Change of Muharram Holiday on 20-08-2021
As per the DoPT order issued on 11.8.2021, all Central Government administrative offices located in New Delhi will remain closed on account of Muharram on 20.8.2021 (Friday)
Muharram Date in India 2021
The grand festival of Muharram is celebrated among the community of Muslim in India and also across world.
Day: Friday
Date: 20 August 2021
Holiday: Central and State Government in various States
The Department of Personnel and Training (DoPT) issued order to be observed holiday on the festival of Muharram in Central Government Offices in New Delhi. Complete text of the detailed notification is reproduced and given below for your ready reference…
No. 12/13/2016-JCA-2
Government of India
Ministry of Personnel, Public Grievances & Pensions
(Department of Personnel & Training)
Establishment (JCA-2 Section)
North Block, New Delhi – 110001
Dated the 11th August, 2021
OFFICE MEMORANDUM
Subject: Change in the date of Holiday on account of Muharram.
The undersigned is directed to say that holiday on account of Muharram was notified for 19th August, 2021 vide this Department's O.M. No. 12/9/2020-JCA2, dated 10th June, 2020, subject to change in date, depending on sighting of the Moon. Now the Ruiyat Hilal (Moon Sighting) Committee, headed by Shahi Imam, Jama Masjid, Delhi, has announced that, in Delhi, Muharram would be observed on 20.08.2021 (Friday).
2. Accordingly, in Delhi/New Delhi, the Holiday on account of Muharram will be observed on Friday, the 20th August, 2021 and all Central government Administrative Offices, located in Delhi / New Delhi, shall remain closed on account of Muharram on 20th August, 2021.
3. For Offices outside Delhi / New Delhi, the Central Government Employees Coordination Committee or Head of Offices (where such Committees are not functioning) can decide the date, depending upon the decision of the concerned State Government.
sd/-
(S. P. Pant)
Deputy Secretary to the Govt. of India
Click to view the Dopt Order in PDF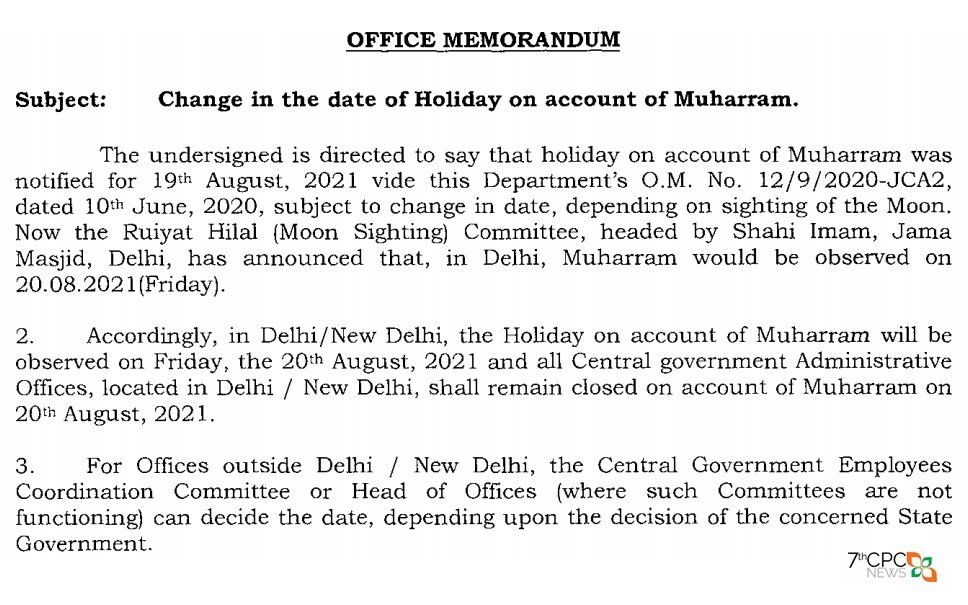 As per the DoPT order on holidays for Central Government offices during the year 2021, the Muharram festival declared on 19 August 2021 (Thursday).
August 2021 Govt Holiday Calendar
August 2021 Date Calendar
Mon
Tue
Wed
Thu
Fri
Sat
Sun
1
2
3
4
5
6
7
8
9
10
11
12
13
14
15
16
17
18
19
20
21
22
23
24
25
26
27
28
29
30
31
The list of Restricted and National Holidays 2021
Weekend Holidays: 9 Days
National Holidays: 3 Days
Restricted Holidays: 4 Days
| | |
| --- | --- |
| Weekend Holidays | 1, 7, 8, 14, 15, 21, 22, 28, 29 |
| National Holidays | 15, 19, 30 |
| Restricted Holidays | 16, 21, 22, 30 |
15 August 2021: Independence Day
16 August 2021: Parsi New Year's day, Nauraj
19 August 2021: Muharram
21 August 2021: Onam or Thiru Onam Day
22 August 2021: Raksha Bandhan
30 August 2021: Janmashtami
Public Holiday List in India 2021
List of Closed Holiday List 2021