You Can Download the PDF of 7th Central Pay Commission Report
Justice A.K. Mathur submitted the report of 7th Pay Commission to the Finance Minister Arun Jaitley on 19th November 2015: More than one crore employees and pensioners of Central Government are happy to hear the news of submission of 7th Central Pay Commission Report to Government! Salary and pension hike for Central Government employees and pensioners after a decade! The minimum basic salary will be revised from Rs. 7000 to Rs. 18000 and minimum basic pension Rs, 3500 to Rs. 9000 to existing employees and retired employees respectively! The 7th pay commission is recommending a new 'Pay Matrix Table' for Civilian employees to revise the basic salary in the easiest way!
How to calculate the new basic salary as per the 7th pay commission?
All Central Government employees and pensioners are very eager to know the new basic salary and basic pension after 7th pay commission. We have created a simple online calculation tool to convert the basic pay from 6th CPC to 7th CPC. If you enter your current basic pay details in the tool, the tool will automatically convert basic salary as per the recommendations of the 7th pay commission. And also will show the new basic salary in the relevant pay matrix table. Click to calculate
7th Pay Commission Report PDF Download Link
The Department of Expenditure under the Ministry of Finance is immediately arranged to download the entire report of the 7th pay commission on the day itself. Please click the link to download the report to your computer.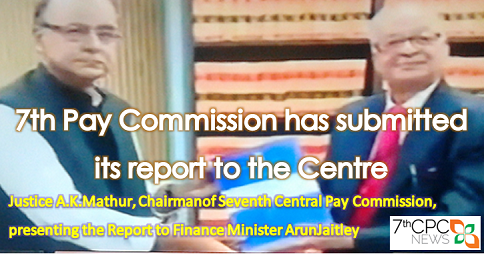 7th Central Pay Commission Report Submitted to Finance Minister Today (19.11.2015)
Highlights of 7th CPC Report
We received a new pay commission report with a total of 899 pages. It's a little awesome! The report explained with complete details of Central Government forces and administration.
The standard pay scale has been changed to the new Pay Matrix Table introduced!
Fitment Factor 2.57 for all employees for the revision of new pay
Minimum Pay enhanced from the existing pay of Rs. 7000 to 18000
Rate of Annual Increment is retained and the calculation of increment makes simple
2 Dates for Annual Increment, 1st July and 1st January
Commission introduced 3 Pay Matrix Table
One for Central Civilian Employees
Second table for Defence Forces Personnel
Third table for MNS Officers
Fitment Factor a little bit increased from 2.57 to 2.67 in Defence Pay Matrix for Brigadier
Pension fixation will be calculated in two methods, subject to feasibility
Fitment factor 2.57 also applicable for pension revision immediately
The first method will be applied after feasibility. Constitute a committee for found feasible the option
Retirement Gratuity is increased from ten lakh to twenty lakh
7th CPC Finmin Notification PDF Download
MINISTRY OF FINANCE
(Department of Expenditure)
RESOLUTION
New Delhi, the 8th September 2015
No. 1/1/2013-E. III(A).—The Government of India have decided that the Para 5 of this Ministry's Resolution No. 1/1/2013-E.III(A) dated 28.2.2014 shall be modified as under:
"The Commission will make its recommendations by 31st December 2015. It may consider, if necessary,  sending reports on any of the matters as and when the recommendations are finalized."
RATAN P. WATAL,
Finance Secy.
Seventh Central Pay Commission
The Government of India, vide notification No.1/1/2013-E.III(A) of 28.02.2014, appointed the Seventh Central Pay Commission with specified Terms of Reference.  The Commission, after due deliberations, submits its report to the Government of India on this 19th day of November 2015.
Ashok Kumar Mathur (Chairman), Vivek Rae (Member), Rathin Roy (Member)
7th CPC Pay Matrix Table PDF Download
The 7th pay commission has designed and recommended an innovative pre-calculated pay scale table eligible for all classification (Group A, Group B, Group C) of central government employees. The pay scale table, which seems so simple to look at, is not easy to find in a variety of uses for CG employees and pensioners. [7th CPC Pay Matrix PDF Download]
7th CPC Allowance Notification PDF Download
All group or grade of Central government employees are not eligible for all allowances. Dearness allowance, Transport Allowance and House Rent Allowance are eligible for common to all group or grade of Central government employees. Other allowances are specified. [7th CPC Allowances Gazette Notification PDF Download]
Revised Pay Matrix Table PDF Download
Pay Matrix Table as per Gazette Notification issued on 16.5.2017: The Central Government has decided to make the following changes in the recommendations of the said Seventh Central Pay Commission The Defence Pay Matrix, (except Military Nursing Service (MNS)), which has 24 stages shall be extended to 40 stages similar to the Civil Pay Matrix. [7th Pay Commission Revised Pay Matrix PDF Download]