Submission of pension claim during lock-down in respect of Defence civilian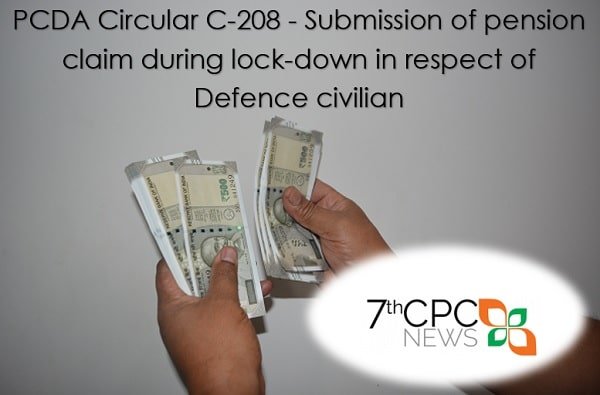 O/o The Principal Controller of Defence Accounts (Pension), Draupadighat, Allahabad-211014
Circular No.C-208
No.G1/C/MISC/Vol-X/Tech
O/o the PCDA (P), Allahabad
Dated: 18 /05/2020
To,
—————
—————
(All Head of Department under Min. of Defence)
Sub:- Submission of pension claim during lock-down in respect of Defence civilian.
Ref:- This office circular No. C-207 dated 03/04/2020
Relaxation given under above referred circular no.C-207 is further extended till 31/05/2020. Accordingly, superannuation/retiring pension claim where date of retirement is on or before 31.05.2020 and all death cases pension claim may also be forwarded as a soft copy i.e. scanned copy to PCDA (Pension) Allahabad email address cda-albd@nic.in. While forwarding scanned copy of pension claims following points may be kept in view:-
Stay connected with us on our
Whatsapp Channel,
to receive the most up-to-date news and updates.
a. Duly completed scan copy of LPC-cum-Datasheet should be supported with scan copies of supporting documents.
b. Scan copy of claim should be in PDF format.
c. Claims where date of retirement is after 31.05.2020 will not be entertained.
d. Claims should be forwarded only through official email id which is registered for HOO CODE.
e. Subject of email will be "Pension claim- G1/Civil/ Pensioner name/Date of Retirement"
f. This arrangement is optional for those Head of Offices, who are not in position to forward pension claim in hard copy during lockdown.
2. In view of the above, you are requested to issue suitable instructions (along with copy of this circular) to all the Head of the Offices under your administrative control to ensure the submission of pension claim as stated above.
sd/-
(Navpreet Kaur)
Jt.CDA (P)