KV School Online Registration for Class 1 for the Academic Year 2019-20 will start from 01.03.2019
"Admission to Class I in Kendriya Vidyalaya for the Academic Year 2019-20 will commence from 01.03.2019 at 8:00 AM to 19.03.2019 upto 4:00 PM"
Kendriva Vidvalava Sangathan (HQ)
New Delhi
Admission Notice : 2019-20
Online Registration for Admission to Class I in Kendriya Vidyalaya for the Academic Year 2019-20 will commence at 8:00 AM on 01.03.2019 and it will close at 4.00 PM on 19.03.2019.
Registration for Class II and above from (except Class XI) will be done from 02.04.2019 at 8:00 AM to 09.04.2019 upto 4:00 PM. The Admission details can be obtained at https://kvsangathan.in
Reckoning of age for all Classes shall be as on 31.03.2019. Reservation of seats will be as per KVS Admission Guidelines available on the website (www.kvsangathan.nic.in) For further details, parents may contact the Principal of nearby Kendriya Vidyalaya.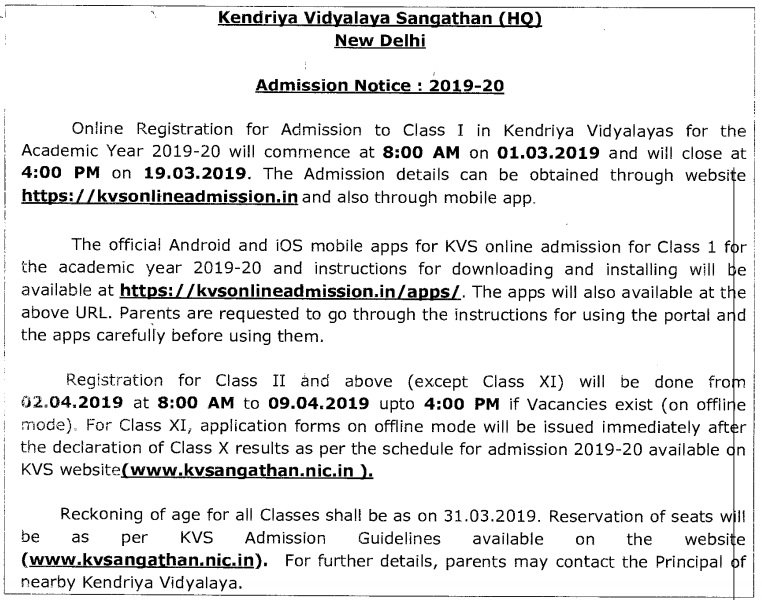 More updates about KV Admission 2019
Kendriya Vidyalaya Admission Notice 2019-20 for Class-1
प्रवेश सूचना 2019-20 – शैक्षणिक सत्र 2019-20 में कक्षा 1 में ऑनलाइन प्रवेश के लिए
KV Admission Guidelines 2019-20 – Download
KV Admission 2019-20 – Android and iOS App
KV Admission 2019-20 – Apply Online Registration Instructions
KV Admission 2019 – What is the age cutoff for a child applying to class – 1?