Agnipath Yojana Scheme Recruitment 2022 Process Started!
Agnipath Online Application Form: Candidates can apply online only on the official website www.joinindiannavy.gov.in. Before filling online application, keep all documents. A one-time registration is compulsory. After successful registration, go to log in and then click Apply button. Fill up the form completely with all required documents scanned in original & uploaded.
Documents Required for Agnipath Application Process: All original documents uploaded (scanned digital copy) during the online filling of the application.
Original Certificates
Mark Sheets
Domicile Certificate
NCC Certificate
Aagnipath Exam Centre: Allocation of centers for written examination and PFT will be held at the discretion of the Indian Navy.
Agnipth Call Letter (Agnipath Admit Card): Call-up Letters cum Admit Card would be required to be downloaded from the official website www.joinindiannavy.gov.in. No call-up letter cum admit card will be sent by post. Only an Electronic mode of communication will be used while contacting the candidates and no documents would be sent by post at any stage of recruitment.
Agneepath Scheme 2022 PDF Download
The Agneepath Scheme, announced by the Government of India on 22.06.2022  allows young people between the ages of 17 and 21 to enlist in the armed forces for only four years. Recruit soldiers below the rank of officers assigned to the three services of the Armed Forces.
Click here to view – Agneepath Scheme PDF Download
Agniveer Recruitment 2022 Eligibility Criteria PDF
Agniveer Eligibility Criteria & Agniveer Age Limit
Agniveer
General Duty for all Arms
17.5 – 23 Years
Technical for all Arms
17.5 – 23 Years
Technical for Aviation & Ammunition
Examiner
Agniveer Clerk or Store Keeper
Technical for all Arms
17.5 – 23 Years
Agniveer Tradesmen
Tradesmen for all Arms 10th Pass
17.5 – 23 Years
Tradesmen for all Arms 8th Pass
17.5 – 23 Years
Agniveer Recruitment Eligibility Criteria and Agniveer Age Limit 2022 | Agniveer Recruitment 2022 Age Limit PDF Download
Click here to view more about – Agniveer Age Limit 2022 PDF Download
Rules and Regulations of Agneepath Scheme PDF
Agneepath Scheme For Service in Indian Army (IA) – June 2022
The salient aspects of terms and conditions of service for persons enrolled through the Agneepath Scheme for service in the IA are mentioned in the succeeding paragraphs.
Terms and Conditions
Eligibility
Enrolment
Training
Allotment of Service Numbers
Employability
Leave
Uniform
Honors and Awards
Medical and CSD Facilities
Pay, Allowances, and Allied Benefits
Life Insurance Cover
Termination or Release from Service
Compensation for Death
Compensation for Disability
Entitlement in Death or Disability
Benefits for Personnel Exiting at Four Years of Service
Important to read and understand the terms and conditions of the Agneepath Scheme For Service in the Indian Army – Click Here for the PDF
Agniveer Recruitment Apply Online PDF
Agniveer Recruitment Rally Notification 2022
i) Online Registration is Mandatory.
ii) All candidates to Log in to join the Indian Army website – joinindianarmy.nic.in
iii) Registration will be opened from July 2022 onwards by respective Aros (Army Research Office) For
Agniveer General Duty

Agniveer Technical
Agniveer Technical (Aviation or Ammunition Examiner)
Agniveer Clerk or Store Keeper Technical
Agniveer Tradesman
10th Pass
Agniveer Tradesman
8th Pass
iv) As Per the Aro Rally Schedule.
Here is the detailed list of Rally Agniveer Recruitment 2022 Notification PDF Download – Click here
Agneepath Scheme Faq PDF
1. What is the Financial Package offered to an Agniveer in the armed forces?
Answer: Composite Annual Package
The First year of the package's approximate amount is Rs. 4,76,000
Upgradation up to an approximate amount of Rs. 6,92,000 Lacs in Fourth Year.
Click here to view know more about – Faq Details of Agneepath Scheme PDF
Agneepath Scheme Details 2022 PDF Download – Click Here
Agneepath Scheme Frequently Asked Questions PDF Download – FAQ
What is Agneepath Scheme? Detailed answer in PDF Download- Click Here
Agneepath Yojana Scheme Advantage Includes The Following:
Agneepath Scheme Salary Details
Pay and Allowances of Agnipath Scheme – The pay & emoluments of Agniveers will be as given below:-
| | |
| --- | --- |
| 4 Year | Salary Package |
| 1st Year | Rs. 30,000 per month |
| 2nd Year | Rs. 33,000 per month |
| 3rd Year | Rs. 36,500 per month |
| 4th Year | Rs. 40,000 per month |
From the above package, 30% will be compulsorily deposited every month in a corpus which will be matched by the GOI. Balance amount less the corpus contribution will be the in-hand component.
Service Enrolment for Agnipath Scheme
Candidates will be enrolled under Army Act 1950 for a service duration of four (04) years including the training period. Agniveers so enrolled will be subject to Army Act, 1950 and will be liable to go wherever ordered, by land, sea, or air. Agniveers enrolled under the scheme, will not be eligible for any kind of Pension or Gratuity. The service of Agniveers will commence from the date of enrolment. Agniveers would form a distinct rank in the IA, different from any other existing ranks. Leave, Uniform, Pay & Allowances during the service period of four years will be governed by orders and instructions in respect of such individuals issued by the Government of India (GoI) from time to time. Agniveeers will be liable to be assigned any duty in organizational interest, as decided from time to time.
Personnel enrolled through Agniveers Scheme, will be required to undergo periodical medical check-ups and physical/ written/ field tests as governed by orders issued. The performance so demonstrated would be considered for a subsequent offer for enrolment in the Regular Cadre. Agniveers can be posted to any regiment/unit and can be further transferred in organizational interest.
Leave Details of Agnipath Scheme
Grant of leave will be subject to exigencies of service. The following leave may be applicable for Agniveers during their engagement period:-
Annual Leave: Up to 30 days per year.
Sick Leave: Based on Medical Advice.
Seva Nidhi Package of Agnipath Scheme
On discharge at 4 years, the corpus of ₹5.02 lakhs will be matched by the GOI, and an amount of ₹10.04 lakhs and accrued interest will be given to the Agniveers. In the case of Agniveers who are subsequently selected for enrolment in IA as regular cadre, the "Seva Nidhi" package to be paid to them will comprise only their contribution including accrued interest thereon. In the case of Agniveers exiting service before the end of their engagement period on their own request, the individual's Seva Nidhi package, accumulated as on date, will be paid with the applicable rate of interest. In such cases, no Govt contribution to Seva Nidhi Package will be entitled. The "Seva Nidhi" will be exempt from Income Tax.
No Dearness Allowance and No Military Service Pay in Agnipath Scheme
The Agniveer pay is a composite package and he will not be eligible for any Dearness Allowance and Military Service Pay. He will get applicable Risk & Hardship, Ration, Dress, and Travel allowances as decided by the GOI from time to time.
Life Insurance Cover in Agnipath Scheme
Agniveer will be provided non-contributory life insurance cover of Rs. 48 lakhs for the duration of their engagement period and they will not be eligible for Army Group Insurance Fund (AGIF) Schemes/benefits.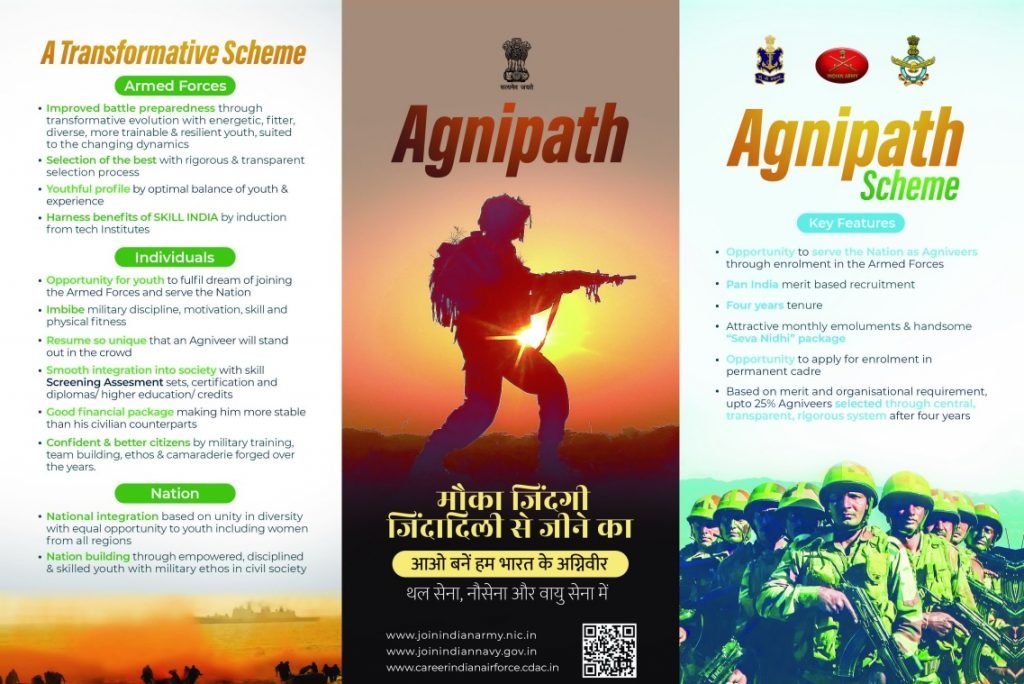 When will start the first Agnipath recruitment in 2022?
As per the recent notification of the Air Force, the Agneepath online application process will be started on 24th June 2022 (Friday) and ends on 5th July 2022.