Vacation and Breaks in Kendriya Vidyalaya during academic Session 2017-2018
KENDRIYA VIDYALAYA SANGATHAN
18, Institutional Area, shaheed Jeet Singh Marg
New Delhi 110016
Fax: 26514179 TEL: 26569100
Website:www.kvsangathan.nic.in
F.110334/1/2016/KVS HQ/Acad/1410-1443
Date: 22.12.2016
OFFICE MEMORANDUM
Subject : Vacation and Breaks in Kendriya Vidyalaya during academic Session 2017-18
The Competent Authority has decided the following schedule for Vacation and Breaks in Kendriya Vidyalayas for the academic session 2017-18.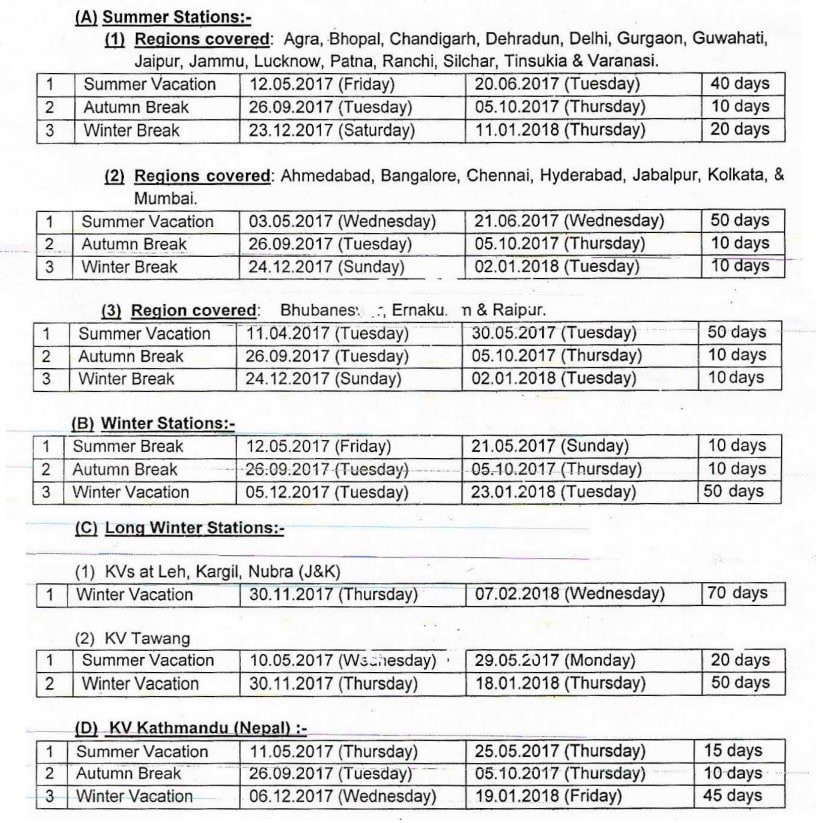 Note :
1.Both Dates (days) are inclusive
2. If the day of opening Vidyalaya is a Holiday Or declared a holiday by Govt., the Vidyalaya will open on the next day.
sd/-
(Dr. Shachi Kant)
Joint Commssioner (Trg.)