Donation of one-day salary to PM CARES Fund – May 2020 to March 2021 – CGDA Circulars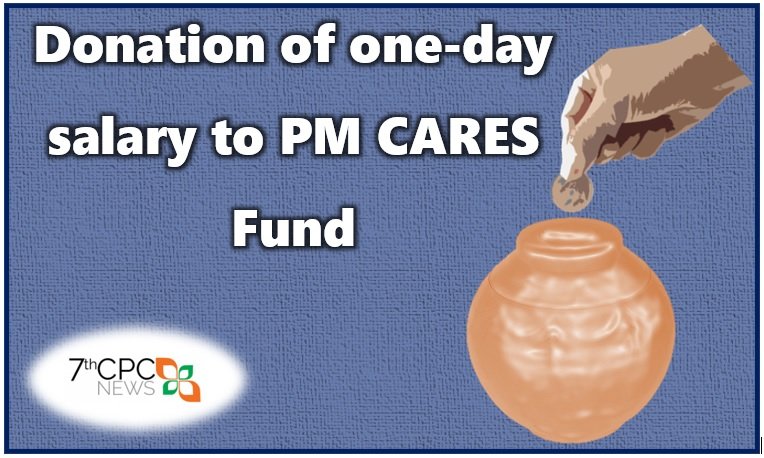 Controller General of Defence Accounts
Ulan Batar Road, Palam, Delhi Cantt.-110010
F.No.AN /lll/ 3072/Circular/Vo1.VIII
dated 15.05.2020
To
All PCDAs/ PCA(Fys)/ PIFAs/
CDAs/ CFAs(Fys)/ IFAs/ RTCs
(Through CGDA website)
Sub: Donation of one-day salary to PM CARES Fund: May-2020 to March 2021*
In continuation of HQrs. Office circular of even number dated 11.05.2020
regarding donation of one-day salary to PM CARES Fund, it is requested to furnish the details of remittance to the Fund in respect of employees /personnel other than DAD employees also for whom pay bills are Processed by your organisation.
2. The details may be furnished to HQrs. Office on the first working day following the month through email to [email protected].
sd/-
(Rajeev Ranjan Kumar)
Dy. CGDA(AN)
CGDA Circular issued on 11th May 2020
Controller General of Defence Accounts
Ulan Batar Road, Palam, Delhi Cantt.-110010
F. No.AN/III/3012/Circular/Vol.VII
Dated 11.05.2020
To,
All PCDAs/PCA(Fys)/PIFAs/
CDAs/CFAs(Fys)/IFAs/RTCs
(Through CGDA website)
Sub: Donation of one-day salary to PM CARES Fund.
Please find enclosed a copy of Govt. of India, Ministry of Defence OM No. A-93012/1/2019-D(Estt.I1/Gp.I) dated 5 May 2020 vide which the Ministry of Defence has proposed that all employees may voluntarily contribute one-day's salary every month from May 2020 to March 2021 to the Prime Minister Citizens' Assistance and Relief in Emergency Situation (PM CARES) Fund.
2. Accordingly, all Controllers are requested to enjoin upon all employees under their organization to contribute to the PM CARES Fund. The officers and staff willing to contribute one day's salary for any or all of the months from May 2020 to March 2021 may be requested to intimate their willingness in writing to their respective Drawing and Disbursing Officers(DDOs).
3. The details of monthly remittance to PM CARES Fund may be intimated to HQrs. Office through email at aniii.cgda[at]nic.in.
sd/-
(Rajeev Ranjan Kumar)
Dy. CGDA(AN)