Easter 2024: Date, History, Significance And All You Need to Know
Easter Sunday, also known as Resurrection Sunday, is a significant religious holiday celebrated by Christians worldwide. It commemorates the resurrection of Jesus Christ from the dead, as described in the New Testament of the Bible. This joyous occasion holds immense spiritual and cultural significance, symbolizing hope, renewal, and new beginnings. In this article, we will delve into the history, traditions, and customs associated with Easter Sunday, exploring its religious and secular aspects.
Easter 2024 Date in India: 31st March, Sunday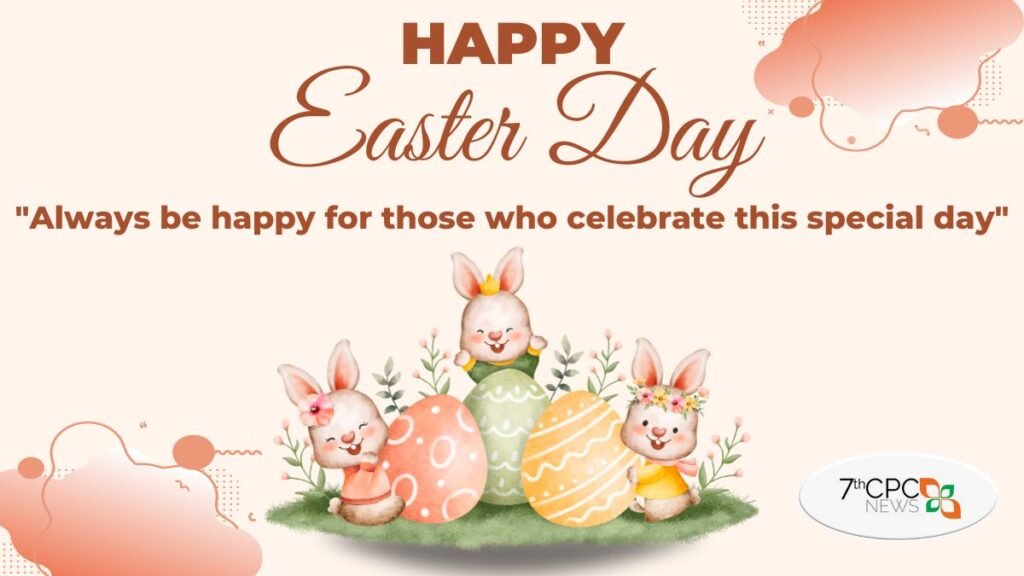 Easter 2024 Overview
| | |
| --- | --- |
| Festival Name | Easter |
| Observed by | Christians |
| Significance | Celebrates the resurrection of Jesus |
| Celebrations | Church services, festive family meals, Easter egg decoration, and gift-giving |
| Observances | Prayer, all-night vigil, sunrise service |
| Date | Variable, determined by the Computus |
| Holiday Type | Restricted Holiday |
Easter 2024 India Calendar
Celebrate Easter 2024 with this special India Calendar; featuring a unique design for each month and special cultural highlights.
| | | | | | | |
| --- | --- | --- | --- | --- | --- | --- |
| Mon | Tue | Wed | Thur | Fri | Sat | Sun |
|   |   |   |   | 1 | 2 | 3 |
| 4 | 5 | 6 | 7 | 8 | 9 | 10 |
| 11 | 12 | 13 | 14 | 15 | 16 | 17 |
| 18 | 19 | 20 | 21 | 22 | 23 | 24 |
| 25 | 26 | 27 | 28 | 29 | 30 | 31 |
When is Easter Sunday 2024?
Easter, an annual holiday that celebrates the resurrection of Jesus Christ, is always observed on a Sunday. This Christian holiday falls on the first Sunday following the first full moon after the vernal equinox, typically occurring between March 22 and April 25 each year. It is a significant day for Christians worldwide, representing new beginnings and the hope of eternal life.
| | |
| --- | --- |
| Easter 2023 Date | 9 April |
| Easter 2024 Date | 31 March |
| Easter 2025 Date | 20 April |
| Easter 2026 Date | 5 April |
| Easter 2027 Date | 28 March |
| Easter 2028 Date | 16 April |
The Origins and Significance of Easter Sunday
Easter Sunday finds its roots in the Christian faith and is considered the most important day in the liturgical calendar. Its significance lies in the belief that Jesus Christ, after being crucified on Good Friday, rose from the dead on the third day. This event, known as the Resurrection, is seen as a triumph over sin and death, offering salvation and eternal life to believers.
The date of Easter Sunday varies each year, falling on the first Sunday following the first full moon after the vernal equinox. This calculation is based on the Gregorian calendar and is determined by complex astronomical calculations. The movable nature of Easter adds to its allure, as it signifies the rebirth of nature during springtime.
Religious Observances and Traditions
Easter Sunday is observed with great reverence by Christians worldwide. Churches hold special services, often starting at dawn, to commemorate the Resurrection. These services are marked by hymns of praise, scripture readings, and sermons emphasizing the significance of Christ's victory over death.
One of the most iconic symbols associated with Easter is the Easter egg. The egg represents new life and has been used as a symbol of fertility and rebirth since ancient times. In Christianity, it symbolizes the empty tomb of Jesus. The tradition of decorating eggs has evolved over centuries, with intricate designs and vibrant colors becoming a hallmark of Easter celebrations.
Another popular tradition is the Easter Bunny, a character that has become synonymous with the holiday. The origins of the Easter Bunny can be traced back to German folklore, where it was believed to bring eggs and gifts to children. Today, children eagerly anticipate the arrival of the Easter Bunny, who hides eggs and treats for them to find.
Easter Sunday Around the World
Easter Sunday is celebrated in diverse ways across different cultures and countries. In many Western countries, families gather for a festive meal, often featuring lamb, which symbolizes Jesus as the "Lamb of God." Additionally, hot cross buns, sweet rolls marked with a cross, are a traditional Easter treat in many English-speaking countries.
In Greece, Easter Sunday is marked by a midnight church service, followed by a feast with family and friends. The highlight of the celebration is the cracking of red-dyed eggs, symbolizing the blood of Christ. In Spain and Latin American countries, elaborate processions known as "Semana Santa" or Holy Week take place, reenacting the events leading up to Christ's crucifixion.
Secular Celebrations and Traditions
While Easter Sunday primarily holds religious significance, it has also become a time for secular celebrations and traditions. In many countries, Easter egg hunts are organized for children, where they search for hidden eggs or participate in egg-rolling competitions. These activities bring joy and excitement to families and communities, fostering a sense of togetherness.
Easter parades are another secular tradition observed in various parts of the world. Colorful floats, marching bands, and participants dressed in festive attire fill the streets, creating a vibrant spectacle for onlookers. These parades often showcase cultural traditions and provide an opportunity for communities to come together in celebration.
What is Easter Sunday celebrated for?
Easter is a Christian holiday celebrating the resurrection of Jesus Christ, which is believed to have happened three days after his crucifixion.
Why do we say Easter Sunday?
The name "Easter" is believed to have originated from the pre-Christian goddess Eostre, who was celebrated in England during the spring. This information comes from writings by the Venerable Bede, a British monk from the 7th and 8th centuries.
Why is Easter Sunday the most important day?
Easter is a significant holiday for Christians as it commemorates Jesus Christ's resurrection from the dead, which is the basis of their faith.
What is Easter in Christianity?
Easter is a Christian holiday that celebrates the resurrection of Jesus Christ. Easter takes place three days after Jesus's death on Good Friday.