Clarification on purchase of Air Tickets from Unauthorized Agents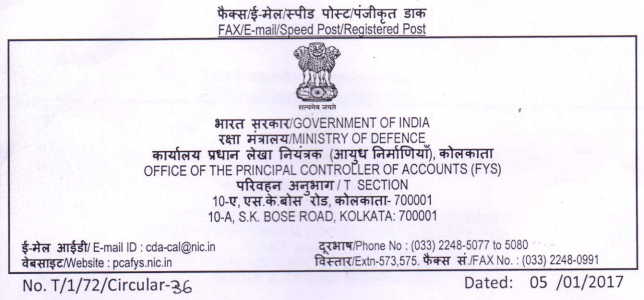 To
The Secretary, OFB, ID-A, S.K. Bose Rd, Kol-01
All Sr. General Managers/All General Managers
Ordnance/ Equipments Factories.
All Group controllers & Branch AOs
Sub: Clarification on purchase of Air Tickets from unauthorized agents for non- entitled officials to travel by air
Stay connected with us on our
Whatsapp Channel,
to receive the most up-to-date news and updates.
Kindly refer to DoP&T letter No.31011/3/2015-Estt(A.lV) dated 18/02/2016 wherein it is mentioned under points 14 & 15 that Govt employees not entitled to travel by air, may travel by any airline. However, reimbursement in such cases shall be restricted to the fare of their entitled class of train/transport or actual expense, whichever is less. In all cases whenever a Govt servant claims LTC by air, he/she is required to book the air tickets either directly through the airlines or through the approved travel agencies viz M/s Balmer Lawrie & Co. Ltd/ M/s Ashok Tours & Travels Ltd/ IRCTC. Booking of tickets through any other agency is not permissible.
This is for your information, guidance and necessary action please.
Dy.Controller
Accounts(Fys)