Cheti Chand 2024: Know Everything About Sindhi New Year
Cheti Chand, also known as Jhulelal Jayanti, is an important festival celebrated by the Sindhi community to mark the beginning of the Sindhi New Year. This festival holds great significance for Sindhis around the world, as it not only commemorates the birth of their patron saint, Jhulelal, but also symbolizes the spirit of unity and harmony. With its rich cultural traditions and vibrant festivities, Cheti Chand brings together Sindhis from all walks of life to rejoice in their shared heritage.
Cheti Chand 2024 Date in India: 9th April, Tuesday
Cheti Chand 2024 Overview
| | |
| --- | --- |
| Festival Name | Cheti Chand |
| Also Known as | Sindhi New Year |
| Observed by | Sindhi Hindus |
| Type | Hindu |
| Observances  | Sindhi New Year's Day, mela (fairs), social feast, processions, dancing |
| Date  | March/April |
| Holiday Type | Restricted Holiday |
Cheti Chand 2024 India Calendar
Celebrate Cheti Chand 2024 with this special India Calendar; featuring a unique design for each month and special cultural highlights.
| | | | | | | |
| --- | --- | --- | --- | --- | --- | --- |
| Mon | Tue | Wed | Thur | Fri | Sat | Sun |
| 01 | 02 | 03 | 04 | 05 | 06 | 07 |
| 08 | 09 | 10 | 11 | 12 | 13 | 14 |
| 15 | 16 | 17 | 18 | 19 | 20 | 21 |
| 22 | 23 | 24 | 25 | 26 | 27 | 28 |
| 29 | 30 |   |   |   |   |   |
Legend of Jhulelal (Cheti Chand)
The story behind Cheti Chand revolves around the life and teachings of Jhulelal, who is revered as the savior of the Sindhi community. According to legend, during a time of religious persecution and turmoil, Jhulelal appeared as a divine child on the banks of the Indus River. He was sent by God to protect the Sindhis from the tyranny of Mirkhshah, a tyrant ruler who sought to force his religion upon them.
Jhulelal, also known as Uderolal, preached love, tolerance, and harmony among people of different faiths. He taught the Sindhis to embrace diversity and respect each other's beliefs. The followers of Jhulelal believe that he miraculously saved them from the clutches of Mirkhshah by calming the raging river and leading them to safety.
Cheti Chand 2024 Time in India
Get ready for an exciting celebration in India – Cheti Chand 2024! Mark your calendars for Tuesday, April 9, 2024, because that's when the festivities will take place. The auspicious time to celebrate Cheti Chand is from 06:44 PM to 07:29 PM, lasting for a delightful duration of 45 minutes. The Pratipada Tithi commences at 11:50 PM on April 8, 2024, and concludes at 08:30 PM on April 9, 2024. It's going to be a memorable occasion that you won't want to miss!
When is Cheti Chand 2024 in India?
| | |
| --- | --- |
| Cheti Chand 2023 Date | Wednesday, 22 March |
| Cheti Chand 2024 Date | Tuesday, 9 April |
| Cheti Chand 2025 Date | Sunday, 30 March |
| Cheti Chand 2026 Date | Friday, 20 March |
| Cheti Chand 2027 Date | Thursday, 8 April |
| Cheti Chand 2028 Date | Monday, 27 March |
Rituals and Traditions of Cheti Chand
Cheti Chand is celebrated with great enthusiasm and devotion by Sindhis worldwide. The festivities typically begin with a ritualistic bath in a nearby river or lake before sunrise. This symbolic act represents purification and renewal as individuals wash away their sins and start afresh with the arrival of the New Year.
After the bath, devotees visit temples dedicated to Jhulelal, where they offer prayers and seek his blessings. The temples are adorned with colorful decorations, and the air is filled with devotional songs and chants. Many devotees also observe a fast on this day as a mark of respect and gratitude towards their patron saint.
One of the most prominent features of Cheti Chand celebrations is the procession known as "Baharana Sahib." This grand parade involves carrying an idol or picture of Jhulelal on a beautifully decorated palanquin. The procession is accompanied by music, dance, and enthusiastic devotees dressed in traditional attire. The streets come alive with vibrant colors and joyous celebrations as people join the procession, singing and dancing to the beats of traditional Sindhi folk music.
Cheti Chand 2024 Wishes
Cheti Chand is a festival of happiness and joy. Let us enjoy the feasts and spend some quality time with our loved ones to make this occasion a memorable one. Happy Sindhi New Year 2024!
Forget the sadness and let go of the negativity of the past. A new year means new beginnings, so let us focus on the bright side of life and cherish every good moment. Happy Cheti Chand 2024.
Cheti Chand is the beginning of a new year. May this new year bring you lots of happiness and prosperity. Happy Sindhi New Year 2024!
May the Jhulelal bestow upon you peace, harmony, and abundant success in your life. Happy Cheti Chand 2024.
The new year reminds us to let go of the past and start afresh. May this year be full of positivity and contentment for you. Happy Cheti Chand and Sindhi New Year 2024!
On this occasion of Jhulelal Jayanti, may Jhulelal give you enough strength to cross all the hurdles in your life and shine as the brightest star. Happy Cheti Chand 2024.
Significance of Cheti Chand
Cheti Chand holds immense cultural and religious significance for the Sindhi community. It serves as a reminder of their roots and heritage, fostering a sense of unity and pride among Sindhis worldwide. The festival symbolizes the triumph of good over evil, as Jhulelal's teachings continue to inspire Sindhis to uphold values of peace, harmony, and inclusivity.
Cheti Chand also plays a crucial role in strengthening social bonds within the community. It provides an opportunity for Sindhis to come together, reconnect with their traditions, and celebrate their shared identity. The festival acts as a catalyst for cultural exchange, as it brings people from different generations and backgrounds together to partake in various cultural activities, including folk dances, music performances, and storytelling sessions.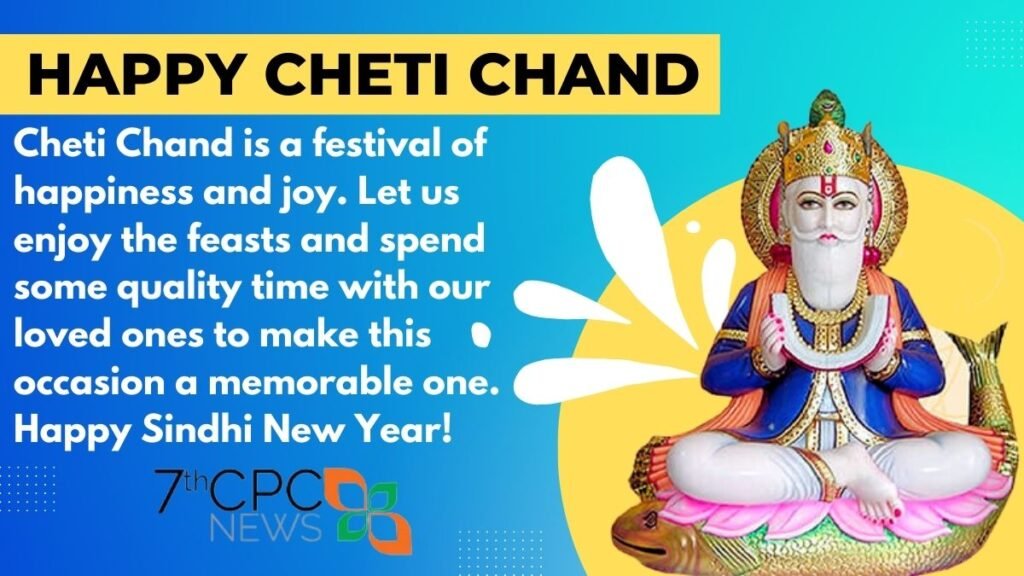 What is Cheti Chand 2024?
Cheti Chand 2024 is a Hindu festival celebrated by Sindhi Hindus on the 9th of April, Tuesday. It is celebrated as the Sindhi New Year.
What activities are involved with Cheti Chand 2024?
Activities associated with Cheti Chand 2024 include a social feast, processions, dancing, and mela (fairs).
Is Cheti Chand 2024 a bank holiday?
Cheti Chand 2024 is a restricted holiday, so some banks may remain open while others may close.
What is the significance of Cheti Chand 2024?
Cheti Chand 2024 marks the beginning of the Hindu New Year for the Sindhi Hindu community. It is a time for celebration, reflection, and renewal.
Is Cheti Chand a public holiday?
Cheti Chand is a restricted holiday in India.