Chaitra Sukhladi: Celebrating the New Year in Hindu Culture
Chaitra Sukhladi, also known as Chaitra Shukla Pratipada, is a significant festival celebrated in Hindu culture to mark the beginning of the Hindu New Year. This auspicious day falls on the first day of the Chaitra month, according to the Hindu lunar calendar. It holds immense cultural and religious significance for Hindus across various regions of India. The festival is observed with great enthusiasm and is marked by various customs and rituals that symbolize new beginnings, prosperity, and the triumph of good over evil.
Chaitra Sukhladi 2024 Date in India: 9th April, Tuesday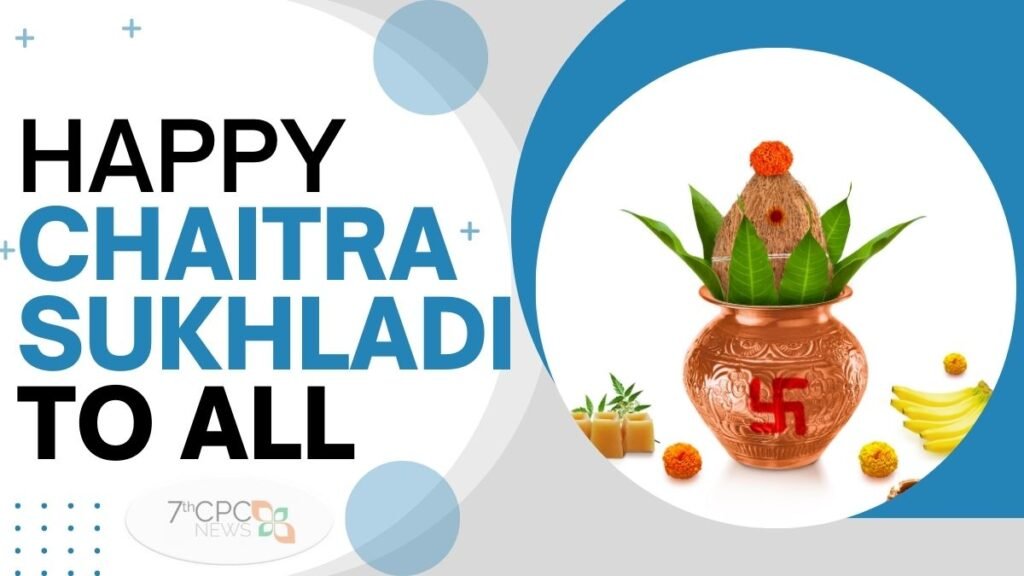 Chaitra Sukhladi 2024 Overview
| | |
| --- | --- |
| Festival Name | Chaitra Sukhladi |
| Observed by | Hindu |
| Celebrated by | Hindus |
| Significance | Vasant Ritu and New Year |
| Holiday Type | Restricted Holiday |
Chaitra Sukhladi 2024 India Calendar
Celebrate Chaitra Sukhladi 2024 with this special India Calendar; featuring a unique design for each month and special cultural highlights.
| | | | | | | |
| --- | --- | --- | --- | --- | --- | --- |
| Mon | Tue | Wed | Thur | Fri | Sat | Sun |
| 01 | 02 | 03 | 04 | 05 | 06 | 07 |
| 08 | 09 | 10 | 11 | 12 | 13 | 14 |
| 15 | 16 | 17 | 18 | 19 | 20 | 21 |
| 22 | 23 | 24 | 25 | 26 | 27 | 28 |
| 29 | 30 |   |   |   |   |   |
When is Chaitra Sukhladi 2024?
| | |
| --- | --- |
| Chaitra Sukhladi 2023 Date | Wednesday, 22 March |
| Chaitra Sukhladi 2024 Date | Tuesday, 9 April |
| Chaitra Sukhladi 2025 Date | Sunday, 30 March |
| Chaitra Sukhladi 2026 Date | Thursday, 19 March |
| Chaitra Sukhladi 2027 Date | Wednesday, 7 April |
| Chaitra Sukhladi 2028 Date | Monday, 27 March |
Significance of Chaitra Sukhladi
Chaitra Sukhladi holds immense importance in Hindu culture as it signifies the start of a new year. The word "Sukhladi" is derived from two Sanskrit words, "Sukh" meaning happiness and "Ladi" meaning beginning. Thus, Chaitra Sukhladi is considered an auspicious day that brings joy and happiness to people's lives.
On this day, people clean their houses and decorate them with colorful rangolis and flowers. The festival is celebrated with great fervor in Maharashtra, where it is known as Gudi Padwa. In other parts of India, it is celebrated as Ugadi in Andhra Pradesh and Telangana, Navreh in Kashmir, and Cheti Chand by the Sindhi community.
Customs and Rituals of Chaitra Sukhladi
Gudi Preparation: One of the most important customs associated with Chaitra Sukhladi is the preparation of the Gudi. A Gudi is a bright yellow cloth adorned with neem leaves, mango leaves, and a garland of flowers. It is then tied to a bamboo stick and hoisted outside the house or on windows. The Gudi symbolizes victory and prosperity and is believed to ward off evil spirits.
Special Puja: On Chaitra Sukhladi, people wake up early in the morning, take a bath, and perform special prayers. They offer prayers to Lord Brahma, the creator of the universe, seeking his blessings for a prosperous year ahead. Devotees also visit temples to seek blessings and participate in community celebrations.
Traditional Delicacies: Like any other festival, Chaitra Sukhladi is incomplete without traditional delicacies. People prepare a variety of sweets and savory dishes to celebrate the occasion. Puran Poli, Shrikhand, and Holige are some popular dishes prepared during this festival. These delicacies are shared with family and friends, spreading joy and happiness.
Cultural Programs: Chaitra Sukhladi is also a time for cultural programs and performances. People organize music and dance events to showcase their talent and entertain others. These programs bring the community together and create a festive atmosphere.
Symbolism and Beliefs of Chaitra Sukhladi
Chaitra Sukhladi is not just a celebration of the New Year; it also holds deep symbolism and beliefs within Hindu culture. The Gudi, which is hoisted outside homes, symbolizes victory and good fortune. It is believed to ward off negative energies and bring prosperity to the household.
The festival also signifies the triumph of good over evil. According to Hindu mythology, Lord Rama returned to Ayodhya after defeating the demon king Ravana on this day. His victory symbolizes the victory of righteousness over evil forces. Thus, Chaitra Sukhladi serves as a reminder of the importance of leading a righteous life and standing up against injustice.
Chaitra Sukhladi is celebrated in which state?
The Hindu New Year is celebrated as Chaitra Sukladi/Navratri, also known as Ugadi or Gudi Padwa. It is celebrated as Gudi Padwa in Maharashtra and Goa, and as Ugadi in Telangana, Andhra Pradesh, and Karnataka.
Why is Chaitra Sukhladi celebrated?
Chaitra Sukladi/Navratri is the first day of the Hindu New Year, celebrated in April or March. People take an oil bath, visit temples, and honor Lord Brahma on this day.
Who celebrates Chaitra Sukhladi?
The festival is celebrated by Hindus all over India and is also known as Gudi Padwa in Maharashtra, Ugadi in Karnataka and Andhra Pradesh, and Cheti Chand in Gujarat.
What does Chaitra Sukhladi mean?
Chaitra Sukladi, also known as Ugadi and Gudi Padwa, is the first day of the Hindu New Year. It occurs in April or March with the commencement of the new moon.