All India Central Excise and Service Tax Ministerial Officers' Association Comments on 7th CPC Recommendations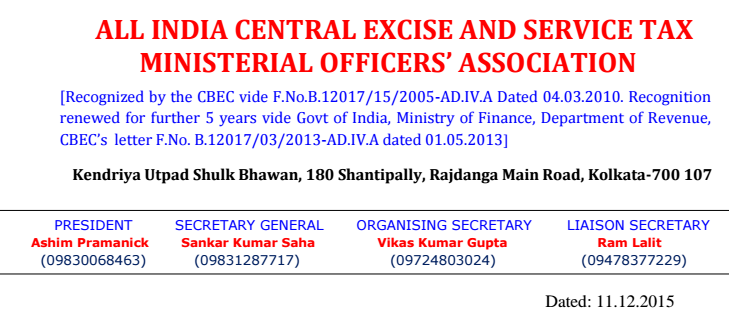 To
The Deputy Secretary to the Govt. of India (Ad.II A),
Ministry of Finance,
Department of Revenue,
Central Board of Excise & Customs,
North Block, New Delhi 110001.
Tel Number:- 011-23093102,
E-mail:- akqasim.edu@nic.in, saansari1967@gmail.com
Respected Sir,
Sub-: Recommendations of the 7th Central Pay Commission: – regarding
This has the reference with your letter under F.No.A-26217/154/2015-Ad.II A dated 09th December, 2015 on the above subject.
The observation and response of this association is briefed as under:
(i) Demand: This association demands parity in Pay structure with that of Hdqrs. Organization which will automatically bring about parity in pay structure with similarly placed officers in CBDT. This is held justified by 7th CPC vide Para 7.1.4 (j).
(ii) Reasons thereof: There exists a glaring disparity in pay structure between the ministerial officers in CBEC and that of Hdqrs. organizations and CBDT. This is an injustice to the ministerial officers working in CBEC and results in demoralization and de-motivation which needs to be removed.
(iii) The disparity is depicted in the following Table:(iv) Justification for demands: This association finds that the justifications for our demands for parity in Pay structure with the similarly placed officers of Hdqrs. organizations (which in turn will bring parity with CBDT) is dealt at length by the 7th Central Pay Commission. Hence it is only befitting to produce the findings and recommendations of 7th Pay Commission vide Para 7.1.4 (j) & Analysis and Recommendations, as below:
(j) Issue of parity of field functionaries with the Assistants of the CSS: It has been demanded that CSS be allowed to retain an "edge" over other services or posts which have claimed parity with CSS. It has been argued by the CSS that parity among various posts and services is to be considered on long established principles of classification of posts, duties and responsibilities, their hierarchical structure, historical parity, mode of recruitment as well as minimum qualification for recruitment at entry as well as . Historically, various services in the Secretariat have had an edge over analogous posts in the field offices. The CSS has, in its memorandum, demanded that this edge over other services be retained. This has been justified on various grounds, key amongst which is that office staff in the Secretariat perform complex duties and are involved in analysing issues with policy implications whereas their counter parts in field offices perform routine work relating to matters concerning personnel and general administration, and so on. Apart from retention of the edge, the CSS memorandum also seeks a change in the mode of recruitment. It has been argued that up until 1987, directly recruited Assistants of the CSS were selected through an examination conducted by the UPSC and other categories of employees falling under Group `C" were recruited through the Staff Selection Commission [SSC]. In 1987, recruitment of Assistants to the CSS was also brought under the SSC and is now carried out through a common examination called the Combined Graduate Exam (CGLE) and an All India Merit List.
Analysis and Recommendations
The VI CPC had gone into this issue in considerable detail. It had noted that while at an earlier point in time it may well have been the case that those in the Secretariat ended up performing more complex duties relating to policy formulation, but over a period of time things had changed. It had noted that there was an increasing emphasis on strengthening the delivery lines and with growing decentralization, the importance of delivery points in the field cannot be Page understated. Therefore, in its view, the time had come to grant parity between similarly placed personnel employed in field offices and in the Secretariat and that this parity would need to be absolute till the grade of Assistant. The VI CPC had noted that beyond this, it would not be possible or even justified to grant complete parity because the hierarchy and career progression would need to be different. Although the recommendation of the VI CPC was accepted in the first instance, a year down the line the Grade Pay of Assistants was increased from Rs.4200 to Rs.4600, thereby squarely going back to the original position in which the Assistants in the Headquarters resided at one higher than those in the field. In fact this latest modification follows a consistent pattern seen over the decades. This is elucidated in the table below:It may be seen from the above table that the recommendations of successive Pay Commissions with regard to pay of Assistants, even if initially implemented, has invariably been modified at a later point and they have been placed at one higher . As a corollary to this, the of Section Officers also is at one higher than that of SOs in the field.
While notifying the most recent upgrade in August 2008, the order states that the Assistants in Headquarters are required to be at a higher since "there is an element of direct recruitment in their case and that too, through an all-India Competitive Examination."
The Commission notes that certain inherent contradictions prevail. The first relates to the Common Grade Examination (CGLE) through which selections are carried out by the SSC for a range of positions, at varying s of grade pay. No doubt the examination process is a graded one, with applicants for certain positions having to undergo two written examinations as well as an interview and for certain other positions only two written examinations. But in the case of Assistants for CSS and Assistants for certain other organizations, the examination process is common although the grade pay for the two sets are different. This then brings about a situation where those with lower grade pay continuously demand parity with the others while those with higher grade pay seek to set themselves apart. The categorical observations of the VI CPC that the time had come to grant parity between similarly placed personnel employed in the field offices and in the Secretariat are echoed by this Commission, which sees merit in placing all Assistants recruited through the CGLE, whether working in the field offices or in headquarters, at the same.
The Commission accordingly strongly recommends parity in pay between the field staff and headquarter staff up to the rank of Assistants on two grounds- firstly the field staff are recruited through the same examination and they follow the same rigour as the Assistants of CSS and secondly there is no difference in the nature of functions discharged by both. ………………..
Stay connected with us on our
Whatsapp Channel,
to receive the most up-to-date news and updates.
Recently, through a government order similar 'edge in pay' has also been extended to the Upper Division Clerks belonging to CSS in the Secretariat by way of grant of non-functional selection grade to GP 4200 (available to 30 percent of UDCs). It is expected to lead to further resentment at the level of UDCs in the field as well as with other non-secretariat posts with which they had parity before…………………
The above findings and recommendations speak volume of justification of our claim for parity in Pay Structure with Hdqrs. Organizations and CBDT. Our Executive Assistant (EA) is in the Grade Pay in Rs.4200/- (PB-2) whereas the similarly placed officers i.e. Assistant draws GP Rs.4600/- in PB-2. The element of direct recruitment has also been introduced for the post of Executive Assistant vide Recruitment Rules dated 28.09.2015 (40% of the posts are to be filled up by direct recruitment). This very facts, coupled with well established parity in functions, endorsed by 7th CPC (as well as 6th CPC) call for complete parity between EA in CBEC and Assistants in Hdqrs. Organizations.
The 7th Pay Commission in Para 7.1.4 (j) (mentioned herein before) has itself pointed out that the Section Officer in Hdqrs. Organizations lies a rung higher than their counter parts in fields as a corollary to the fact that Assistants are drawing a Pay one higher than their similarly placed officers in the fields. The same is the fact with CBEC as Administrative Officers are drawing GP Rs.4600/- in PB-2 whereas the Section Officers in (H.O.) and A.O. Gr.-II in CBDT are drawing GP Rs.4800/- in PB-2. Hence this disparity is required to be removed and the Administrative Officers in CBEC be given GP Rs.4800/- in PB-2.
The disparity among similarly placed of Under Secretary in (H.O.), Principal Administrative Officer in CBDT and Chief Accounts Officer in CBEC is also to be removed in the light of recommendations of 7th CPC as discussed above by granting a GP of Rs.6600/-.
Apart from the above justifications based upon fundamental recommendations of the 7th CPC to bring parity between Hdqrs. Organizations and the field formations, this association also strongly put forward the following justifications for assignment of GP Rs.4200/- in (PB-2) for Tax Assistant:
Tax Assistant is the entry cadre of Ministerial Staff. As per Recruitment Rules the Direct Recruitment in this cadre is 90% and rest is on promotion from LDC and from other Non-Ministerial Group "C" cadre. As per Recruitment Rules, LDC is the 100% promotional Post from non-Ministerial Group 'C" cadres. For Recruitment in the grade of Tax Assistant cadre, S.S.C takes a Graduate Examination with Computer Proficiency Test. Tax Assistant also has to posses extra knowledge on direct and indirect taxes.
However, Tax Assistant under CBEC being unique in nature and having distinct functions and as ratified by the Recruitment Rules providing the eligibility in terms of Computer proficiency, deserves to be placed at a least a pay scale higher in comparison to normal UDCs of other departments.
Grade Pay of Tax Assistant in CBEC & CBDT in Rs 2400/- for which minimum Educational Qualification is Graduation in any discipline. The candidates are selected through Combined Graduate Examination conducted by Staff Selection Commission. The Candidates have to qualify three stages of selection (Tier-I, Tier-II and Skill test which is qualifying in nature). But the post of Inspectors carries the Grade Pay of Rs 4600/- for the same Examination because of difference of few marks. There is a big setback for the post of Tax Assistant.
It is also pointed out that the Divisional Accountant selected through same CGLE also gets the Grade Pay of Rs.4200/-. It is also pertinent to mention that the post of Auditors in CGDA, Accountants and others Departments the post carries the Grade Pay of 2800/-. But the candidates are selected through Combined Graduate Examination conducted by Staff Selection Commission. The Candidates have to qualify only two stages of selection (Tier-I, Tier- II).
Whereas the candidates who are selected through Combined Higher Secondary (10+2) Examination conducted by Staff Selection Commission for the post of Data Entry Operator the Grade Pay is Rs 2400/- which is highly unjustified in respect of Educational Qualification.
Owing to this above discriminations, we demand for Grade Pay of Rs. 4200/- for the post of Tax Assistant uniformly in CBEC and CBDT to the entry Grade Pay through SSC Combined Graduate Exam.
Hence we demand for Tax Assistant (TA) with Grade Pay Rs. 4200/- in PB-2 in all formations to bring uniformity.
Besides the above justifications based upon fundamental recommendations of the 7 th CPC, this association also strongly put forward the following justifications for assignment of GP Rs.2800/- in (PB-1) for LDC:
L.D.C is mainly doing Receiving and dispatching job of letters, files related with house-keeping and technical nature and also they takes part in other communications such as noting, drafting and prepared office letters with Computer which is unique in nature. Also, they assist with other Superior Ministerial Officers in CBEC and CBDT. They also perform the duties like file related works in Accounts, Establishment and Administrative sections.
Hence we demand for Lower Division Clerk (L.D.C) with Grade Pay Rs. 2800/- in PB-1 in all formations.
Accordingly, this association finds that like the previous Pay Commissions, the 7th Pay Commission has also strongly recommended parity between the ministerial officers in CBEC at various levels with that of Hdqrs. Organizations and hence we find our principle demands of Pay structure, as given below stands vindicated :
This association also wishes to point out that the very basic principle of parity between Hdqrs. and field came under consideration in the aftermath of 6th CPC. This was rejected on flimsy ground, as observed by the 7th Pay Commission itself. This time, this very demand, held justified by successive Pay Commissions, may please be examined at the higher levels of Government, so that it receives reasoned consideration.
Board is requested to consider the above and recommend the same for its implementation in CBEC.
Moreover, this association supports all demands pertaining to general wellbeing of the Central Government Employees like % of HRA, fitment – common multiplying factor, allowances, CCL etc. which are being pursued by National JCA.
Thanking you,
Yours faithfully,
sd/-
11.12.15
(Ashim Pramanick)
President,
Contact No. – 09830068463,
E-mail Id – pramanik.ashim4@gmail.com
Source: https://aiccemof.blogspot.in/