Kendriya Vidyalaya Sangathan (KVS) has maintained more than 1200 CBSE syllabus schools in India. Every year the class 1 admission process is being conducted through a single online portal for all KV schools located across India. For the academic year 2022-23, the registration process for class 1 admission will be started on 28th February 2022 (Monday) at 10 AM onwards.
Check here the latest list of General Instructions for Online Registration in Kendriya Vidyalaya School 2022-23. Click Here PDF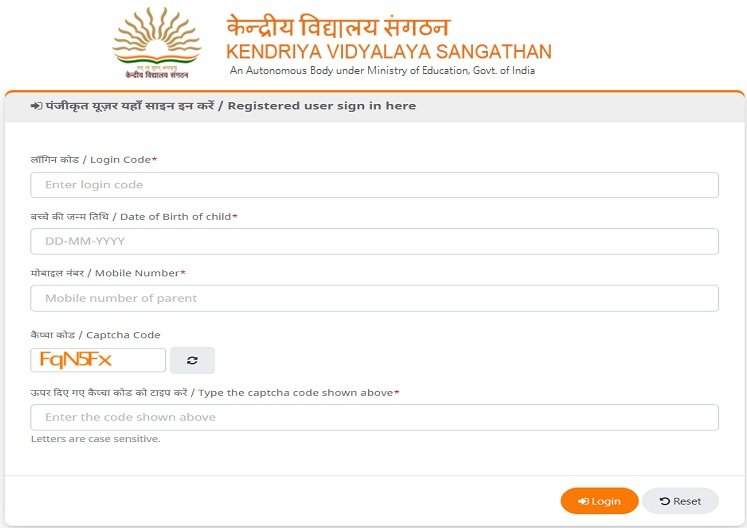 KV School General Instructions are Given below
⇒ Once the portal is open, the instructions for filling out the form will be displayed.
⇒ It is mandatory for every first time user to read these instructions before registering and completing the form.
⇒ If the first-time user reads and clicks on the declaration checkbox (certifying that the user has read and understood all instructions), the Continue button will be activated.
⇒ By clicking the Continue button, the user will be redirected to the registration or login page.
Login to the KVS Admission application portal 2022-23
To login to the admission application portal, the following information must be provided exactly as given during registration :
Login Code ( generated after successful registration)
Date of birth of child entered while signing up (registering)
Mobile number (with Indian SIM card) entered while signing up (registering)
After entering the above information correctly, please click on the ,"Login" button to open the online admission form.
What is the KV School Online Admission Official Website?
The KV School Online Admission Official Website is kvsonlineadmission.kvs.gov.in
What is the Procedure to Login the KV School Admission Online Portal?
Step 1: Click to View the KVS Online Admission Portal (kvsonlineadmission.kvs.gov.in)
Step 2: To login into the KVS Online Registration Portal, the student will need, a Login Code, Date of Birth of a child, Mobile Number*, and Captcha Code.
Step 3: After filling in all the details, click on the Login button.
How to use this website to fill up the application form for KVS class 1 admission?
Go through the instruction page. Instructions for filling up the application form are explained there.
Which class is the KVS online registration website applicable for?
The Kendriya Vidyalaya School online registration website is applicable only for Std 1 admission.