Marathon Prize Money List
1st Prize: Rs. 10,000
2nd Prize: Rs. 7,000
3rd Prize: Rs. 3,000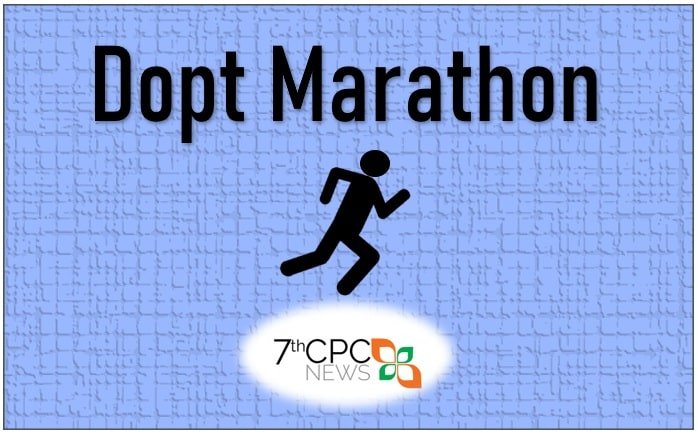 Marathon in three different categories i.e. 5 KM, 10 KM and 21 KM. Central Government Civilian employees and their family members working in Ministries/Department located at New Delhi only can participate. The minimum and maximum age for participation in the Half Marathon is 10 years and 60 years respectively.
Also check: Marathon race for Central Government Employees in New Delhi
The Central Civil Services Cultural& Sports Board (CCSCSB), a society
registered under the Societies Registration Act, 1860, is the Central Agency for promotion of Cultural & Sports Activities amongst Central Government employees in the country. It works under the aegis and control of the Ministry of Personnel, Public Grievances and Pensions, Department of Personnel & Training, Government of India.
Facilities to be provided
a) T-Shirt
b) Bib
c) Medal on successful completion of Marathon categories enrolled for.
d) Digital certificate.
e) Breakfast.
f) Hydration points.
g) Medical facilities.
| | | | | |
| --- | --- | --- | --- | --- |
| Sr. No. | Distance in Kilometres | Reporting Time at Vinay Marg Sports Complex | Flag Off time | |
| 1 | 21 KM | 5.00 AM | 5.30 AM | 18 to 60 |
| 2 | 10 KM | 5.30 AM | 6.00 AM | 16 to 60 |
| 3 | 5 KM | 6.30 AM | 7.00 AM | 10 to 60 |
| | | | | |
| --- | --- | --- | --- | --- |
| Sr. No. | Distance in Kilometres | 1st Prize | 2nd Prize | 3rd Prize |
| 1 | 21 KM | Rs. 10,000 | Rs. 7,000 | Rs. 5,000 |
| 2 | 10 KM | Rs. 7,000 | Rs. 5,000 | Rs. 3,000 |
| 3 | 5 KM | Rs. 5,000 | Rs. 3,000 | Rs. 2,000 |