GPF Interest and Online Annual Statement for Central Government Employees
GPF Rate of Interst Table from 1960
Also check: CG Offices Holiday List 2020 – PDF Download
Current GPF Interest Rate is 7.9% (4th Quarter of FY 2019-2020)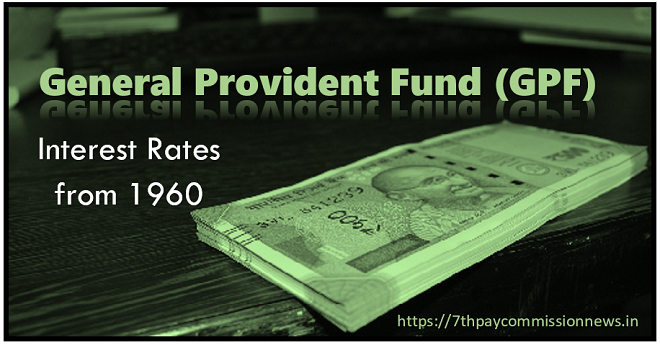 General Provident Fund is one of the saving scheme for Central Government Employees. The scheme gives double benefit, savings the fund with nominal interest and rebates from Income Tax. It is a mandatory scheme for all group of CG Employees and contributes a percentage of basic pay every month.
The scheme gives partial and final withdrawal options and loan options are also available.  Employees whenever they need money, they get loan or withdrawal from their savings accumulated fund.
GPF account statement slip is being provided by the Head of Department to the employees with complete details of the accumulation of savings funds. Some departments providing the facility of downloading the individual statement slip from their local server also. The GPF statement slip is needed for availing loans or withdrawal from their funds. The GPF annual statement slip contains their GPF Account number, savings details with interest for the year.
GPF Interest Rate Percentage Table with pdf download option
Stay connected with us on our
Whatsapp Channel,
to receive the most up-to-date news and updates.
GPF Interest Rate 2020
GPF Interest Rate  from April to June 2020
–
–
GPF Interest Rate  from January to March 2020
7.9%
Click to view
GPF Interest Rate  2019
GPF Interest Rate  from October to December 2019
7.9%
Click to view
GPF Interest Rate  from July to September 2019
7.9%
Click to view
GPF Interest Rate  from April to June 2019
8.0%
Click to view
GPF Interest Rate  from January to March 2019
8.0%
Click to view
GPF Interest Rate  2018
GPF Interest Rate  from October to December 2018
8.0%
Click to view
GPF Interest Rate  from July to September 2018
7.6%
Click to view
GPF Interest Rate  from April to June 2018
7.6%
Click to view
GPF Interest Rate  from January to March 2018
7.6%
Click to view
GPF Interest Rate  2017
GPF Interest Rate  from October to December 2017
7.8%
Click to view
GPF Interest Rate  from July to September 2017
7.8%
Click to view
GPF Interest Rate  from April to June 2017
7.9%
Click to view
GPF Interest Rate  from January to March 2017
8%
Click to view
GPF Interest Rate  2016
GPF Interest Rate  from October to December 2016
8%
Click to view
GPF Interest Rate  from July to September 2016
8.1%
Click to view
GPF Interest Rate  from April to June 2016
8.1%
Click to view