What is the Ceiling of Child Education Allowance for Divyaang children?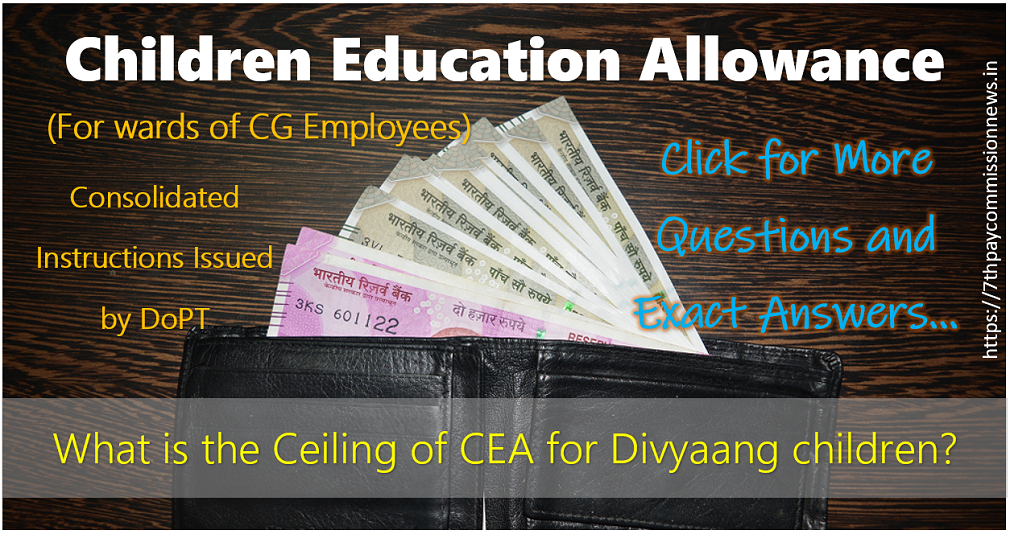 What is the rates or Ceiling of Children Education Allowance for Divyaang children?
As per the consolidated instructions issued by the Department of Personnel and Training (DoPT) on 16th July 2019, the answer is given below…
The reimbursement of Children Education Allowance for Divyaang children of government employees shall be payable at double the normal rates of CEA prescribed above in clause (b) i.e. Rs.4500/- per month (fixed).
The upper age limit for Divyaanæ children has been set at 22 years. In the case of other children the age limit will be 20 years or till the time of passing 12th class whichever is earlier. There shall be no minimum age.
In case of a Divyaang child studying in an institution i.e. aided or approved by the Central/Statc Govt. or UT Administration or whose fees are approved by any of these authorities, the Children Education Allowance paid by the Govt. servant shall be reimbursed irrespective of whether the institution is 'recognized' or not. In such cases the benefits will be admissible till the child attains the age of 22 years.
The above rates/ceiling would be automatically raised by 25% every time the Dearness Allowance on the revised pay structure goes up by 50%.
The Hostel Subsidy and Children Education Allowance can be claimed concurrently.
What is Divyaang?
Divyaang means physically handicapped.
Who is Divyaang Children?
A Child with disability called as Divyaang Children.
What are all the relative words of Divyaang?
Physically handicapped
Physically Challenged
Differently Abled
Person with Disability
Viklaang