Dussehra Festival in India – On 25th October 2020 (Sunday) – (Kartik 8)
The central Government of India has declared as a gazetted holiday on 25.10.2020 (Sunday) for Dussehra in its notification. And many of the State Government has also declared closed holiday for the Dussehra festival on 26th October 2020.
Dussehra (also called Vijayadashami)  is a most important festival in India and it will be announced as Gazetted and Closed Holiday by the Central and State Government every year.
October 2020 Calendar with Festival and Holiday
Mon
Tue
Wed
Thu
Fri
Sat
Sun
1
2
3
4
5
6
7
8
9
10
11
12
13
14
15
16
17
18
19
20
21
22
23
24
25
26
27
28
29
30
31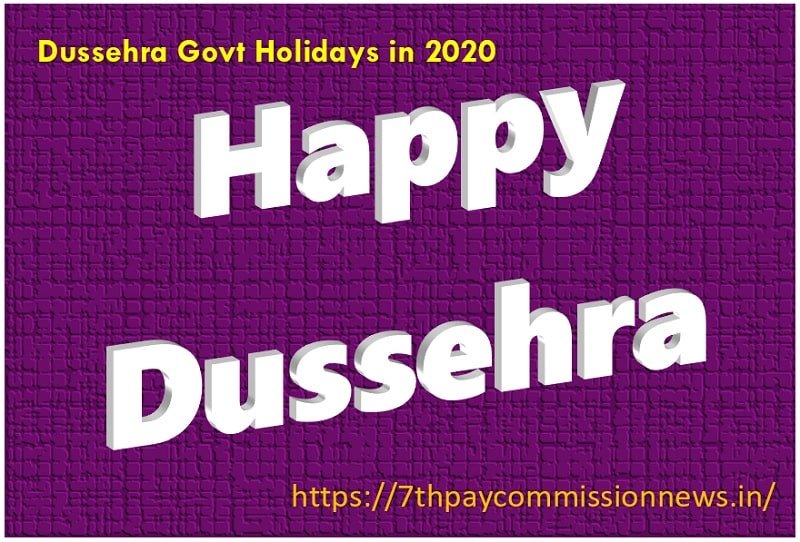 Dasara (Dussehra) Festival Started in Mysore in 2019
Karnataka Dasara festival starting with Navaratri and ends at Vijayadashami.
The world-famous Dasara (Dussehra) festival started on 6th October of this month (Sunday) in Mysore. The festival will be held till October 8 and millions of people will participate.
Important places of Mysore, the Palace, Zoo, Chamundeswari Temple, KRS Dam and Brindavan Gardens decorated with colorful lights. A large number of people from all over the country and abroad have come to Mysore to witness the Dasara Festival. This festival is attended by millions of people every year.
Dussehra Festival 2020 with October Calendar
List of Gazetted Holidays for the month of October 2020
| | | |
| --- | --- | --- |
| Date | Day | Holiday |
| 02.10.2019 | Friday | Mahatma Gandhi's Birthday |
| 25.10.2020 | Sunday | Dussehra |
| 30.10.2020 | Friday | Milad-un-Nabi |
List of Restricted Holidays for the month of October 2020
| | | |
| --- | --- | --- |
| 23.10.2020 | Friday | Dussehra (Maha Saptami) |
| 24.10.2020 | Saturday | Dussehra (Maha Ashtami & Navami) |
| 26.10.2020 | Monday | Vijay Dashmi (Bengal, Kerala) |
| 31.10.2020 | Saturday | Maharishi Valmiki's Birthday |
Change in Dussehra Holidays 2020 for Central Government Offices
As per the decision taken by the Central Government Employees Welfare Co-ordination Committee (CGEWCC), the date for the festival of Dussehra has been changed. The circular is reproduced and given below for your ready reference: [Click to continue reading]
Change of Closed Holiday in Telangana state on the eve of "Dussehra" festival 2020
The Central Government has decided that the 26th October 2020 (Monday) will remain as Restricted Holiday and can not be treated as Closed Holiday in central Government offices located in Telangana State. [Click to know more]
Check Other Monthly Holidays 2020