Dearness Allowance (DA) and Dearness Relief (DR) Freeze for Central Govt Employees and Pensioners Latest News
What is meant by DA Freeze?
Temporarily withholding of additional DA for a particular duration is DA Freeze. In regular practice, additional DA is granting once in six months to CG employees, now the Central Government has ordered to provisionally stopped to grant additional DA for 18 months form 1.1.2020 to 30.6.2021.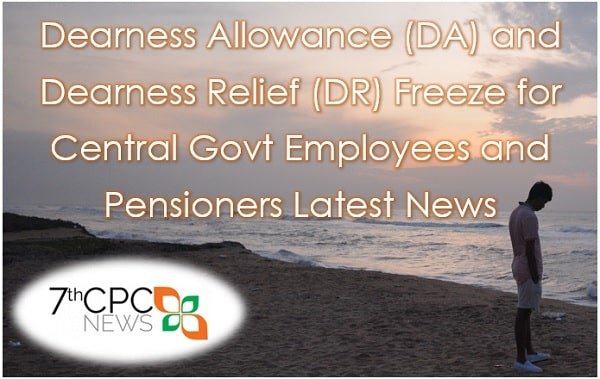 List of Latest News and Court Orders on DA Freeze Rollback:
29 May 2020: Freezing of DA to CG Employees and DR to CG Pensioners – Hardship and legal implications
26 May 2020: No orders on Freezing of IDA (Industrial Dearness Allowance) and IDR (Industrial Dearness Relief)
13 May 2020: Withdraw the decision on Freezing of DA and DR to Railway Employees
30 April 2020: Freezing of DA and DR: IRTSA appeal to credit the Additional DA to Provident Fund
30 April 2020: DR (Dearness Relief) Loss in Pension Calculator for Govt Pensioners
29 May 2020: BSNL Employees and AIIEA Oppose Govt Decision to Freeze DA Increase
28 April 2020: Freezing of DA to employees drawing CDA Pay Scale at current rates till July 2021
28 April 2020: 17% fixed DA for 18 months to CG Employees and Pensioners
27 April 2020: Freezing of DA and DR: Loss of 18 months DA is equal to one and half month basic salary
26 April 2020: PIL filed in Supreme Court on Freezing of DA
24 April 2020: DA Loss Calculator (January 2020 to June 2021) for Central Govt Employees
24 April 2020: Confederation strongly oppose DA and DR Freezing – Press Statement
24 April 2020: Loss in DA for CG Employees: Freezing of DA from Jan 2020 to June 2021
23 April 2020: Freezing of Dearness allowance will affect HRA Revision – NJCA Confederation
23 April 2020: National Council (Staff Side) Protest against freezing of DA and DR to CG Employees and Pensioners
23 April 2020: Freezing of Dearness Allowance to Central Government employees and Dearness Relief to Central Government pensioners at current rates till July 2021
20 March 2020: Coronavirus Threat – Half of Central Govt Workforce Freeze at Home